If you're scouting around for the most exquisite fonts to add to your graphic designs, you've probably considered shortlisting the font on the Genshin Impact logo. But before you do, it's great to know its name, creator, features, and the types of projects you can use it on.

We've gone ahead and researched everything to know about the Genshin Impact font. But first, let's introduce the Genshin Impact logo.
About Genshin Impact
Genshin Impact is an action role-playing game (RPG) developed and published by miHoYo Co., Ltd. The game was composed by Yu-Peng Chen, Dimeng Yuan, Yijun Jiang, Quian Ding, and Xin Zhao, and produced by Cai Haoyu.
It takes place in a fantasy world called Teyvat, which is home to seven nations. Each of the seven nations in Teyvat is ruled by a distinct god and associated with a specific element.

The game follows the Traveler as they traverse countless worlds in a quest to find their missing sibling. Along the way, the Traveler interact with other playable characters within the game.

Genshin Impact was initially released on September 28, 2020 to Windows, Android, iOS, and PS4. It was then released on April 28, 2021 to PlayStation 5, with a Nintendo Switch version pending release.
Genshin Impact Logo
The game uses a beautiful yet simple logo that's based on its name. The emblem appears in a monochromatic color palette (black and white).

But perhaps the biggest highlight of Genshin Impact's logo is the delicate manner in which the letters are rendered. For starters, the wordmark is executed in ALL-CAPS and set in two vertical levels. The word "GENSHIN" is larger, bolder, and appears above the word "IMPACT."

The letters 'G,' 'S,' and 'N' in "GENSHIN" are larger than the rest of the letters in the word. They also appear slightly above the baseline. Between the first letter 'N' and the letter 'H' in "GENSHIN" is what looks like a crown with a star at the middle.
Genshin Impact Logo Font
Genshin Impact uses a proprietary typeface that was tweaked by the game's creator based on inspirations from HYWenHei-85W. HYWenHei-85W is a font developed by famous Chinese professional font design company Hanyi Fonts (formally known as Beijing Hanyi Innovation Technology Co., Ltd.).

miHoYo's tweaked version of HYWenHei-85W is the font used for the "GENSHIN" word and not the "IMPACT" portion. It's also the font used for most of the RPG's in-game display.
HYWenHei-85W Features
Since HYWenHei-85W was designed by a Chinese company, it's natural to expect the typeface to feature a range of Chinese elements. The font supports 6763 Simplified Chinese character glyphs based on the GB2312-80 character set standard outlined by the People's Republic of China. It also supports 9169 popular characters, including Japanese Kana characters.

As Genshin Impact's logo font is basically a modified version of a pre-existing typeface, the font also includes entirely new characters. For instance, certain Japanese Shinjitai Chinese character glyphs like 図 are absent in Hanyi's HYWenHei-85W but present in miHoYo's proprietary version of the font. You'll also realize that miHoYo's version of HYWenHei-85W utilizes Latin and Cyrillic elements conspicuously absent in the original typeface.

Like most typefaces designed by Hanyi Fonts, HYWenHei-85W comes in both UPPERCASE and lowercase letters. The font also supports basic numbers and punctuation marks. Besides, you get to experiment with a slew of quirky characters, including currency symbols and fractions.
In terms of language support, miHoYo's version of HYWenHei-85W is compatible with Latin characters. However, the typeface doesn't support Korean characters natively.

Other supported languages include; Afrikaans, Chinese, Dutch, English, French, German, Portuguese, Spanish, Swedish, and Vietnamese, to name a few.
HYWenHei-85W Applications
HYWenHei-85W's Chinese roots makes the typeface perfect for use on exotic designs. You might consider this font for titling films, television series, and video games set in exotic destinations.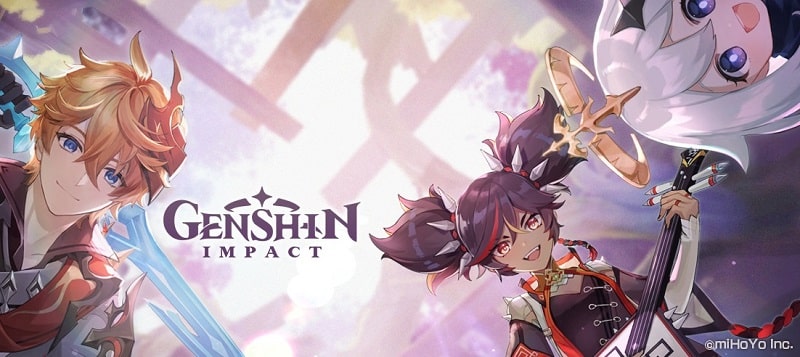 HYWenHei-85W is also a serif font. That automatically makes it an excellent fit for books, magazines, and newspapers. The font would suit just about any long-form print format.

As a serif font, it would be best to consider HYWenHei-85W for print as opposed to digital displays. That's especially true for print designs intended to exude a rustic or traditional aura. However, you could always pair HYWenHei-85W with an equally elegant sans-serif typeface and use them for digital displays.
All the different font styles in the HYWenHei family share the same basic features. The main variance is their texture.
Where to Download HYWenHei-85W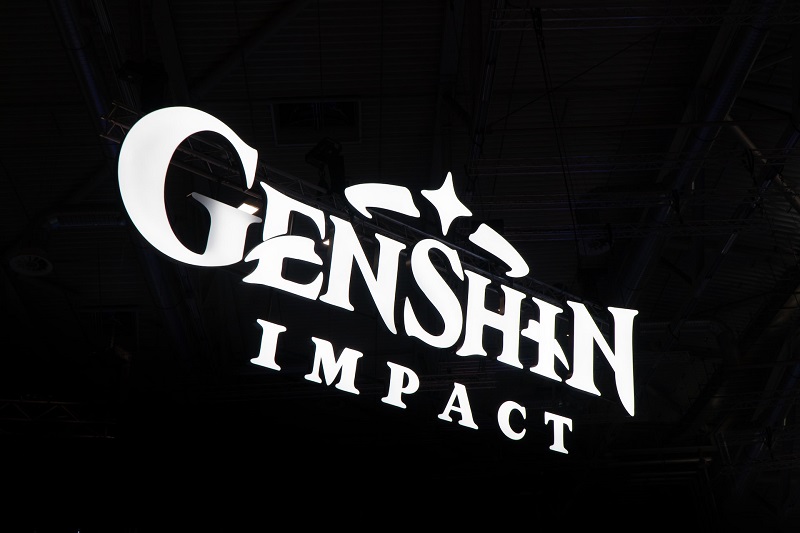 Remember that the typeface appearing on Genshin Impact's logo is a modified version of HYWenHei-85W. If looking for that exact match, the best place to find it is on the miHoYo's official website.

Alternatively, you could opt for the original HYWenHei-85W typeface. You can download this font from the Free Fonts, Cufon Fonts, or Fonts.top websites.

Is HYWenHei-85W Free?

All HYWenHei fonts are proprietary products of Hanyi Fonts; hence accordingly trademarked. That includes HYWenHei-85W. You can access these typefaces for free only if you wish to use them on personal projects.

Remember to obtain a commercial license if you'd like to apply HYWenHei-85W or any Hanyi Fonts typefaces on commercial graphics.