Garfield: The Movie is a 2004 American computer-animated comedy film starring an ensemble of voice actors, including Bill Murray, Breckin Meyer, Jennifer Love Hewitt, and Stephen Tobolowsky.
The film is based on Jim Davis' comic strip by the same name. It was directed by Peter Hewitt and produced by John Davis, with Joel Cohen and Alec Sokolow taking charge of screenwriting.
This animated film is centered on the exploits of Garfield, a large, lazy cat with a dry sense of humor. Garfield is owned by Jon Arbuckle (Breckin Meyer). Other pets under Arbuckle's ownership include Odie, a sweet dog who seems to take pleasure in annoying Garfield.
After Garfield gets fed up with Odie's belittling attitude, he devices a scheme to put the canine in his place. However, Garfield abandons his plans to get rid of his annoying housemate and figures out a way to get him back.
Garfield: The Movie was released to mixed reviews. However, the film went on to achieve remarkable commercial success, grossing $203.2 million on the box office from a $50 million budget.
Garfield Font
The font used for Garfield: The Movie is known as Cooper Black. Cooper Black has been the main typeface for the Garfield comic strip. The font has been used from at least 1980, when the first compilation of the comic strip – Garfield at Large – was published.
Cooper Black is an ultra-bold serif typeface designed by Oswald Bruce Cooper. The typeface was originally created for display use. It was first released to the font market in 1922 by the Barnhart Brothers & Spindler.
Cooper Black was intended as an extra-bold style weight of Oswald Cooper's "Cooper Old Style" font family. However, the font's popularity grew fast and furious, mainly due to its bolder elements.
A few years following its release, Cooper Black became one of Oswald's standard typefaces. The font was subsequently licensed by American Type Founders.
Cooper Black Application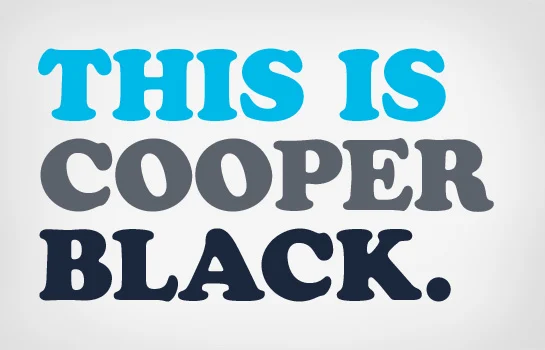 Cooper Black is ranked among the world's top digital typefaces. As we've mentioned, this font was actually created for digital usage.
The font will look great in various digital design projects, ranging from movie and song album covers to billboard advertisements, social media posts, and PowerPoint presentations.
Cooper Black's relatively bold texture makes it highly recommended for titles and headlines. However, you can still use the font for texts and small prints.
Numerous brands have used Cooper Black besides the Garfield movie. Examples include;
• The music album 'Pet Sounds' by the Beach Boys
• The films L.A. Woman (1971) and Ziggy Stardust (1972)
• The opening credits for the following television shows – The Bob Newhart Show (1972 – 1978), Diff'rent Strokes (1978 – 1986), M*A*S*H (1972 – 1983), Enos (1980 – 1981), and The New Adventures of Winnie the Pooh (1988 – 1991)
Although it's a fairly bold typeface, Cooper Black was modeled after traditional old-style serif lettering as opposed to the hard-edged fonts that were popular in the 19th century.
The font offers a relatively low contrast if deployed between thick and thin strokes. These features give the font a soft yet rich appearance. And that's precisely why you can also use Cooper Black for hard print in addition to its extensive application on digital design projects.
Where to Download Cooper Black
Numerous websites let you download Cooper Black for free. Examples include Font Meme, Adobe Fonts, Fonts Geek, and Free Fonts Family.
However, be sure to read the full licensing information to determine how you can use the Cooper Black font. That's especially if planning to apply the font to commercial or business design projects.