Helmut Schmid, one of the finest typographers in the world, once said, "Typography needs to be audible. Typography needs to be felt. Typography needs to be experienced." The fonts you use in your logo are more than just fancy styling. They tell a story about you and your brand. 
What is Typography? 
To put it simply, typography is the style or design of your text. For everyday use, the most important thing about the font is it needs to be readable. Such as typing in a word document or reading a book. Otherwise, what's the point in using it? 
There are 3 main classes of typefaces: serif, sans serif, and script. There are many more sub-classes, but for now, you only need to know about these 3.  
Serif – Considered by many as the 'traditional' font. It has serifs (small strokes) extending from each letter. It's an easy-to-read font, which is often used in books and other long copy forms. 
Sans Serif – A simpler-looking font without any serifs extending from the main characters. Due to the lack of serifs, this font appears more modern and crisper. When compared to serif fonts, sans serif appears more youthful and contemporary.
Script – Script fonts mimic cursive handwriting, often with fancy-looking flourishes, loops, and plenty of curls. Script fonts can vary wildly from super extravagant to more relaxed and calmer styles that dial down the embellishments. While it can be hard to read long chunks of script text, it does make the text appear more informal and personal than any other kind of font.  
The Importance of Typography 
When talking about branding, typography suddenly turns into one of your most potent visual elements. 
When you use text sparingly, such as in a logo, the font style adds a flavor of personality to the text. It can be modern and sleek, loud and in your face, romantic and personal, or anything else you want it to be. 
Experiencing Your Brand's Logo
When people see your logo in different circumstances, what they're doing is experiencing your brand. It could be for the first time or the thousandth time. It doesn't really matter. What's important is that they have a great experience and think about your brand positively. 
Choosing the right font style helps your audience recognize the kind of brand you are or are aspiring to be. Let's look at 4 different ways you can boost your branding with typography 
How to Boost Your Branding with Typography 
1. Grabs your user's attention
We don't mean that it needs to be the most eye-catching part of your logo, but you need people to read your logo's text; otherwise, what's the point? It's a good idea to pick a font style that's easy to read and filled with personality that matches your brand. Think about the 3 different classes of fonts and pick one that best suits you. There are hundreds, if not thousands, of unique fonts to choose from within each class. The trick is picking one that stands out the most while retaining its readability and convey to your audience what kind of brand you are. 
2. It's discreet
Wait a minute. We just said it needs to grab the attention of your audience? That's true. But you don't want to overload them by throwing an overly creative font in their face. Users today are bombarded by ads and logos. Use a font style that works for your brand without making people work to understand why you chose it. 
3. Don't try to be cool
Typography trends, just like fashion, can change in a heartbeat. This is why you should never choose a font that's trendy for the sake of being cool. Choose a typeface that represents you and boosts your brand's personality. 
4. Where will your logo be seen?
One of the biggest mistakes brands make is forgetting where their logo will be seen. If your font doesn't match its surrounding environment, it can look out of place and change how people perceive your brand. For example, people are using smartphones more and more, and logo real estate on those devices is relatively small. Think carefully where your logo will be seen and ensure it matches the environment. 
Tips to Get the Most Out of Your Font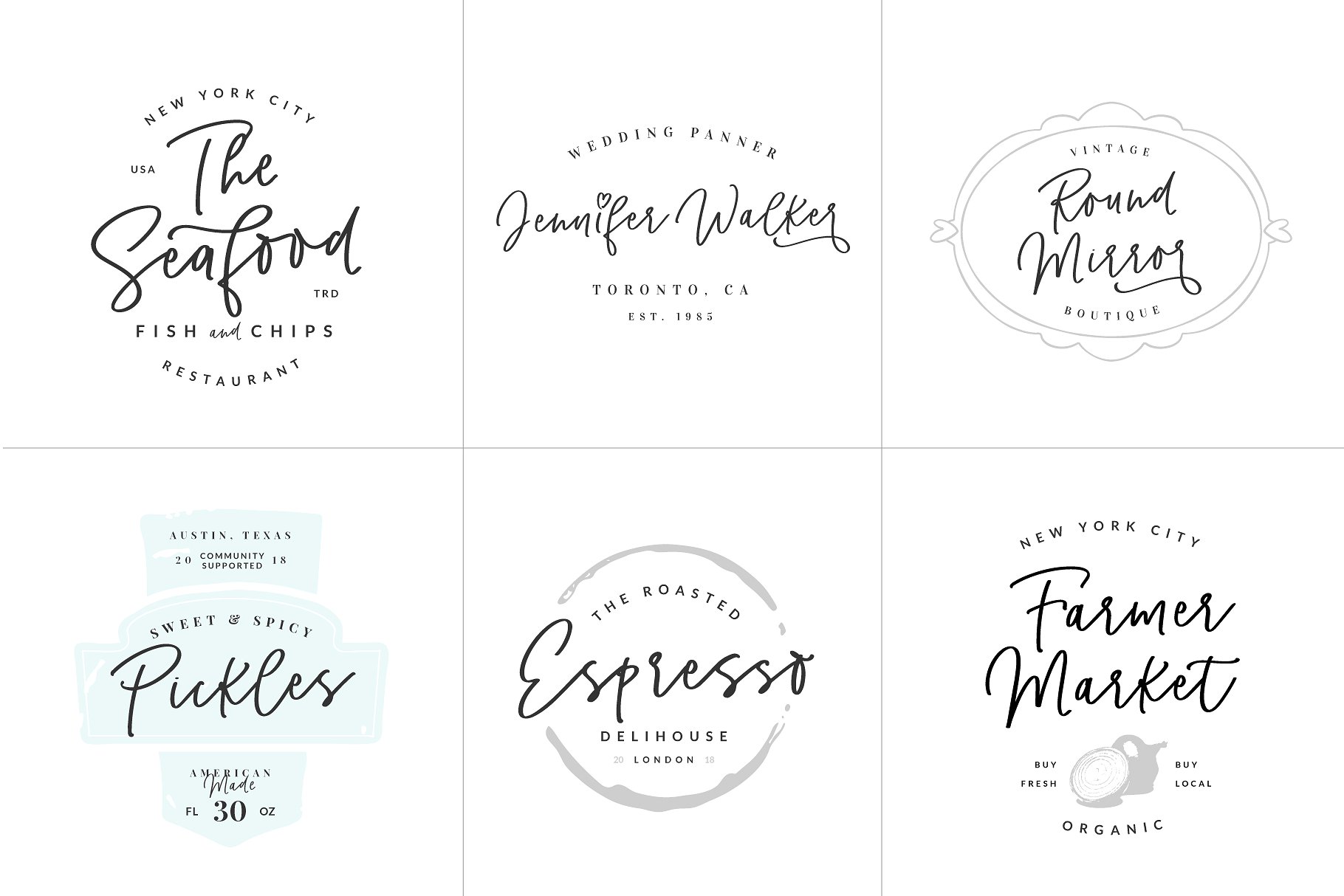 There are lots of ways you can design a logo – some of you reading this might create one with instant logo maker service, other will use freelance designer and some of you might take the DIY approach and use on of the popular logo design software. However, regardless of the options you choose when considering the font type think of the following:  
1. Does your font represent your brand? 
What is your brand's purpose? Why does it exist? What benefits do you offer customers? These are big important questions. A daycare center for toddlers will use a vastly different font from one a law firm may use. Pick a font style that best matches and amplifies your brand, so people know what kind of business you are without having to read anything else about you. 
2. Always think about your target audience 
Always keep your target audience in mind. And no, your target audience can't be 'everyone.' Narrow down your audience into one or more personas if you need to. You can do this by breaking down your audience into demographics like age, gender, and location. Take it one step further and identify what your target audience is looking for in a brand and choose a font style that matches their wants. 
You're going to have to strike the right balance of being the brand you want and being the brand that resonates with your target audience. 
3. Can you read your font? 
Most of the time logo design is done on a big computer screen, with plenty of zoom, brightness, and white background. But how are your users going to see your font? Are they going to be scrolling through social media on their phone? Will they be driving down the highway? Or will they be walking around the mall? 
Using a creative and funky font just because you can doesn't mean it's a good idea. Overdoing your font design or making it too complicated may end up hurting your branding. 
4. Give your font room to breathe 
Another common mistake is not giving your font enough room to breathe. It can happen when trying to cram in too many elements. If there's not enough space, rethink your logo design or even contemplate removing some unnecessary features. 
Specific fonts are better used in small spaces, while others do best when given plenty of room to breathe. 
5. Use contrast to make your font pop 
Using white font on a white background is silly, right? No one can see it. Well, if you use a light color on a light background, it's still hard to see. Make sure people can see your font by creating a strong contrast between the environment and your typeface. 
Wrapping Up 
Remember that your font needs to convey information to your audience about your brand while still being nice to look at and easy to read.  Using the wrong type of font to represent in your logo can cause real damage to your brand image, especially when your brand is new or relatively unknown. Avoid headaches and choose the right font for your logo from the beginning.