Last Updated on June 10, 2022
We've all come across that stunning website or beautiful brand logo and said, "I wonder what that font is called?"
Usually, you'd whip out Google to find out the name of that font – or maybe open Microsoft Word and see if you have it in your font library.
You may be able to get the answer that way, but you'd end up taking too much time doing so. 
Luckily, there are several tools that can help you easily identify fonts. In this article we collected the best ones. Let's dive in.
1. FontSquirrel Matcherator
This tool is simple and pretty straight forward. Font Squirrel's font identifier tool lets you drag and drop an image of the font you want. Select 1 or multiple letters and it will do the rest. Not only do you get the font name, but also a link to purchase or download the typeface you've searched.
2. WhatFontis.com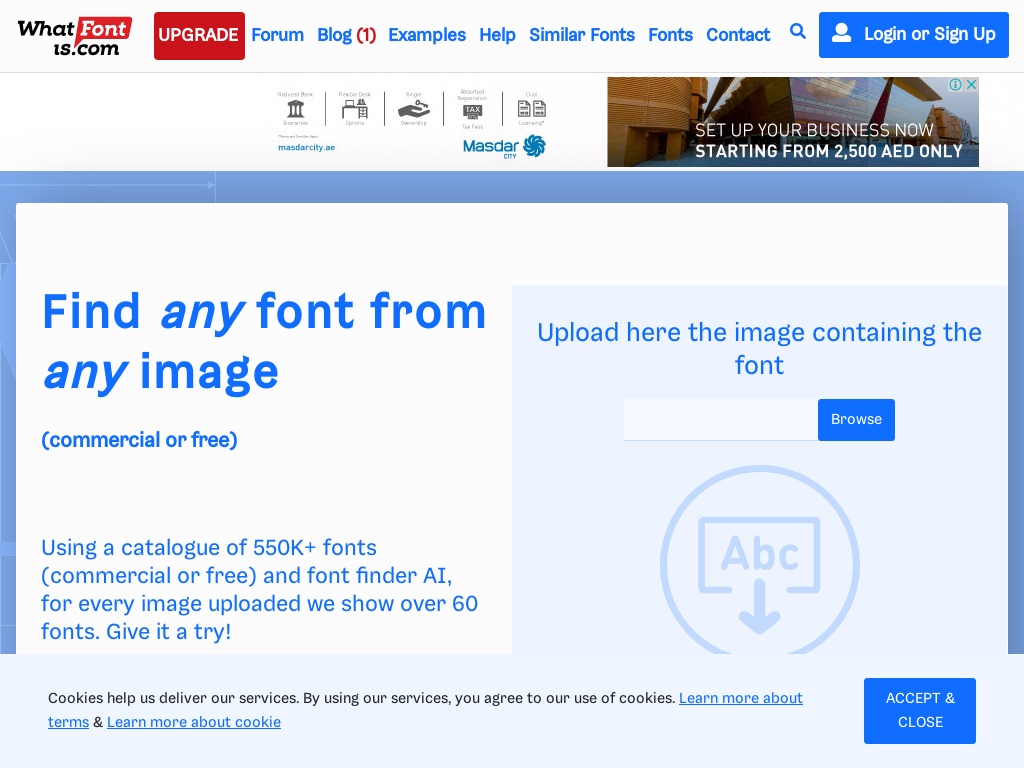 Upload a clean image of the text containing the font you need to identify. The system uses advanced AI to find the font in 90% of the cases. The rest of 10% 'misses' are usually caused by low quality images (low resolution, text distorted, etc).
The tool will show over 60 fonts very similar to the one in the image you have uploaded and with links to pages from where you can download or buy them.
You can also unlock an easier means of locating a font you want to use by upgrading to a lifetime or a yearly subscription.
3. Fontspring Matcherator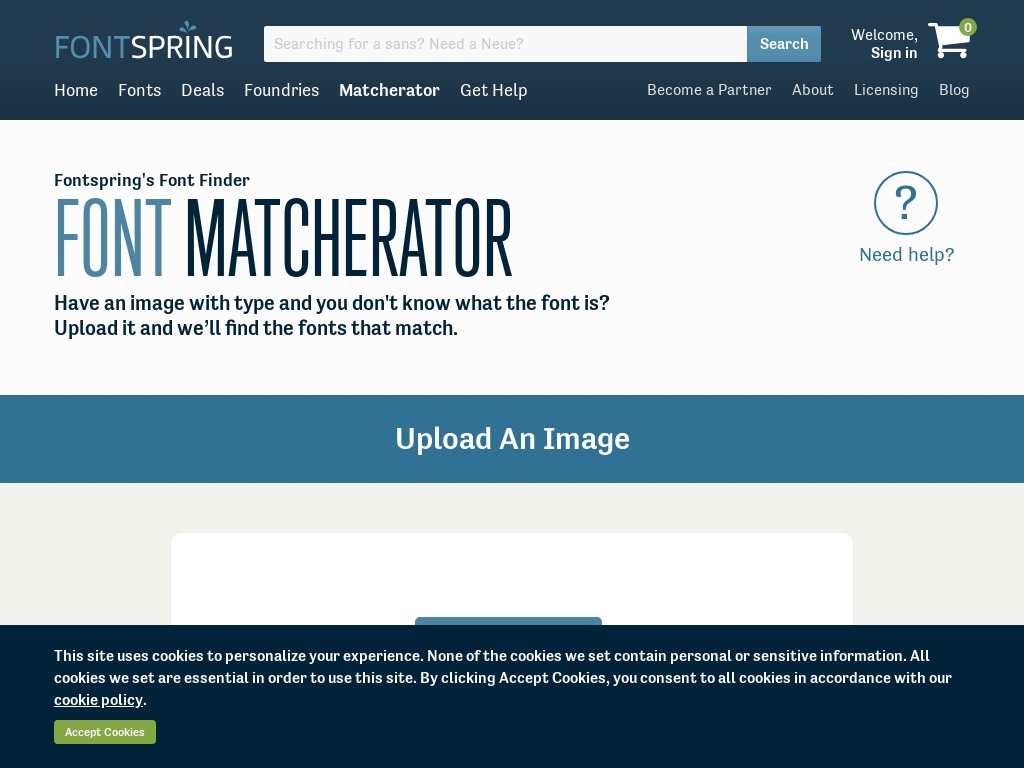 Have an image with type and you don't know what the font is? Upload it and they will find the fonts that match. The tool also give you similar looking font recommendations.
4. WhatTheFont
What sets this apart from other font identifiers is that you get to see the image that was uploaded and the letters the software took as the basis of the results. The difference between this and other font tools is that you can consult with the community just in case the recommendations don't match your expectations.
5. Quora
If none of the tools can find the typeface, Quora may be your last hope. They have a strong community or knowledgeable graphic designers, typeface designers, and web developers to respond to your query. 
6. Identifont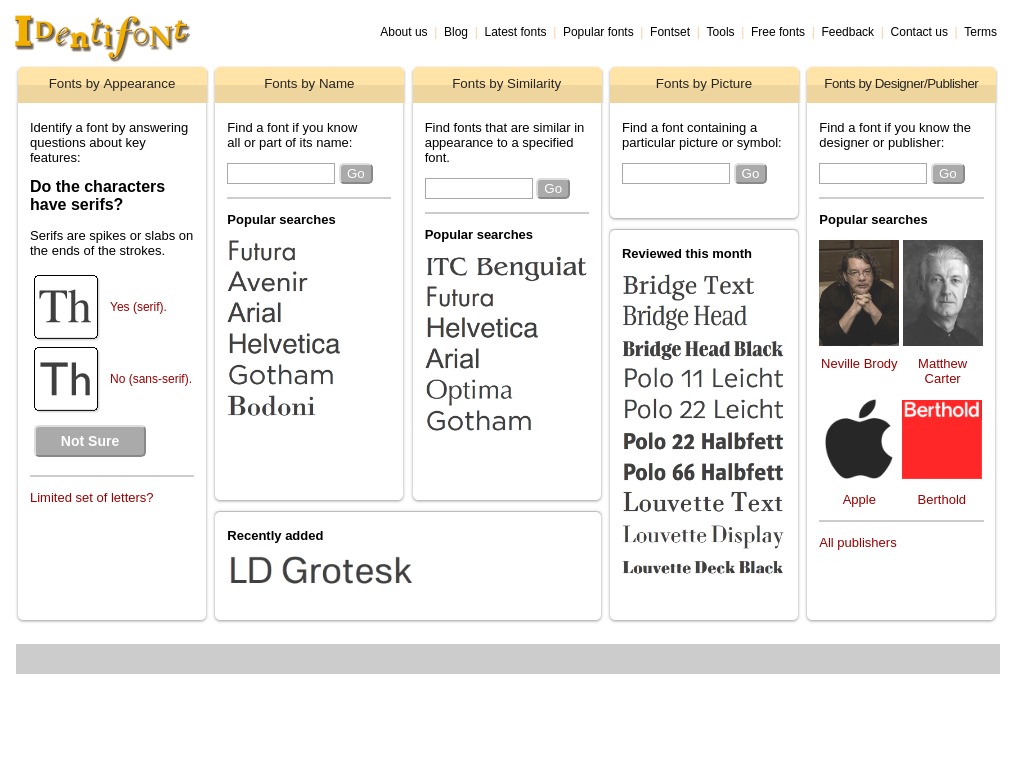 Identifont is a specialized font search engine that helps you identify typefaces according to five categories;
Appearance
Name
Similarity
Picture
Designer/Publisher
The tool to ask a string of questions to narrow down and arrive at the closest matches.
7. Serif Font Identification Guide
The name sums up exactly what this tool does. Getting the best results means you need to describe the font by matching the serifs, crossbars, and so on. 
8. What Font Tool
WhatFont is a Chrome or Safari browser extension that identifies fonts used on a website. Possible fonts or font families will be shown once you hover your mouse over the typeface you want identified. To start using WhatFont, download the extension or save the bookmarklet. 
9. Font Finder Tool
Similar to WhatFont, Font Finder is a Firefox plugin that identifies typefaces. To know what font is used on website texts, highlight the letters, right-click and choose Analyze Selection from the choices found in the FontFinder menu.
10. Flickr Typeface Identification
This community-based approach is slightly different when it comes to handling font-related questions. This is a group where other members will show different images to match a given font or font family.
11. Reddit/r/IdentifyThisFont
This is a community of Redditors who tackle typeface-related topics. As with other community-based approaches, open a thread and wait for a font expert to fill you in. 
12. Type Sample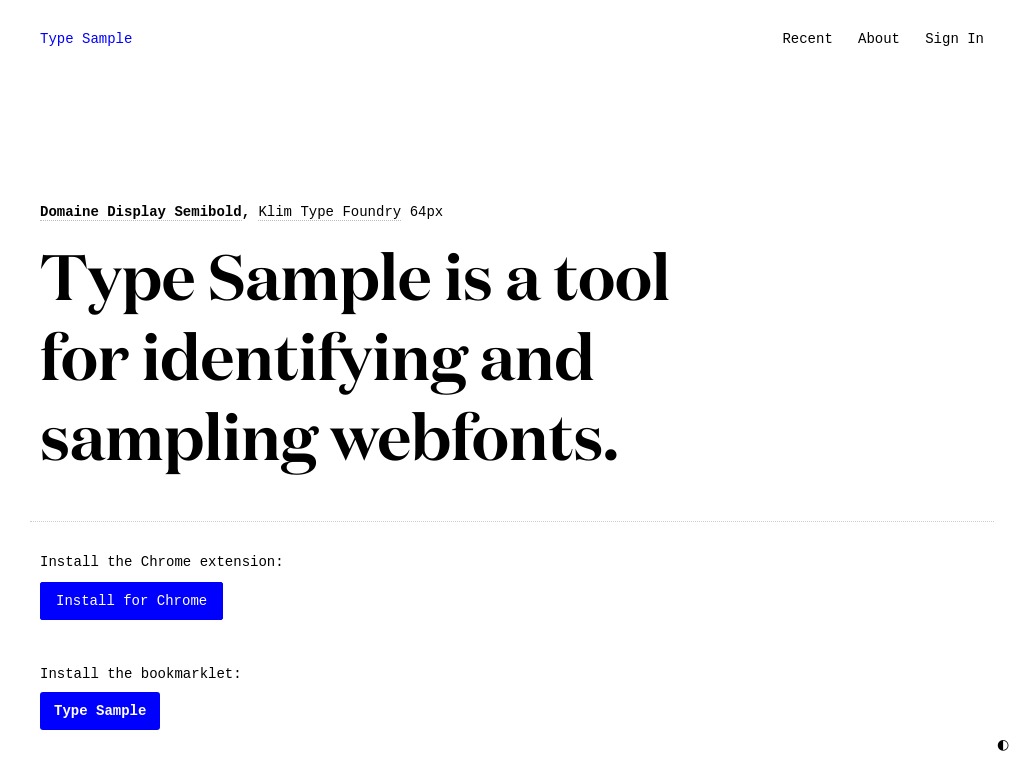 This tool comes in two forms: a bookmarklet and a Chrome extension. Open the bookmarklet on a website where you want the name of a typeface.
Conclusion
Thanks to the tools listed above, identifying the fonts you see online is no longer mission impossible. These resources are free to use and will make your font-searching life less difficult. Don't forget to bookmark this page next. Have a lovely day!