Want to start your own creative enterprise but don't know where to begin? Pressed for time and you need about two to five fonts for a specific project?
During these times, a font bundle is a real lifesaver. Usually featuring more than a dozen typefaces in a single pack, it contains high-quality sans, serifs, vintage, and handmade fonts fit for any endeavor.
Individually, they may cost you an arm and a leg. But because they are bundled, you save time AND money. Not to mention that many of these offerings are typically grouped based on a theme. For instance: there will be bundles containing elegant, sophisticated fonts, while others will have all-bold ones.
Save yourself the headache and check out these stunning font bundles for yourself:
Money-Saving Font Bundle
1. Vintage Font Bundle
The Vintage Font Bundle includes 5 full font packages ranging from clean to very ornate and work perfect for headlines, logos or packaging design.
Furthermore the bundle includes over 200 graphic elements and vector ornaments that give you endless design possibilities. This makes the set perfect for professional logo design in various styles for any application.
Heritagetype's products are used by companies like Warner Bros. Pictures, Netflix and Harley Davidson.
2. Elegant & Timeless Font Bundle
Some things just stand the test of time. In this case, it's good to have this collection by Sarid Ezra on hand for when you need to make classic masterpieces.
Download Elegant & Timeless Font Bundle
3. Typographer's Dream Box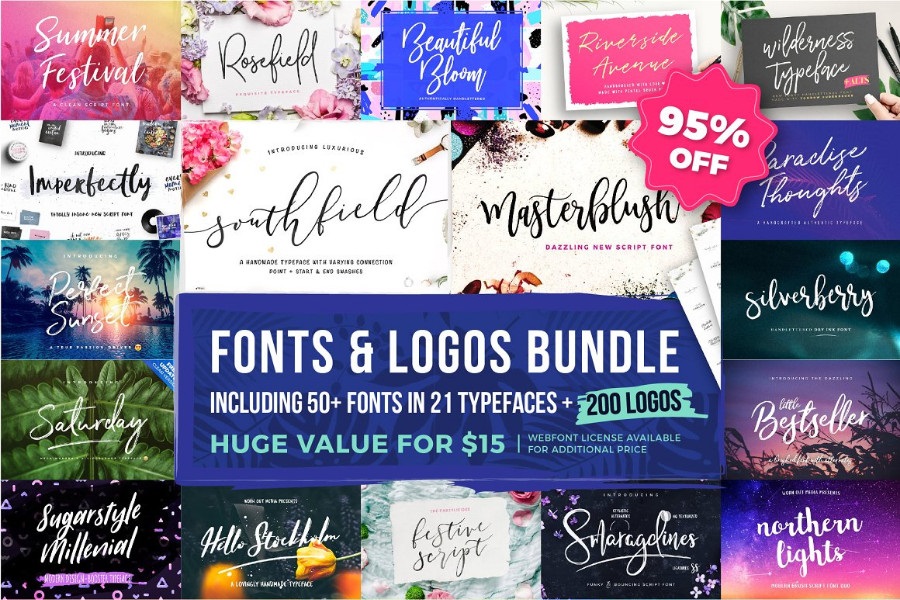 From dreamy to earthy, find everything you need in this tastefully curated bundle by Mats-Peter Forss. It also includes 200 bonus logo templates to ensure you get the most bang for your buck.
Download Typographer's Dream Box
4. Super Font Bundle
With over 400 fonts in brush, sans, serif, and script styles, this is every freelancer's dream package wrapped in a highly affordable tag. Brought to you by Maulana Creative.
5. Blackletter Font Bundle
Bring out your dark side effortlessly (and beautifully) with help from this dark collection by Rvq Type Foundry.
Download Blackletter Font Bundle
6. Vintage Bundle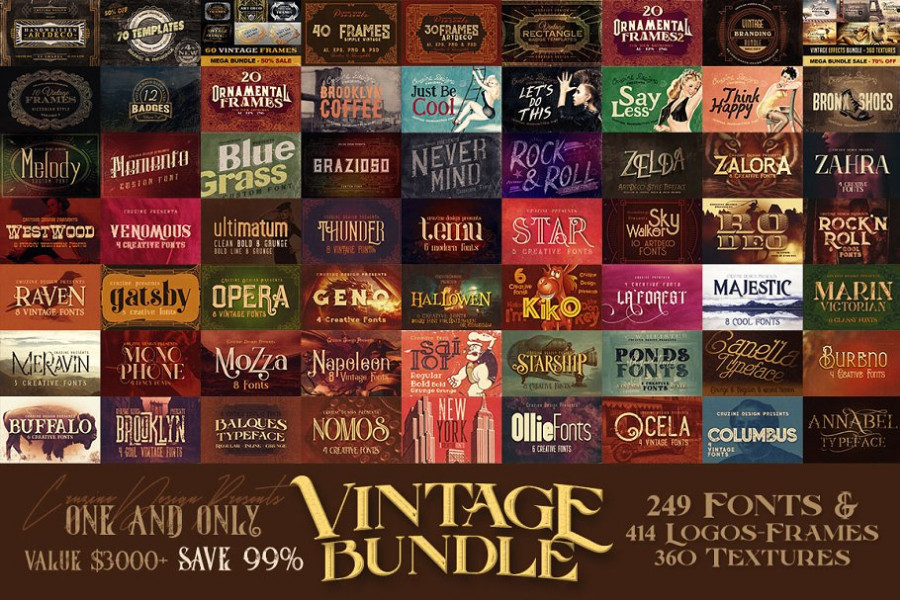 Go back in time using only type in this crazy bundle that holds 249 fonts, 414 logo templates, and 360 grunge textures or overlays. Curated by Cruzine.
7. Font Bundle 68 in One
Get those coveted calligraphy, signature, or brush lettering typefaces when you buy this awesome collection by Makeitrock.
Download Font Bundle 68 in One
8. Ultimate Creator's Font Bundle
SuperNiceStuff made sure you get more than fonts with your purchase. Aside from typefaces, you'll also find logo templates, splatter elements, as well as single watercolor swashes packed in this remarkable bundle.
Download Ultimate Creator's Font Bundle
9. Calligrapher's Font Bundle
Keep things real in this delightful pack from Genesis Lab that features the best in handwritten and calligraphy styles.
Download Calligrapher's Font Bundle
10. Aiyari Handmade Font Bundle
Get those best-selling customized fonts by Aiyari you've been dying to get your hands on when you buy this collection. Also includes web font licenses for your convenience.
Download Aiyari Handmade Font Bundle
11. The Trendy Font Bundle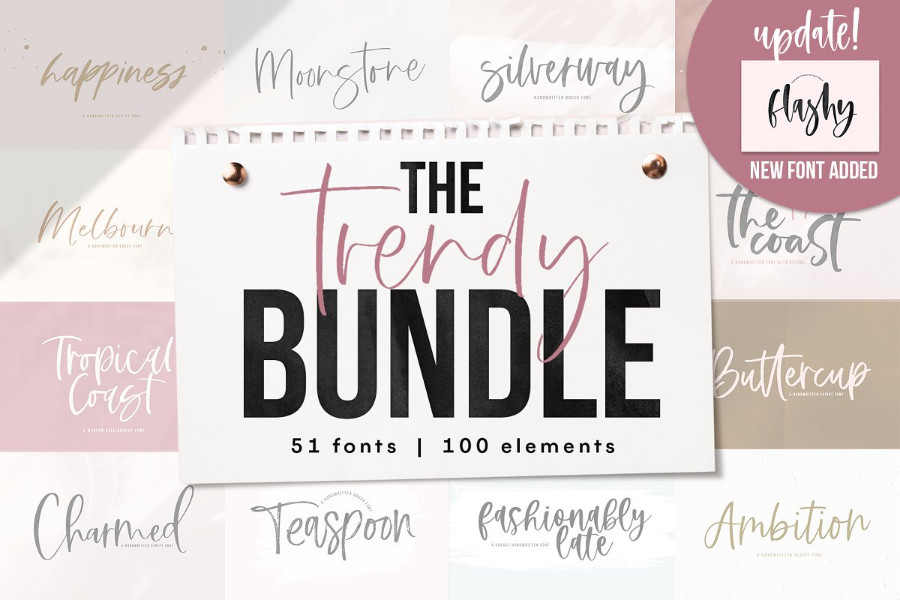 Find a font for any occasion with some help from this bundle brought to you by KA Designs.
Download The Trendy Font Bundle
12. Handwritten Font Bundle
Nothing says authentic like a well-crafted handwritten typeface. That's why Larin Type Co carefully curated this pack just for you.
Download Handwritten Font Bundle
13. Chic & Unique Modern Font Bundle
Effortlessly achieve that sleek, contemporary look when you get this pack by New Tropical Design.
Download Chic & Unique Modern Font Bundle
14. Huge Typographic Pack
Vintage Voyage D.S. offers you the chance to own more than 200 of their best-selling fonts as well as 60 logo templates to fill your toolkit with.
Download Huge Typographic Pack
15. The Designer's Font Bundle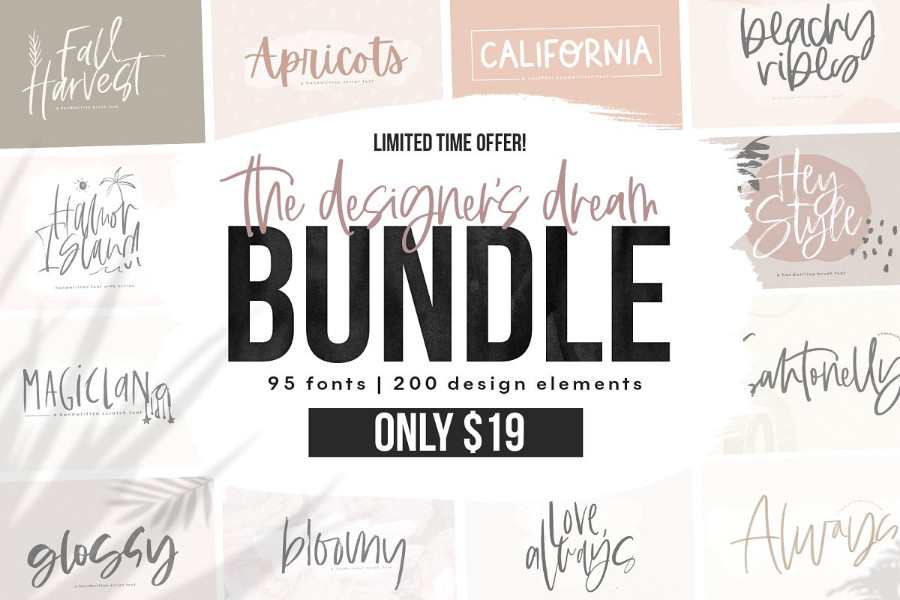 Don't waste time rifling through the Web, looking for the perfect font. Discover what you need – and more – in this amazing collection.
Download The Designer's Font Bundle
16. All-You-Need Bundle Vol 2
Letterhend Studio brings to you this amazing bundle that features everything from classic to grunge typefaces.
Download All-You-Need Bundle Vol 2
17. The HUGE Font Bundle
Own the best fonts, including the newest ones, when you buy this collection by Salt & Pepper Designs.
18. The Modern Font Bundle Vol. 2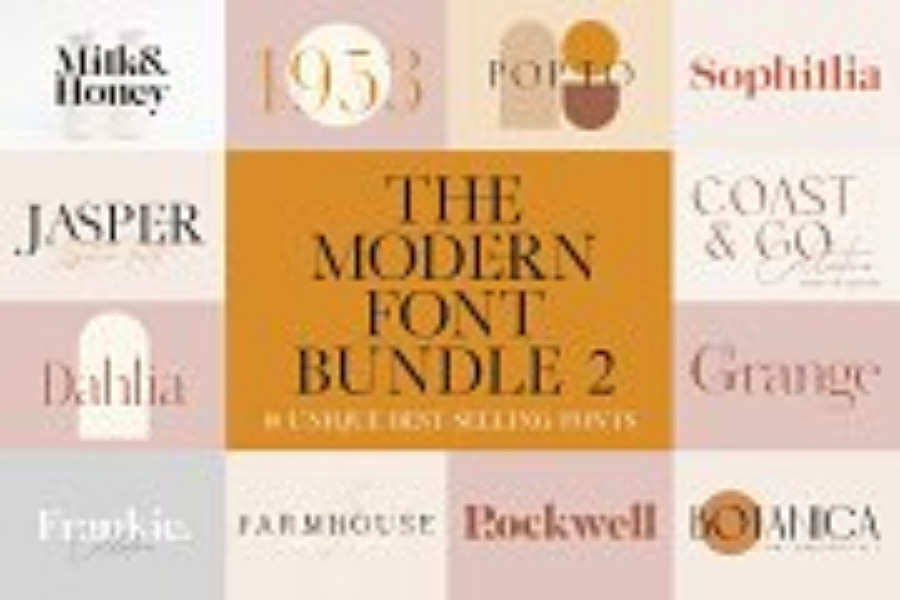 New Tropical Design brings to you exciting typefaces that are not only modern, but also flexible to be used in any and all project concepts.
Download The Modern Font Bundle Vol. 2
19. 154 IN 1 Font Bundle Whole Shop
Everything elegant, right on your fingertips. Purchase this well-stocked bundle by Creamy Script and you'll have what you need to create sophisticated logos, quotes, banners, posters, labels, and more.
Download Font Bundle Whole Shop