The Fender Musical Instruments Corporation (FMIC), simply known as Fender, is an American brand that manufactures stringed instruments and amplifiers.

Fender was founded in 1946 by Clarence Leonidas Fender. The company was previously based in Fullerton, California, before moving its headquarters to Los Angeles, California. It's currently owned by Servco Pacific.
For over 70 years, Fender has been the go-to company for acoustic guitars and bass amplifiers. The company is also noted for its high-end public address equipment. Some of its famous products include the Stratocaster, Telecaster, Jazz Bass, Jaxxmaster, and Precision Bass.

Fender products are noted for their uniqueness and high performance. The company also takes pride in offering its merchandise at industry-competitive rates.
Fender Font
Fender may be famous for designing high-end, sophisticated stringed instruments and amplifiers. However, the company has maintained a fairly modest logo over the years.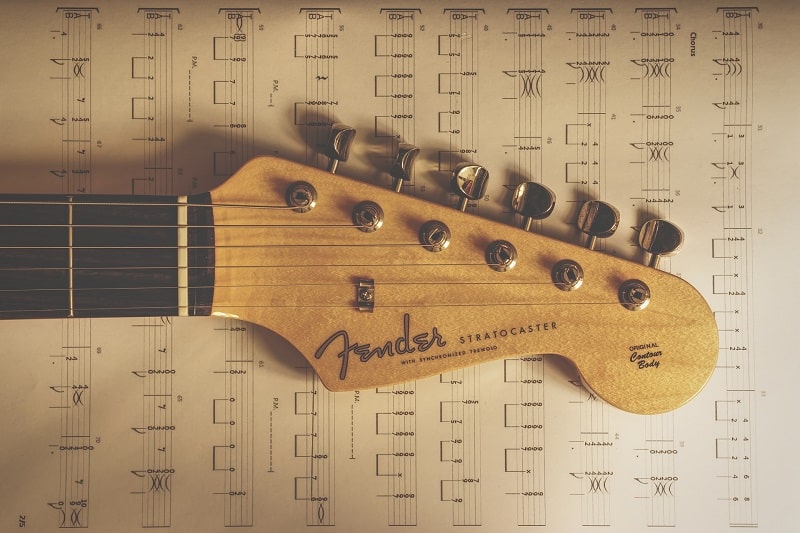 The Fender logo features simple lettering of the company's name. The logo is usually crafted in red. It can also appear in black, depending on the background it's printed on.

But while Fender's logo comes with no special elements besides the company's name, the logo's design is unique and eye-catching. The poster seems to have been designed in a brush and cursive style.

Another interesting thing about the Fender logo is that it was probably custom-made for the company. The same holds true for the font. There's no specific typeface identical to the one used on the Fender logo.

However, when it comes to the amazing world of graphic design, there's really no such thing as a completely unique font. So, it's possible to find a font similar (even if not identical) to the one appearing on Fender posters. A notable example is a font simply called Fender.
The Fender font does a great job at imitating the lettering in Fender's logo. The font comes in UPPERCASE and lowercase letters. It also features diacritical letters and a host of punctuation marks. But despite the name similarities, this font is only similar to, not identical, to Fender's original font.

Strato Font is another font that's similar to the one Fender uses on its logo and branding materials.

Strato is the work of a designer known as Bastien Sozoo. It's classified as a handwritten font because all characters were created by hand. The font features two weights, namely Regular and Medium. The Regular weight boasts 161 characters, whereas the medium weight has 160 characters.
Where to Download Fender Fonts
As we've already pointed out, the font appearing on Fender's official branding materials wasn't crafted based on any specific typefaces. You can only find imitations, such as Strato Font.

You can download Strato Font on Fonts Bee. You simply select your preferred version and file type, and then click on the "Download Now" link. Both weights support the .OTF and .TTF file formats. What's more, the font is free for both personal and commercial use.

You can also download Strato Font from the Famous Fonts website.