The 2020 pandemic has forever changed the world. No longer will we look at each other and the way we do things as the same anymore. Despite countries slowly lifting bans and bringing travel back, certain practices – like wearing of face masks – may soon become part of our daily routines.
Why are Face Masks Important
The Centers for Disease Control and Prevention or CDC recommends the use of face masks as an effective method for helping to slow down the spread of COVID-19. Not all masks are made equal though. To ensure you're getting the right protection, it should:
completely cover the nose and mouth; and
not have any gaps and fit neatly against the sides of the face.
When handling them, make sure to only hold them by the ear loops, cords, or head straps. Always wash your hands after removing your mask. You can also wear goggles or face shields with face masks so your eyes are protected from droplets.
Do you feel uncomfortable wearing face masks? In special cases, the CDC does exempt certain individuals from this requirement. These are children under two years of age, people with disabilities, and persons whose work may be at risk if they wear a mask.
If you're not used to it, you can try wearing it for short periods of time at home until you feel at ease with it. Another solution is to adjust the fit of the mask. You can do this by either using a mask fitter or brace, or knotting the ear loops. Choose a face mask with a nose wire for better fit, especially for glass wearers. Press the nose wire gently so it conforms to the shape of the bridge of your nose.
For more information on proper face mask practices, please visit the CDC guide for wearing masks.
Face Mask Mockups
Even if restrictions have been lifted in your area, continue to think of face masks as preventive measures against viruses and sickness. Always follow the recommended safety measures by the CDC and your local government units.
Want to create your own face masks? Here are several face mask mockups you can easily customize.
1. Face Mask Mock-up 2
This pack from Yogurt86 contains 9 photorealistic presentations compatible with Photoshop CS 5 or higher. It works great for bright or dark designs.
2. Face Mask Mockup
Ayashi brings you this set of 8 PSD files, compatible with Photoshop CS 6, for quick and easy editing. All files come with the ability to change tape and stitch color, as well as background and head color.
3. Face Mask Mock-Up Lifestyle vol.2
These 5 presentations from Temaphoto come with a model so future customers can easily imagine the final product. Fully layered in hi-res, please use with CS4 or higher.
Download Face Mask Mock-Up Lifestyle vol.2
4. Face Mask Mockup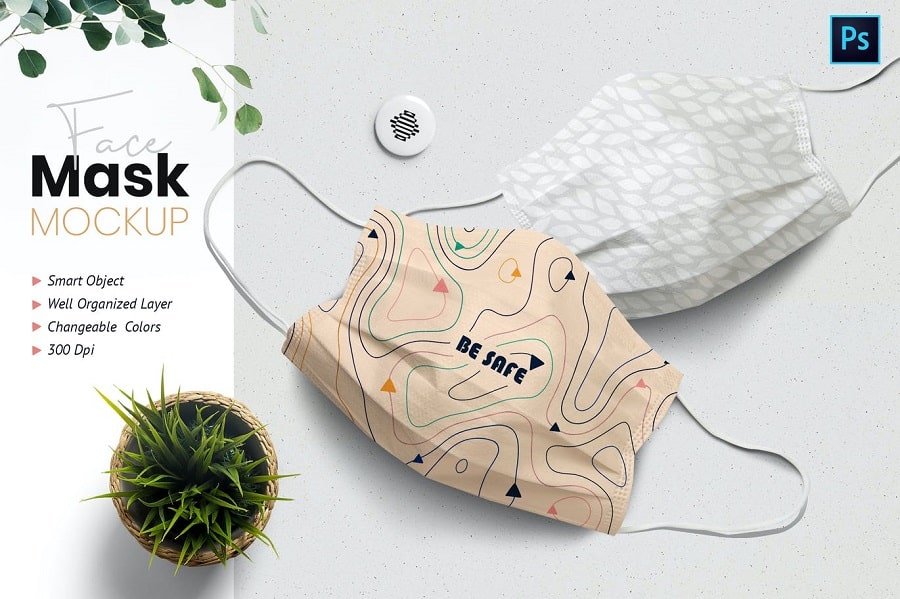 Show off your unique face mask designs using this graphic template from VictorThemesNX. It comes with non-destructive, editable effects and a removable background for Photoshop CS5+.
5. Face Mask & T-Shirt Mockup Lifestyle
If you're adding face masks to your list of products, why not showcase them together with your t-shirt prints, too? This collection of 9 high resolution PSD presentations let's you do just that.
Download Face Mask & T-Shirt Mockup Lifestyle
6. Face Mask MockUp Lifestyle 2
This graphic template pack features male and female models for more variation in your projects. Choose from 6 different high-quality mockups for use in CS4 or higher.
Download Face Mask MockUp Lifestyle 2
7. Cotton Face Mask Mockup Template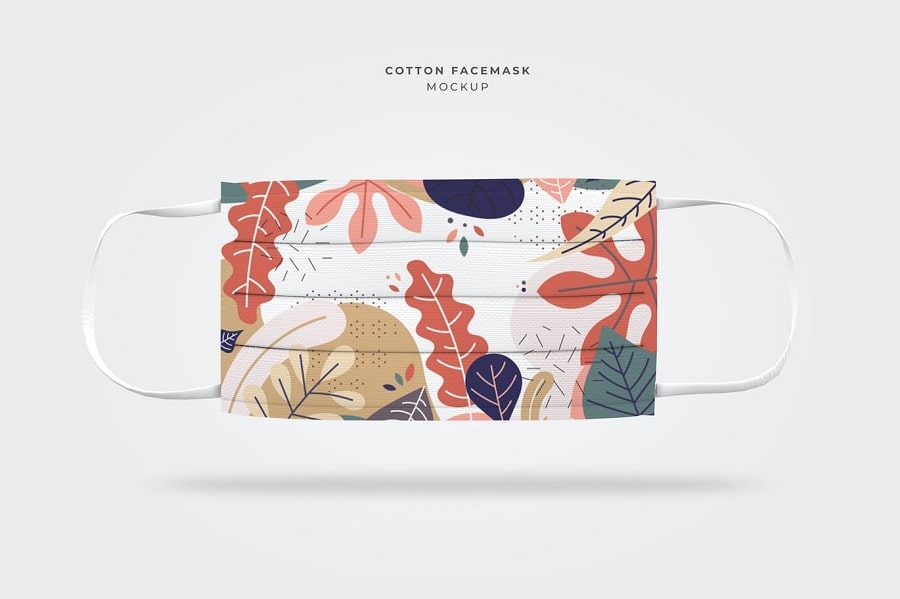 Are you making fabric face masks for sale? Then this handy mockup by Afahmy will suit your needs. Available in 6000 x 4000 pixels and comes in RGB and 72 DPI.
Download Cotton Face Mask Mockup Template
8. Medical Face Mask Mockup Template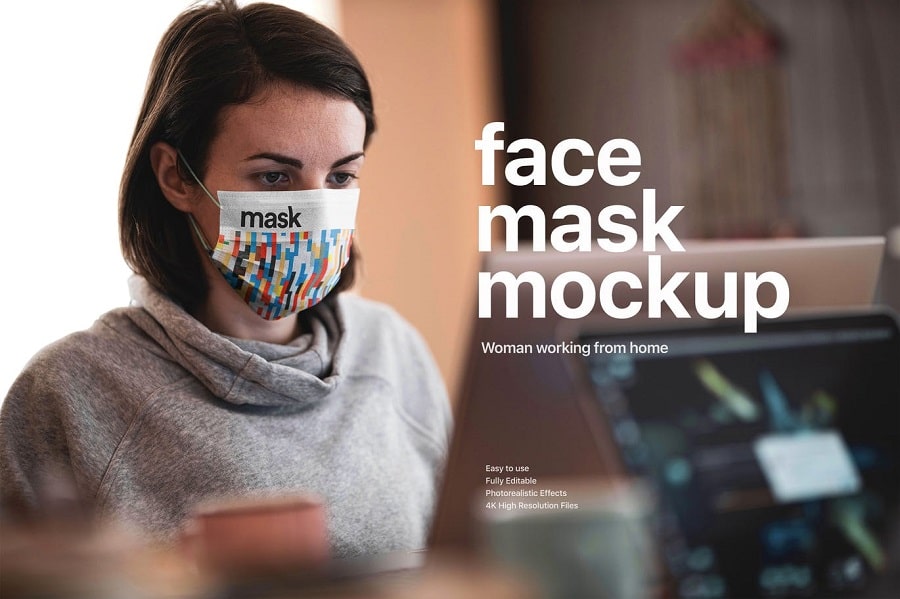 This mockup from Itscroma will make editing quick and easy. The hi-res files come in 4K resolution so you're sure to get photorealistic results you'll be happy with.
Download Medical Face Mask Mockup Template
9. Face Mask Mock-up
This template collection from Vasaki includes 3 photos with a male model and 1 with the face mask alone. All 4 files are optically captured, boasting of 300 DPI at 5616×3744 px; ideal for banners, billboards, website pages, and more.
10. Woman Wearing a Face Mask Mockup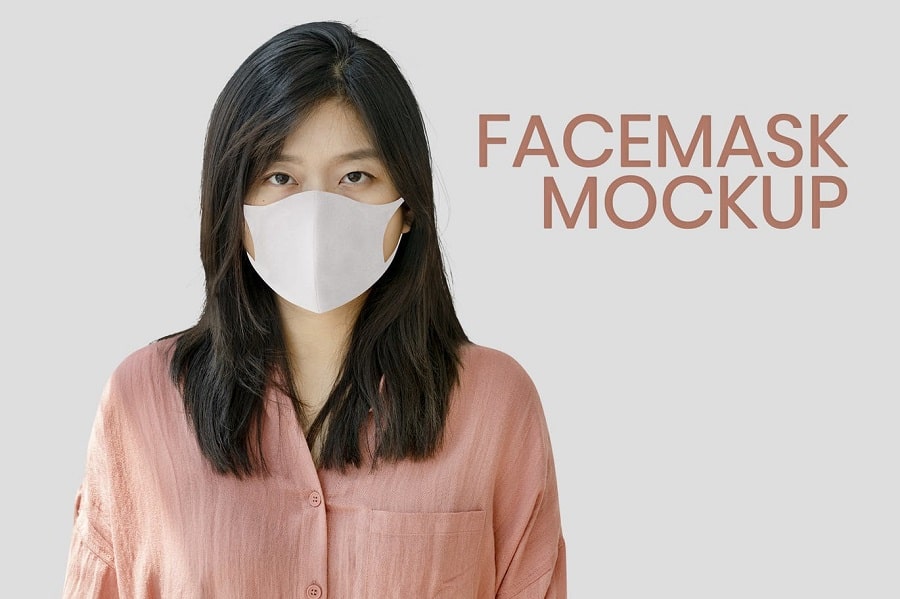 No need to print your face mask design in order to show it to potential customers. This easy-to-use mockup by Rawpixel will do the job perfectly well for you.
Download Woman Wearing a Face Mask Mockup
11. Cloth Facemask Mockups
This template set by Andrew Timothy is great for selling face masks or creating pandemic campaigns. It includes 7 PSD files and isolated elements for your convenience.
Download Cloth Facemask Mockups
12. Face Mask & T-Shirt Mock-Up
Make wearing face masks stylish by pairing them with a smashing t-shirt design as well. This collection of 8 PSD presentations are fully layered and work well with CS4 or higher.
Download Face Mask & T-Shirt Mock-Up
13. Mockup Mask Pattern
Show off your pretty face masks designs using this graphic template from Lilynthesweetpea. Simply change the pattern, adjust the highlights and reflection, and you're done!
14. Face Mask Mock-up
Just finished making a sweet face mask design? See your hard work come to life without the need to print using this mockup collection of 8 photorealistic presentations. Compatible with Photoshop CS 5 or higher.
15. Face Mask Mock-up
Whether it's for business or for a pandemic campaign, these 4 high resolution scenes are very easy to edit and adjust to capture exactly the effect that you're looking for.