Last Updated on August 14, 2023
ESPN, originally an initial for Entertainment and Sports Programming Network, is an American basic cable sports channel founded on September 7, 1979, by Bill Rasmussen, his son Scott Rasmussen, and Ed Egan.
The network broadcasts mainly from its studio facilities located in Bristol, Connecticut. However, it also has offices spread across the United States, including in New York City, Los Angeles, Miami, Seattle, and Charlotte.

ESPN is owned by the parent company ESPN Inc., which is itself under the joint ownership of The Walt Disney Company and Hearst Communication. The former co-owner commands an 80% stake, with the latter taking up the remaining 20%.

While ESPN is predominantly present in the US, its channels are viewed worldwide. As of the time of writing (January 2, 2022), ESPN's channels are available in over 200 countries.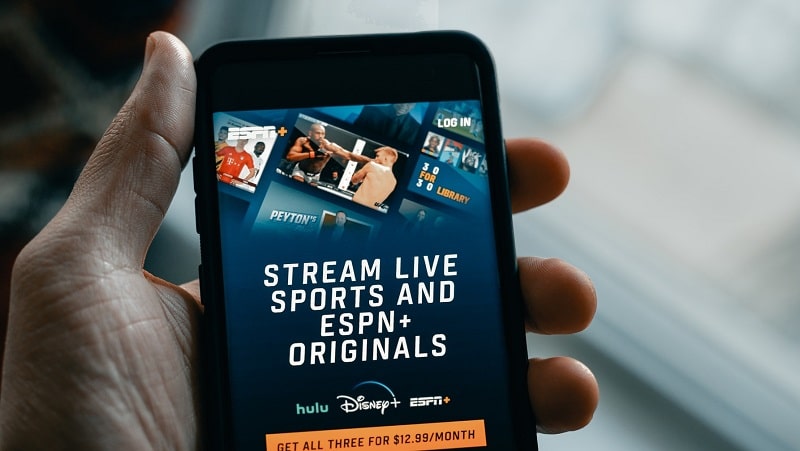 The channels include;

• ESPN+
• ESPN2
• ESPN3
• ESPNews
• ESPN Goal Line
• ESPN Bases Loaded
• ESPNU
• ESPN on ABC
• ESPN Classic
• ESPN Deportes
• ESPN College Extra
• Longhorn Network
• SEC Network
• SEC Network+
• ACC Network
• ACC Network Extra
• Big 12 Network


ESPN Font
ESPN uses a fun and interactive font known as ESP. ESP is the work of a designer named Nick A. Lynch. Going by its name, it's safe to conclude that this font was created specifically for the ESPN network.
ESP is classified as a techno, science-fiction font. The typeface is licensed as Shareware. It's a near-identical replica of the striking red and white elements that appear on the ESPN logo and typeface.

The ESP font is noted for its simple yet classic and elegant look. It's highly legible and easy to identify with, which makes it the go-to typeface if looking to enhance your brand's visual identity. That might explain why the ESPN network has used it for years.
Where to Download ESP Font
Right off the bat, it's important to point out that the ESP font is mainly available as a trial. A paid license may be required to fully access the font and use it on your personal or commercial projects.
Also note that the demos offered on most websites may lack certain essential features and characters. Therefore, your best bet would be to purchase a license to unlock ESP's nifty features.

That said, there are numerous places where you can download the ESP font. In fact, you might just be lucky to find a site that offers this font for free.

Fonts 4 Free is an example of the many platforms where you can easily access the ESP font. The main reason to consider downloading ESP on this website is that there are several file formats to choose from. Besides, the website lets you download multiple versions of the font, including ESP Bold and ESP Italic.

Other websites where you can download ESP font include DaFont Free, Fonts 2 U, and Fonts Meme.