What Is Dyslexia?
Dyslexia, also known as reading disorder, is a disorder where a person experiences difficulty reading due to challenges in identifying speech sounds and relating those sounds to words and letters. The condition typically sets in during school age. And according to statistics (https://www.cache.org.uk/news-media/dyslexia-the-facts), about one billion people suffer from dyslexia around the world.
Dyslexia affects people differently. Some victims may experience difficulties spelling words, whereas others may have problems reading quickly. There's also a group of dyslexics who may experience challenges writing words, pronouncing words while reading aloud, or sounding out the words in their heads.
What Causes Dyslexia?
Genetic predisposition accounts for nearly all cases of dyslexia. The condition is linked to certain genes that influence how the brain processes language and reading.
However, there are also certain risk factors to pay attention to. Examples include;
• Family history of other learning disabilities
• Preterm birth
• Low birth weight
• Exposure to tobacco, alcohol, or narcotic drugs during pregnancy
• Exposure to diseases that may alter fetal development during pregnancy
Without urgent interventions, not only can dyslexia cause severe learning difficulties. The condition may also lead to low self-esteem and unhealthy social behaviors, such as social phobia and misplaced aggression. Ultimately, dyslexia may have long-term educational as well as socioeconomic consequences.
Dyslexia Treatment and the Role of Fonts
There's no magic pill for dyslexia. Instead, most treatment options involve helping the victim manage the condition. Conventional treatment techniques include educational support, targeted therapies, and lifestyle adjustments.
Since dyslexia typically involves the inability to read and spell, the correct font choice can go a long way in helping manage the condition. Listed below are the top five fonts for dyslexics;
1. OpenDyslexic
OpenDyslexic is a free font created by Abelardo González and released through an open-source license. The font was designed taking inspiration from the DejaVu Sans.
OpenDyslexic implements exceptional letter kerning, making it perfectly suited for dyslexics. The font is available in numerous styles, including regular, bold, italic, bold italic, and monospaced.
2. Dyslexie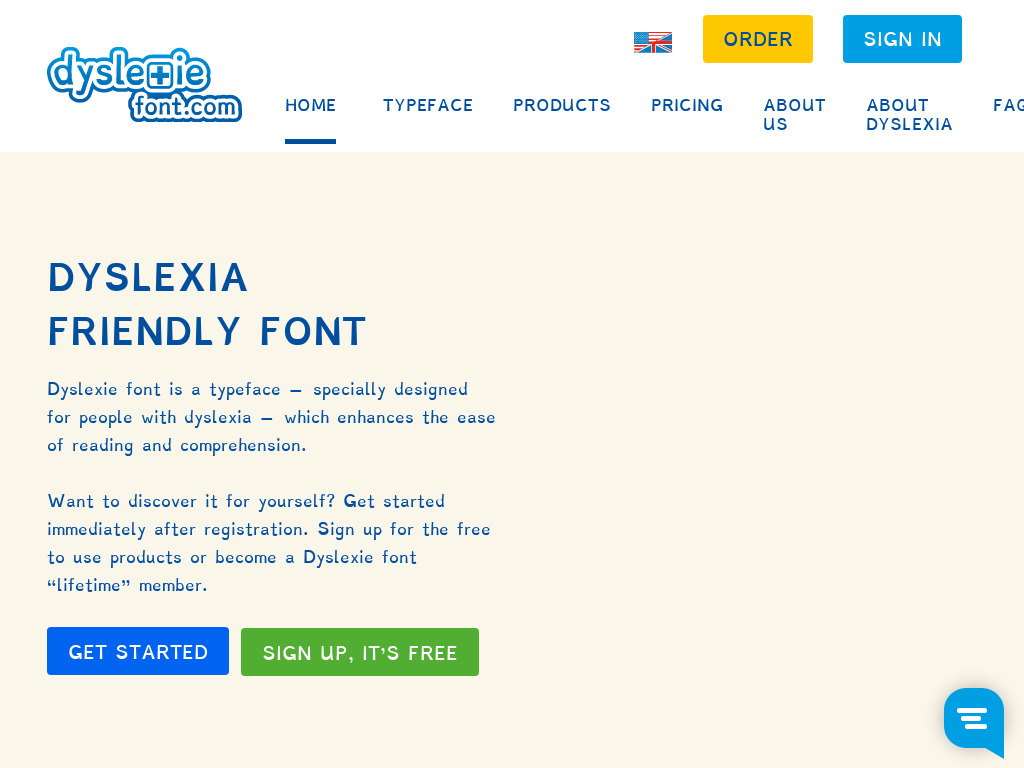 The name says it all. This font was designed by Christian Boer, who's himself a dyslexic.
Dyslexie is characterized by glyphs that are firmly anchored to the baseline, making letters in the typeface incredibly readable. The font was created in the Netherlands as part of a major thesis project.
3. Comic Sans MS
Comic Sans MS is a sans-serif typeface designed by Vincent Connare and initially released by Microsoft Corporation in 1994. It's arguably the best Microsoft font for people with dyslexia.
All the characters in Comic Sans MS are uniquely crafted, except the letters "b" and "d" which are mirrored.
4. Read Regular
This font attempts to live up to its title – helping dyslexics read just as 'regularly' as normal people.
To make that happen, the font employs unique characters that come with no embellishments. The characters are also cleverly streamlined, bearing the challenges of dyslexics in mind.
5. Sylexiad
Sylexiad takes a different approach to addressing the reading difficulties experienced by dyslexics.
Instead of experimenting with different character sizes, heights, or kerning, the characters in Sylexiad are designed to mimic handwritten text.
6. Hemenix
USE Hemenix is a good choice for any branding project. Use it for logos, magazines or anything else. Thankfully for the nine weights you can easily play with feelings and emotion that you want to broadcast.
7. Kin Grotesque
Kin Grotesque has been created to be your new go-to grotesque font that will work well for body copy and headlines. With nine standard weights, this font will fit a myriad of uses such as; editorial headings, body text and logo design. Kin Grotesque is a sans serif modern classic grotesque font, perfect for adding personality to logos and brochures.
8. Casper
Casper Display is a Unique Modern Elegant Typeface with Web-fonts. It's a very versatile font that works great in large and small sizes. Casper Font would perfect for branding, logos, headlines, Captions. or simply as a stylish text overlay to any background image. Strong capitals and a smooth, open lowercase are effective in a variety of applications. It's shown a clean, minimalist, warmth, quirky, yet still purposed to be versatile and easy to read.
9. Mersin
"Mersin Book" and "Mersin Book Italic" are specially designed for body texts and small fonts usages. Ideal for corporate identity, posters, brochures, guidance signages and all other kinds of graphic design works.
10. Colette
Colette – a geometric sans serif font.
Colette created for interfaces, games, web design, branding and social media works.
11. Pontiac
Pontiac is a sans serif OpenType font designed by Fanny Coulez and Julien Saurin in Paris. Somewhere between Akzidenz Grotesk and Neutra, Pontiac is a functional font with something more, something warm, geometric but human, something distinctive, something French finally.
12. The Qlickers
The Qlickers is a casual sans serif font. This beautiful and professional typeface is suitable for film posters, headlines, block letters, subheadings, logo designs, and so much more.
13. Givonic
Givonic is a new geometric sans serif and clean variable font. The typeface is versatile to blend in your design- with 6 weight, ranging from regular, medium, thin, bold, semibold, extrabold, light, extralight and black & 18 styles + variable type to touch a lot of personality. Perfect anywhere you need a right finas touches for branding, publishing, titles, book, magazine , and use on UI/UX design.
14. Fonseca
Fonseca is a modern sans serif inspired by art deco and typography poster in early 20th century. The key of this all caps family is simple straight geometric forms and modernized letterforms.
This display family is perfect for headlines, posters, logos, branding projects, magazines, and packaging. The modernized retro-look make this family great to presents any contents related to travel, history & culture in the present/modern way.
Remember…
The above typefaces won't cause dyslexia to magic itself away. They only help to make the condition more tolerable.
For the best results, remember to consult your therapist for possible recommendations of other treatment options you can explore in addition to using the above dyslexia-friendly fonts.