Last Updated on July 4, 2022
What Is Dyslexia?
Dyslexia, also known as reading disorder, is a disorder where a person experiences difficulty reading due to challenges in identifying speech sounds and relating those sounds to words and letters. The condition typically sets in during school age. And according to statistics (https://www.cache.org.uk/news-media/dyslexia-the-facts), about one billion people suffer from dyslexia around the world.
Dyslexia affects people differently. Some victims may experience difficulties spelling words, whereas others may have problems reading quickly. There's also a group of dyslexics who may experience challenges writing words, pronouncing words while reading aloud, or sounding out the words in their heads.
What Causes Dyslexia?
Genetic predisposition accounts for nearly all cases of dyslexia. The condition is linked to certain genes that influence how the brain processes language and reading.
However, there are also certain risk factors to pay attention to. Examples include;
• Family history of other learning disabilities
• Preterm birth
• Low birth weight
• Exposure to tobacco, alcohol, or narcotic drugs during pregnancy
• Exposure to diseases that may alter fetal development during pregnancy
Without urgent interventions, not only can dyslexia cause severe learning difficulties. The condition may also lead to low self-esteem and unhealthy social behaviors, such as social phobia and misplaced aggression. Ultimately, dyslexia may have long-term educational as well as socioeconomic consequences.
Dyslexia Treatment and the Role of Fonts
There's no magic pill for dyslexia. Instead, most treatment options involve helping the victim manage the condition. Conventional treatment techniques include educational support, targeted therapies, and lifestyle adjustments.
Since dyslexia typically involves the inability to read and spell, the correct font choice can go a long way in helping manage the condition. Listed below are the top five fonts for dyslexics;
1. OpenDyslexic
OpenDyslexic is a free font created by Abelardo González and released through an open-source license. The font was designed taking inspiration from the DejaVu Sans.
OpenDyslexic implements exceptional letter kerning, making it perfectly suited for dyslexics. The font is available in numerous styles, including regular, bold, italic, bold italic, and monospaced.
2. Dyslexie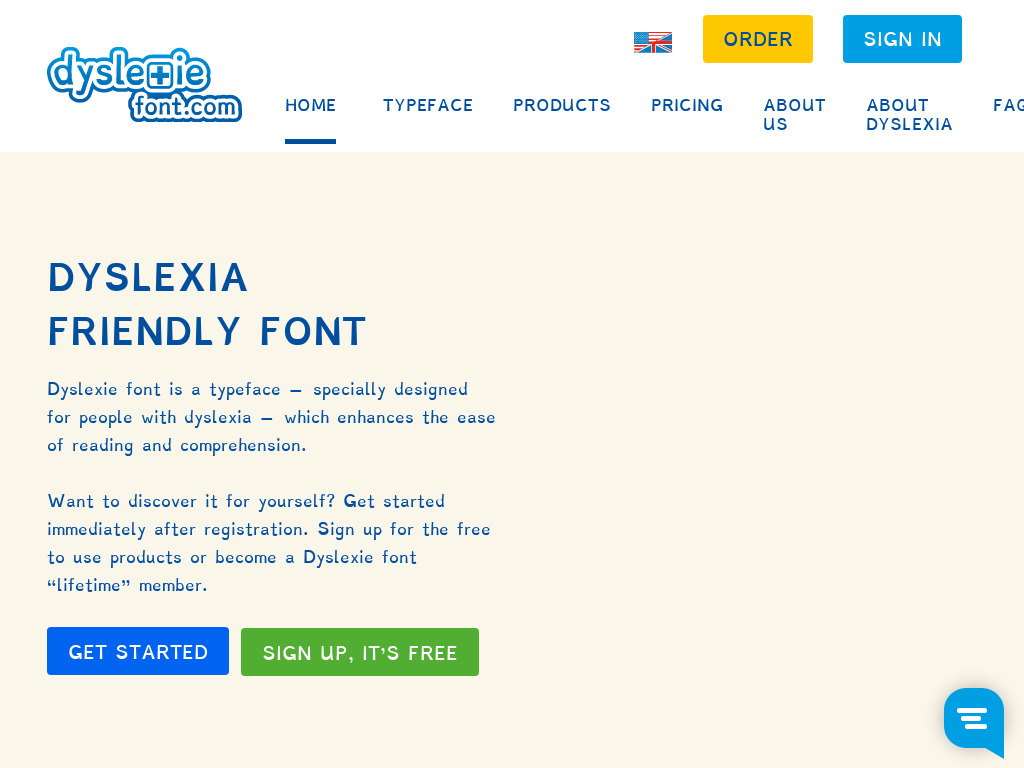 The name says it all. This font was designed by Christian Boer, who's himself a dyslexic.
Dyslexie is characterized by glyphs that are firmly anchored to the baseline, making letters in the typeface incredibly readable. The font was created in the Netherlands as part of a major thesis project.
3. Comic Sans MS
Comic Sans MS is a sans-serif typeface designed by Vincent Connare and initially released by Microsoft Corporation in 1994. It's arguably the best Microsoft font for people with dyslexia.
All the characters in Comic Sans MS are uniquely crafted, except the letters "b" and "d" which are mirrored.
4. Read Regular
This font attempts to live up to its title – helping dyslexics read just as 'regularly' as normal people.
To make that happen, the font employs unique characters that come with no embellishments. The characters are also cleverly streamlined, bearing the challenges of dyslexics in mind.
5. Sylexiad
Sylexiad takes a different approach to addressing the reading difficulties experienced by dyslexics.
Instead of experimenting with different character sizes, heights, or kerning, the characters in Sylexiad are designed to mimic handwritten text.
Remember…
The above typefaces won't cause dyslexia to magic itself away. They only help to make the condition more tolerable.
For the best results, remember to consult your therapist for possible recommendations of other treatment options you can explore in addition to using the above dyslexia-friendly fonts.