A typeface is one of a graphic designer's biggest assets. The right font can offer your target audience a sneak preview of what your designs and documents are all about. It can also add a magical appeal to your creations and draw more people to them.

Fortunately, the font market is replete with amazing typefaces that you can use to bring out the best in your design projects. The challenge is usually finding a font that speaks to your creations.

In this article, we narrow down our focus to the font used on Dune's logos and posters. We shall explore this font in detail and explain why you should consider it for your next design projects.
About Dune
Dune, officially titled onscreen as Dune: Part One, is an American spic science-fiction film directed by Denis Villeneuve and produced by Mary Parent, Denis Villeneuve, Cale Boyter, and Joe Caracciolo Jr. The movie was written by Jon Spaihts, Epic Roth, and Denis Villeneuve. It's based on the 1965 homonymous epic science-fiction novel by Frank Herbert.

Dune features an ensemble cast, including Timothée Chalamet, Rebecca Ferguson, Oscar Isaac, Josh Brolin, Stellan Skarsgård, and Dave Bautista. The film tells the story of an intelligent and exceptionally gifted young man called Paul Atreides, who's born into a mystic world with his destiny already well mapped out.

However, the planet into which Atreides is born is facing real threats of extinction as malevolent forces seek to rob it of its most precious resources. Paul must do all that it takes to safeguard the future of his family and people. That involves traveling to a dangerous planet and risking collision with the very forces that are out to extinguish his mother planet.

Dune was originally released on September 3, 2021, in Venice, and then later on October 22, 2021, in the United States. The film has garnered impressive reviews and won six Academy Awards. It also achieved astounding commercial success, raking in $401.8 million at the box office from a budget of $165 million.
Dune Logo
Dune's logo is just as interesting as the storyline in this epic film. The badge is a wordmark of the movie's name positioned above an image of a sand dune.

The logotype is rendered in the UPPERCASE and all the letters utilize a curved version of 'U,' only positioned in four different ways to make it look stylish.

However, the letter 'E' in the wordmark appears more pronounced. That's due to a lens flare element that protrudes from the letter right where the middle crossbar would be.
Dune Font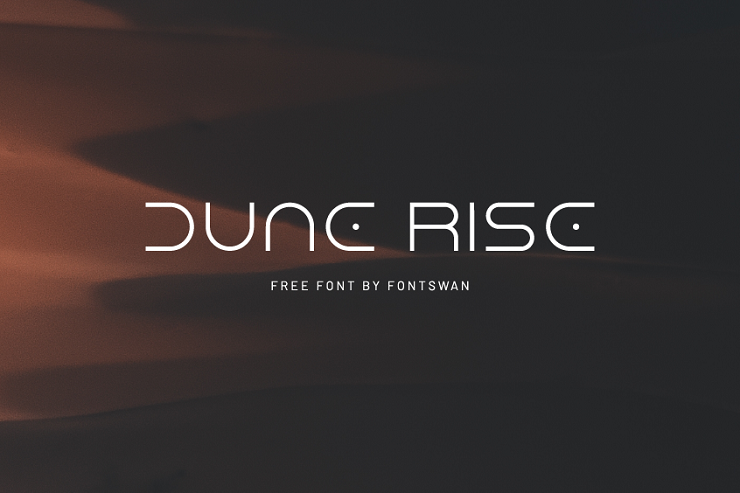 Dune utilizes a unique font. It's likely that the film's makers hired a team of internal graphic designers to create a custom typeface to be used on its logos. However, the original font appearing on Dune's posters looks a lot like Dune Rise.

Dune Rise is a futuristic display typeface created by Jesta Designs. The font was designed taking inspiration from the Canadian Aboriginal syllables, the same design concept that's evidenced on the Dune film's logo.

Dune Rise is presently available only in UPPERCASE letters. Again, this is a fundamental feature that the typeface designer borrowed from Canadian Aboriginal syllables.

Letterforms executed in the Dune Rise typeface sport a clean and solid appearance. The letter 'A' looks like an upturned 'V' while 'B' resembles the number '3.' The letters 'P' and 'R' have incomplete counters, whereas 'C,' 'D,' 'E,' 'N,' and 'U' have similar shapes, only positioned differently.

Dune's apparent lack of lowercase letters isn't so much of a drawback considering the range of other features this typeface comes with. The font supports numbers, basic punctuation marks, and some currency symbols.
How to Apply Dune Rise
Dune Rise is predominantly a display typeface. In other words, the font would look exceptionally stunning if used for highlighting headings and subheadings as opposed to extended passages of body text.

As a display typeface, you might also consider using Dune Rise on keywords, key phrases, and other sections of a text that you wish to draw more attention to.

Dune Rise's display features and solid texture not only make it suitable for using on documents. You can also deploy this font on a range of other graphics. These include while designing your company's emblem, business cards, billboard advertisements, flyers, and posters. You could also use the typeface in embroidery, apparel branding, and homeware designs. Other potential applications include while titling a book, magazine, movie, or video game.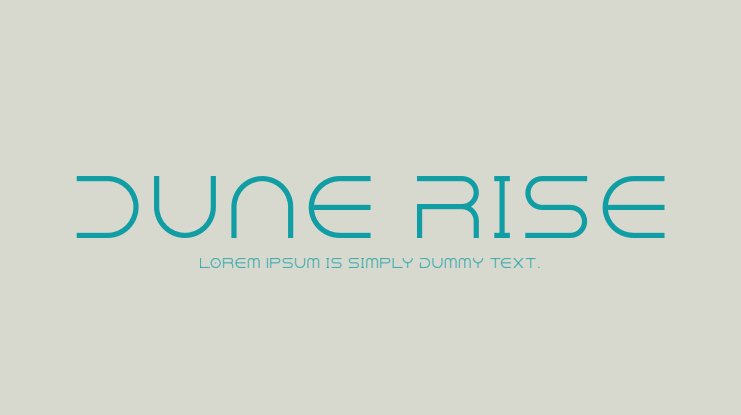 Another thing worth noting about Dune Rise is its futuristic appearance. That makes it compatible with designs that resonate with futuristic themes. Examples of such themes include space exploration, robots, clean environment, and modern technology.

However, the fact that Dune Rise is primarily a display typeface means it's more legible when used in large sizes. While that would work for headings and subheadings, the same may not be true for body text. Increasing the font size of your documents may translate to massive wastage of storage space.
Where to Download Dune Rise
Dune Rise is available for immediate download from a number of websites. You can find the font on Font Swan, BE Fonts, and Fontesk.
Is Dune Rise Free?
Many of the above download websites claim that Dune Rise is free for both personal and commercial use. However, remember that the font remains a trademarked work of Jesta Designs. Therefore, it would be prudent to contact the designer directly before using it for commercial purposes.