Last Updated on June 10, 2022
This television series is a sequel to Dragon Ball, using the later 325 chapters of the original Weekly Shonen Jump manga. Produced by Toei Animation, it ran from 1989 to 1996. It became so successful that it was eventually broadcasted to 81 countries, garnering a huge fanbase in United States, Europe, and Asia.
Dragon Ball Z Plot
Goku, the series protagonist, is now father to Gohan and goes through a series of trials from the invasions of Saiyans Raditz, Nappa, and Vegeta.
The saga extends from Earth to Piccolo's homeworld, the planet Namek, where Frieza is busy ravaging the planet to get his hands on the Namekian Dragon Balls. The battles resume on earth after defeating the galactic warlord, going through the Red Ribbon Army's Androids, the synthetic lifeform Cell, and the sealed magical creature Majin Buu.
The show's direction moves away from the kooky antics shown by young Goku in Dragon Ball. Goku is a grown man and a father, and he has to play the part too. That also means he has to be stronger to take on more powerful foes that mean business – universe-smashing business, that is.
Powerful Dragon Ball Z Font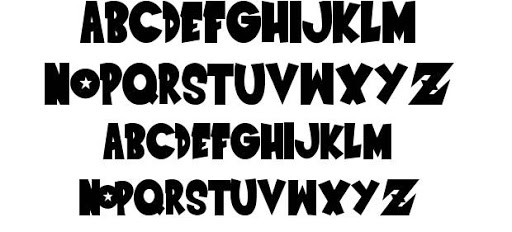 Re-live the epic battles when you use this Saiyan Sans font by Ben Palmer. Created to mimic the Dragon Ball Z logo, it stirs up nostalgia for the beloved franchise.