Last Updated on April 11, 2023
The Los Angeles Dodgers remains a household name to this day.
They won the World Series seven (7) times and have numerous famous players, such as: Maury Wills, Mike Piazza, Eric Karros, Hideo Nomo, and Tommy John. They are one of the most successful team franchises in Major League Baseball (MLB). The team's current home is the Dodger Stadium, located in the Elysian Park neighborhood, Los Angeles, California.
The Los Angeles Dodgers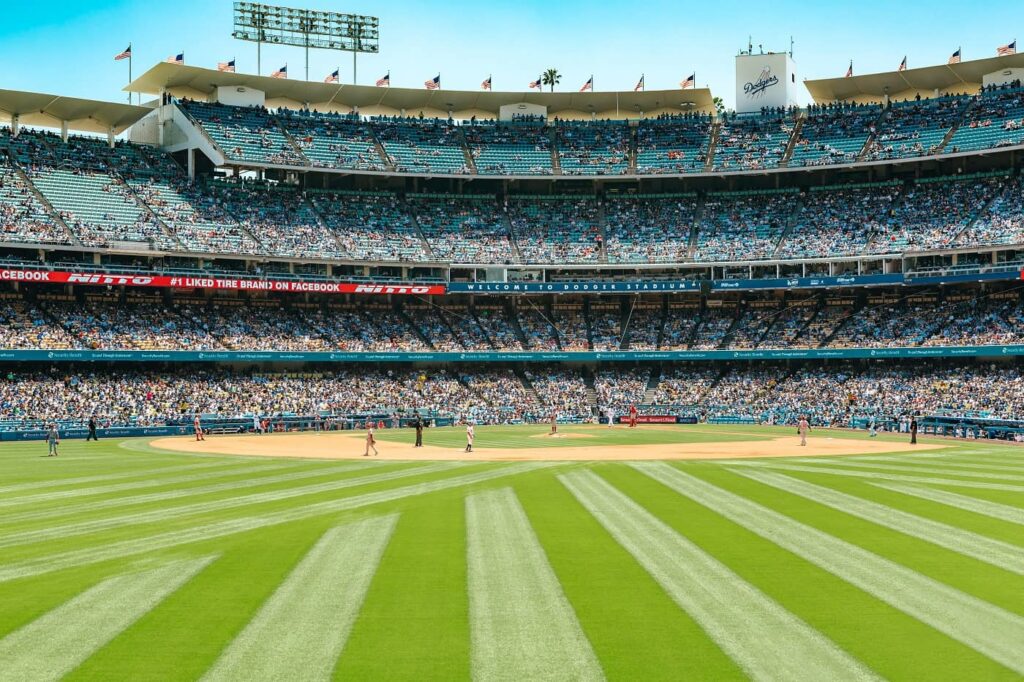 The Dodgers weren't always based in L.A., nor were they named as such. They began as the Brooklyn Bridegrooms when they joined the National League (NL) in 1890. They had stiff rivalry with the New York Yankees. They played 68 seasons in Brooklyn, before relocating to Los Angeles in 1958. This was after they won their first World Series in 1955.
Aside from their wins, the Dodgers made history when they broke the baseball 'color line' (i.e. color barrier, a practice of excluding African American players from participating in the MLB) in 1947. Jackie Robinson became the first African American to play for an MLB team as first base on April 15, 1947.
The Dodgers uniforms are famous for their simple yet handsome appeal. Little has changed since they first wore them in the 30s. The 'Dodgers' name is written in script with a deep azure (also called Dodger Blue) color, the numbers are in red, and the uniform itself is white.
FREE Dodgers Font
The Dodgers font, similar to other sports teams, is custom-made and based on their logo. So you'll probably have a hard time finding the exact one that they're using. You can get something pretty close though. The Nexa Rust Script S 1 by Fontfabric is a great option, despite it being a premium typeface.
For FREE variants, check out Dattermatter by Billy Argel or Retrofunk Script by HPTypework. Other alternatives include Fenway Park JF and Krinkes. Please note that these are for personal use ONLY. Of course, you can try your hand at creating your own font, too!