Last Updated on October 9, 2023
When DJs think of typography, they most likely think it's all about serifs and fonts. However, there's so much more to it. Display fonts come in various fun and striking styles that can breathe new life into your visuals.
Being a DJ doesn't mean you have to be stuck with the default text that comes with your software, especially when you know that it takes more than just music to get people up and dancing.
You need to create an experience in which all the senses are engaged and this process starts with good design. Content is important, but it needs to be presented in a way that is visually appealing and easy to read.
And for this reason, we've put together a list of 26 awesome DJ fonts to help you leave a lasting impression on your audience before the party even starts. With these fonts, you can create amazing flyers and posters to get people excited about your event. And, of course, they'll be hooked once they see your DJ skills in action!
Outstanding DJ Fonts
1. Synthetika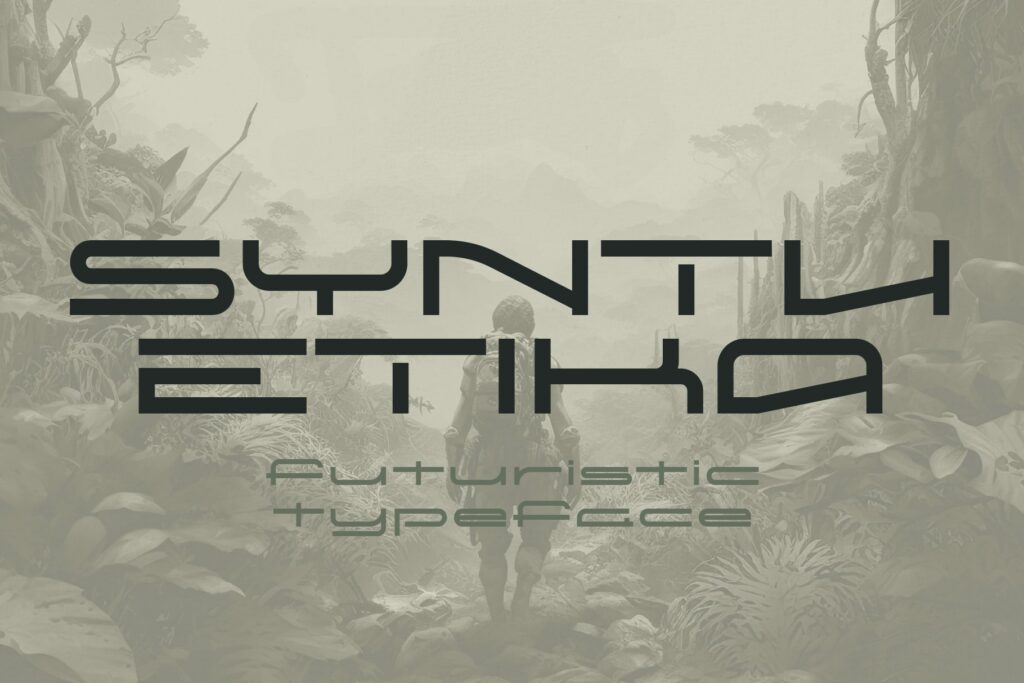 Need a contemporary font for that seamless futuristic aesthetic? Then check out Synthetika. With its smooth curves and wide lettering, it is a fantastic choice for various creative projects, such as dystopia movies, athletic posters, game covers, and more.
The combination of geometric shapes and sharp angles gives this typeface a bold and powerful appearance, evoking confidence and strength. The clean, wide, and slightly blocky style exudes a sense of precision, making it ideal for cutting-edge and forward-looking artworks.
Whether you want a sleek, revolutionary website or you're developing a game, Synthetika is a wonderful font to have in your toolkit.
2. Siegra 
Siegra is simple typography, but its simplicity certainly does not stop it from being a cool blend of assertive, elegant, sporty, modern, and futuristic. Its letters, wide with rounded edges, exude class and confidence.

Its unique design makes it suitable for all your design needs, from posters to campaigns to logos, keychains, stickers, T-shirts, automotive, your DJ-related needs and many more.
Siegra is equipped with many stylish ligatures that boost your design's powerful image. An additional advantage is that it is PUA encoded (you can easily access all the glyphs and swashes) and has multilingual support.
3. Rigamesh
Rigamesh is a bold font type that radiates modernity and confidence. The all-caps font is perfect for any design, especially those you want to portray style and dynamism. 
These awesome features make Rigamesh suitable for your sport-related designs, game-related designs, logos, music posters, website designs, and book covers/titles. Simply put, it is perfect for putting your audience in a party mood. 
4. Dusty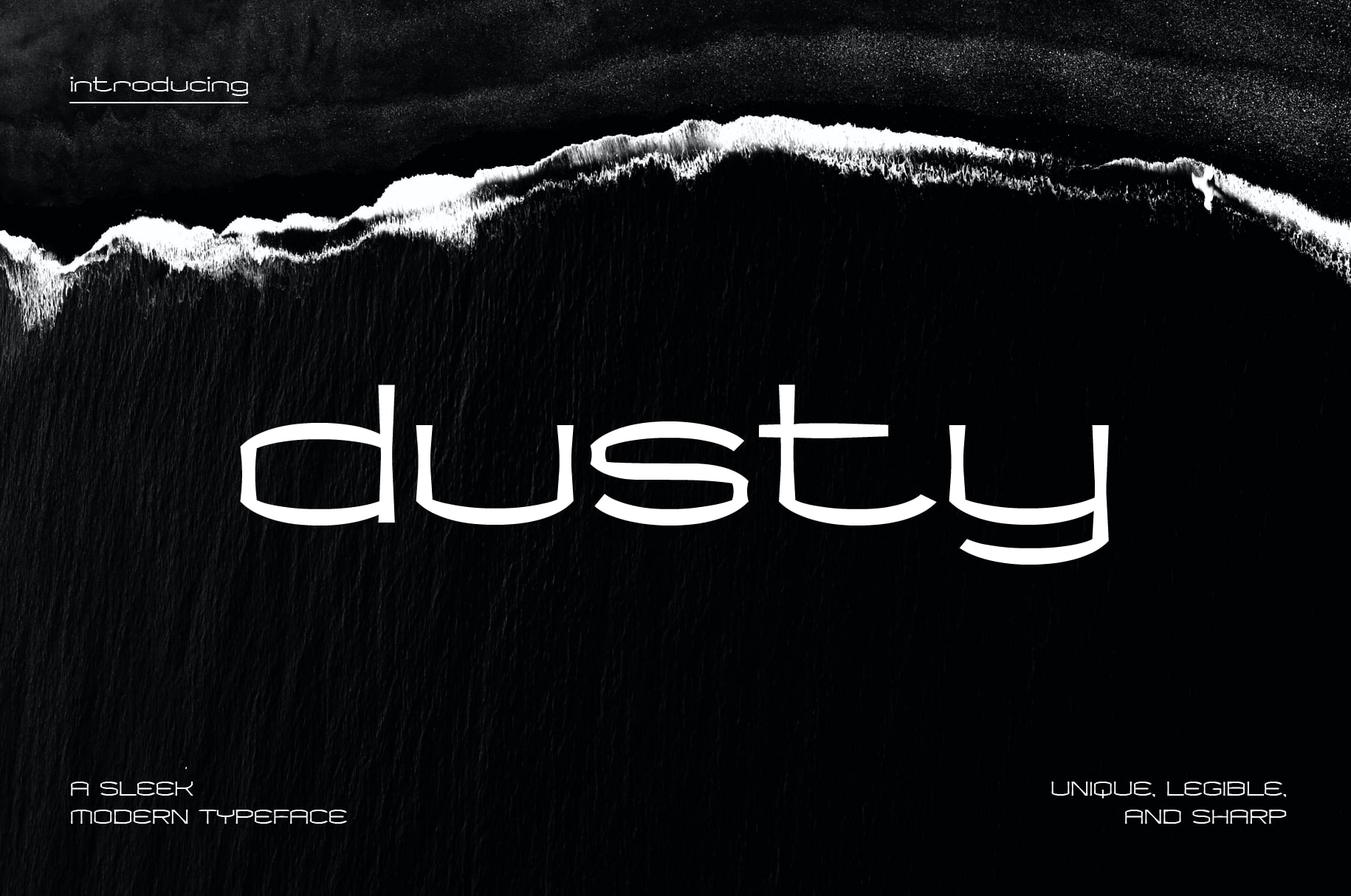 Dusty is a sleek modern display typeface perfect for high exposure without that unnecessary distraction. Its clean futuristic look is perfect for sci-fi, video games, sports, and technology themed projects. Dusty is intended to be used for headings,, branding, logos, wordmarks and other application rather than typing a body of text. If you need a head turning geometric display, then Dusty is for you.
5. Point Blank

Check out Point Blank – a cool retro font that will take you back to the groovy and funky styles of the '60s and '70s. It's got big, bold, and chubby letterforms that will surely make a striking statement in whatever project you use it for.
Its sweet retro charm will captivate while effectively communicating your message. Posters, logos, social media posts, t-shirt prints, invitations, music covers, product labels – you name it, Point Blank will bring it!
6. Techno Cowboy
Introducing Techno Cowboy, a modern techno display font with multilingual support. Techno Cowboy is great for creating eye-catching logos, headlines, ads, posters, web design, print, motion graphics, apparel and much more. If you're looking for a futuristic font that packs a punch, then Techno Cowboy is for you.
7. Zuccini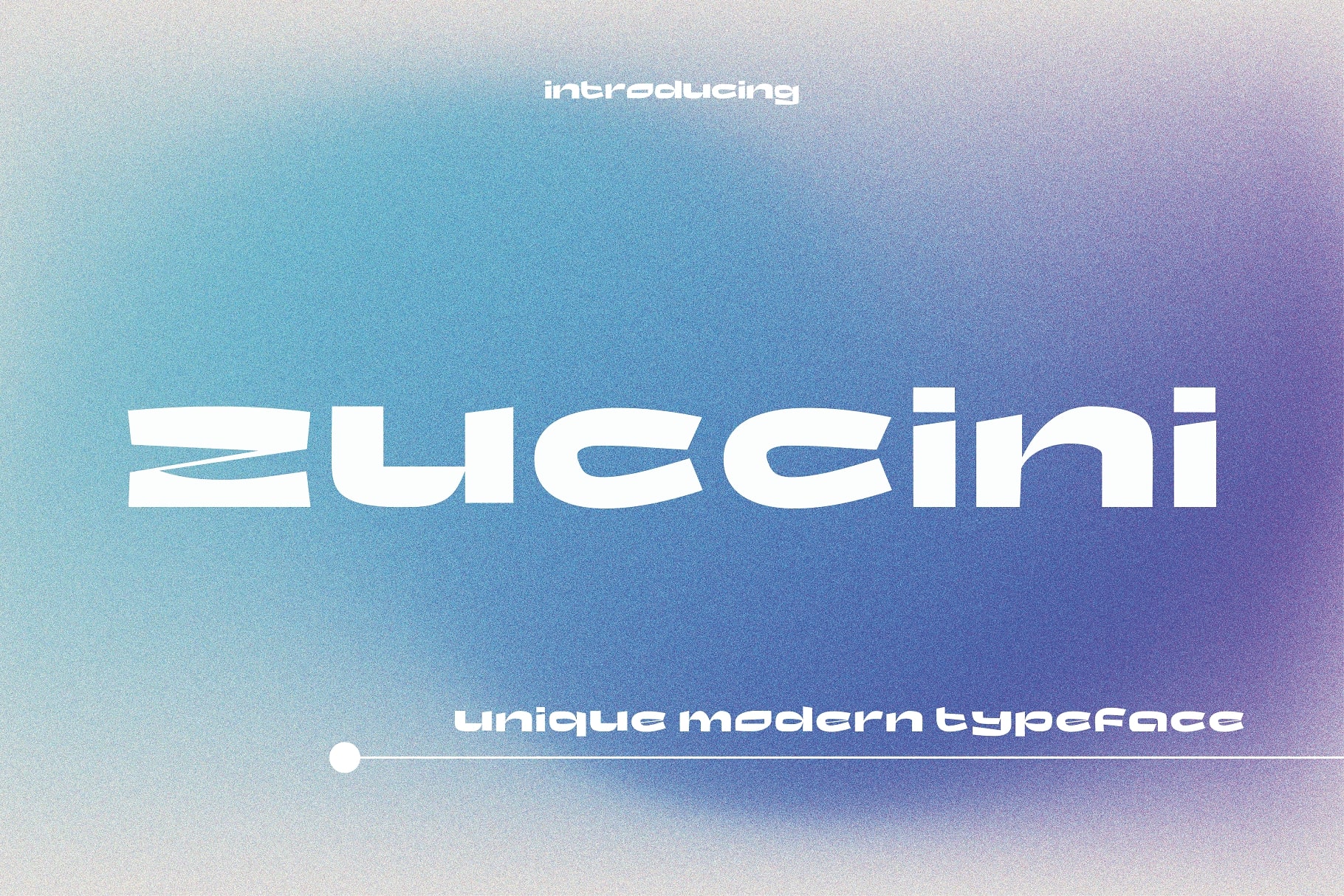 Zuccini is a unique modern typeface created especially for sleek/minimal design projects. This gorgeous font is perfect for magazines, branding, social media, youtube, packaging, fashion, posters, headlines, and much more. With stylish looks, Zuccini will make your designs stand out and get noticed.
8. Futurina 
In case you have not already inferred from its name, Futurina is a futuristic techno font that undeniably takes you to a future involving lots of dancing and partying.
When you are not using it for your DJ needs, the versatile queen that is Futurina is suitable for gaming designs, E-sports designs, logos, sports racing/supercar brands, 80s retro designs, Website designs, posters, book covers, music posters, modern advertising and lots more.
9. Proxon

Proxon is a beautiful and modern futuristic font. Proxon's bold and pointed tips are inspired by sci-fi and technology and provide a contrasting blend of aesthetics.
The first look at it, especially when it is on a music poster or flier, lets you know that you are guaranteed a good time. This science-friendly and attractive font is well suited for headlines or short-length text blocks, technology or sci-fi designs, gaming designs, magazines, brand logos and labels, marketing, design pieces, and many more.
10. Novan
Novan is the cool kid on our list that dares to completely stand out from the others. It is a modern techno font that, when used on your music posters and fliers, will undoubtedly leave people anticipating your performance.
Novan is fantastic for eye-catching designs like headlines, logos, motion graphics, web designs, print designs, T-shirts, and other branded items. And if you are worried about its language support, fret not, as it supports multiple languages and comes in OTF format. 
11. Hydra
Hydra is an experimental typeface that's quirky and hip at the same time. Its intricate letterforms will make your designs standout and grab attention right away. Hydra is ideas for fashion, branding, posters, apparel, packaging, web design, social media, and more. Take your designs to the next level today with Hydra.
12. Technica  
Technica is simply a statement-making font. The font, with its combination of abstract shapes, makes for geometric brilliance and leaves one imagining all kinds of twists and fun that your upcoming event will possibly bring.
Technica is bold, modern, and futuristic but it is not only limited to technological designs as is commonly inferred. It can also be used for your gaming designs, movie titles, space-related designs, brand designs, music industry designs and many more.
A bonus is that it is not limited to just letters but includes numbers, punctuation, and basic Latin. It also comes in OTF, TTF and WOFF formats.
13. Baunk
If you are looking to make a high-tech sci-fi statement or atmosphere, especially for your event, then Baunk is for you. Baunk is a bold and simple typeface with unique lettering that features upper and lowercase letters that are wide, uniquely curved and slanted.
It further supports numbers, punctuation, and multiple languages. These rare features make it perfect for tech/ gaming event themes, logos, titles, web and app designs, and many more related designs. 
14. Rephen
Rephen is a futuristic, unique, and slightly minimalistic typeface. Rephen projects elegance, modernity, and beauty with its letters. This typeface ensures the maximum effect with very little effort in using words.
With Rephen, you are guaranteed to make an impression and leave your audience anticipating your sure-to-be mind-blowing performance. 
In addition, Rephen's beautiful yet simple design makes it perfectly suitable for business cards, branding and logos, web designs, book covers and all kinds of modern designs you need to make an immediate statement. 
15. Cropaso 
While Rephen is simple and unique, Cropaso is elegant, futuristic and modern. Cropaso has thin letters and gives off contemporary vibes, but like Rephen, you do not need to do much to make an impact and leave people clamouring for your performance.
This font's elegance and sophistication guarantee that your web designs, business cards, brand designs, tech designs, and any more design needs are professional, modern, and timeless.  
16. Raqupine 
Raqupine is another member of the elegant font family (like the previous two) that is futuristic, modern, and minimalistic.
Its unique letterforms make it the best choice for your logos, games, sci-fi designs, books, labels, packaging, presentations, and music designs. With Raqupine, your designs are bound to be dynamic and modern.
17. Strippy

Strippy is one of the chic typefaces on our list. It gives off an antique poster and graphic design vibe while still giving an aura of modernity. 
Its bold and simple lettering is perfect for all kinds of designs where you need to make loud visual statements like in movie/music posters, headers, book covers, and many more loud and simple designs.
Pair Strippy with beautiful graphics and your upcoming party will be the talk of the town. 
18. Techno Capsule
As you most likely have inferred from its name, the techno typeface is perfect for technology and other related themes. Inspired by androids, Techno boasts a blocky all-caps unique font style that is perfect for your design needs that only require short texts.
If you need to make a different but simple and loud statement in your logos, social media and motion graphics, posters, headers, games, print and web designs, sports racing, T-shirts, and many more related themes, then Techno is the way to go.
In addition to its futuristic cyberpunk aesthetic, Techno comes in OTF and TTF versions.
19. Detacher
The name Detacher might give off the wrong impression, but this futuristic typeface is anything but a detacher. Its wide and bold letters boast elegance that is guaranteed to draw even the most uninterested people to your poster.
Detacher is best suited for your headers, branding designs, posters, flyers, and logos that you need to be futuristic. 
20. Masifer 
Masifer is a modern futuristic typeface. This font differs from most on the list because it is bold, simple, and gorgeous. Masifer is most suitable for music posters and fliers that you want to give a modern and chic-loud visual appeal.
It also features a perfect blend of technology and sports. Still, it is not limited to these industries and is just as perfectly suited for your automotive industry branding, fashion streetwear, posters, and logos.
21. Centauri
Centauri, in three words, is elegance, beauty, and power. This font features wide letters with a minimalistic design that reflects sophistication. 
With Centauri, less is more, and you don't need to overly design your poster to entice people into coming for your performance.
Centauri is inspired by sci-fi and space films and is especially suitable for your similarly themed events or just for formal events.  
22. Dirtchunk
Dirtchunk is a futuristic font with cool graffiti-like letters. Its strong character set makes it one of the best fonts for your DJ needs, as its appearance makes your design stand out while promising a whole world of fun and funk.
You can use Dirtchunk for your album cover designs, movie covers and titles, apps and landing pages, games, and, most relevant for you, music shows. 
Furthermore, it features all-caps letters, numerals, punctuation, and multilingual support and also comes in OTF & TTF formats. 
23. Rostave
Rostave is a futuristic font that is the perfect blend of edgy, elegant, and sporty. Its sharp edges portray edginess, while its simple type-facing gives off elegance, both of which ensure that your project or music posters are powerful and inspiring.
Rostave has an array of multilingual characters and accents and OpenType Standard numerals.
24. Omicron 
Two words for Omicron are beautiful and minimalistic. Omicron certainly takes some of us to simpler times where the individuality of typefaces was majorly from its curviness. If you are someone who fancies nostalgic sentiments, then Omicron is for you.
Its lowercase-only display typeface guarantees that your music designs will be simple and stunning.
25. Retake
Think Retake, and you think cool and colorful. Retake is a neon outlined display font perfect for your flashy designs and even muted designs that are colorful and enticing.
Retake will take your logos, cards (invitation and otherwise), stationery designs, book/cover titles, art quotes/texts, home decor, blog designs, editorial designs, game designs, sports designs, and any special event need from basic to absolutely stunning.
It is the best font to give your audience an insight into one of their best DJ performances.
26. Divine Razier Font 
Divine Razier is a rough brush or scribble-like font perfect for your relatable or familiar designs. Its scribble-like font is unconventional and can be used in your household items and designs to give an aura of familiarity and camaraderie.
Divine Razier can be used in household items like pillows, custom-made mugs, T-shirts, art quotes, book covers, brush lettering needs, your music covers, posters, and fliers for any special occasion you deem fit.  
27. Noise
I promise you it is not what you think, or maybe it is; DJing does involve a little bit of noise, but the good kind.
Noise is the first of its kind on our list with its double-layered letters, distinctively shaped letters and generally individualistic type facing. The font is modern, stylish, and guarantees that your poster gets the necessary attention to make your music event a success.
It is great for professional and informal design needs. For professional needs, you can use it with headlines, business cards, logos, quotes, magazines, modern advertisements, and T-shirt designs. 
28. Magik
Magik is a bold typeface with geometric-inspired letters that draw attention and leave a mark. Its typeface is magical because it not only serves as letters but also references audio-visual items and devices. 
It doesn't end there as it comes in all caps and makes your designs friendly and fun. 
29. Nostromo Outline
Like every other font on our list, Nostromo is unique, beautiful, and modern. It is perfect for your DJ needs because the font tells a story in a few words. This futuristic font is also perfect for your sci-fi or technology designs, book covers, fliers, and posters.
30.  Northlane
If you value minimalist designs, then Northlane is for you. Northlane is a minimalist font with smooth and rounded edges that gives your design the air of sophistication. The font is futuristic and modern and is perfectly suited for all your formal yet elegant design needs.
Northlane is most suitable for your editorials or any other corporate design needs, like  DJing for a formal event. It can also be used for your designs on the web and with designs that require interactions.
31. Arguman 
On your first look at Arguman, you are certainly led to think that it is only used in the automotive industry, and we honestly won't fault you for this assumption, as it does give off car emblems or aircraft styling design vibes.  
But we are here to ensure that its look does not deceive you. Arguman is a modern and futuristic font that, apart from its automotive use, excels with other themes like gaming designs, retro designs, and every other design you would like. 
But if you want your DJ gig to give off that retro sophistication, we certainly recommend  Arguman.