Certificates are a pretty big deal. Getting a certificate in something shows that you are competent in a certain area, and will help you stand out from the rest of the people within your area that might be looking for the same opportunities as you. 
Everyone with a certificate knows that they look pretty awesome, and they will always make great pictures on a wall (I mean, who doesn't love to show off some of their achievements?).
However, often overlooked, is the font used on a certificate. These official documents normally make use of particular typography. And while that is fine, it can sometimes be a little boring. This article looks to showcase some of the best fonts that you can use to spice up the look of any certificate or diploma! 
Unique Diploma Fonts
1. Spring Melody
Spring Melody is an elegant humanist typeface. Spring Melody has elegant curves, beautiful kerning, and sharp edges. The font is perfectly suitable for creating elegant, clean, retro design such as branding, packaging, social media, wedding invitation, advertising, editorials, and much more. If you're looking to create a sense of luxury in your designs, then Spring Melody is exactly what you've been looking for.
2. Lavish Elegant Typeface
Lavish is a sophisticated serif typeface specially designed for fashion-themed projects. This typeface is perfectly suitable for creating elegant, chic, lifestyle design such as logos, headlines, wedding cards, books, packaging, stationery, labels, magazines, and more.
If your aim is to add a premium/luxury feel to your project, then Lavish is for you. Not only is the font elegant it's also timeless.
Download the Lavish font here!
3. Malikon
Malikon is a classic letter, each letter has been carefully made to make your text look beautiful. This font is perfect for logos, badges, shirts, labels, clothing designs, etc.
Try Malikon, enjoy the richness of OpenType features and let the fun and elegant fun make you happy and increase your creativity! You can use this font very easily.
4. Coldiac Luxury Serif Font
Coldiac – Luxury Serif Font is a modern serif font family whose design refers to the style of transitional serifs. The distinctive features of Coldiac Luxury Serif Font are the relatively low contrast of strokes, the slightly squarish shapes of round characters and the emphasized businesslike nature.
5. Deluce Luxury Serif Font
The Deluce Luxury Serif Font features an original stylistic set which, when turned on, adds features of typical pointed-pen serifs to some of the lowercase characters. In addition, Deluce Luxury Serif Font has small capitals for Latin and Cyrillic alphabets, as well as several interesting ligatures. It is versatile, easy to read, and even easier to use. 
Download the Deluce package here!
6. Marques Modern Serif Font Family
Classic, clean and effective, this font is perfect for anyone looking for something different, but something simple. Marques Modern Serif was designed for headline and short body text. The natural strokes with their calligraphic feel are actually highly recommended for fashion, branding, magazine, editorials, logotypes, packaging, historical quotes, and, of course, certificates! 
7. Aguero Serif Clean Elegant Font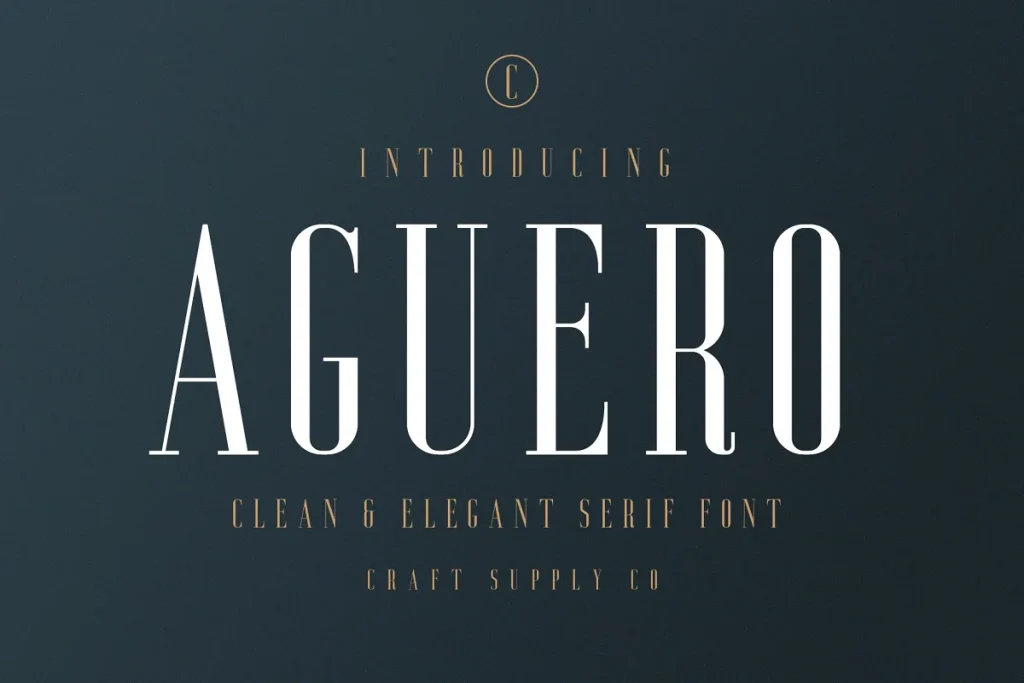 If you are looking for a stylish serif font to make an award, a certificate, or a diploma stand out, then perhaps Aguero is the choice for you!
Made with medium contrast of the strokes that allow you to create more than a headline. The spacing adjusted a bit tight that possible to fill empty space on your modern or typographic design.
8. Parnas
Parnas is an amazing font that can be used in a classic style or in a more expressive and elegant with alternative and ligatures, of which there are many. Set the style and mood of your design, because just a few touches can absolutely change it.
With it, you can easily realize all your ideas. Classical forms, smooth lines, sharp serifs, weightless style, various weaves, long tails, all this and much more will give you many options for creating your project. This font is easy to use, has OpenType features.
9. Giveny Classy Serif Font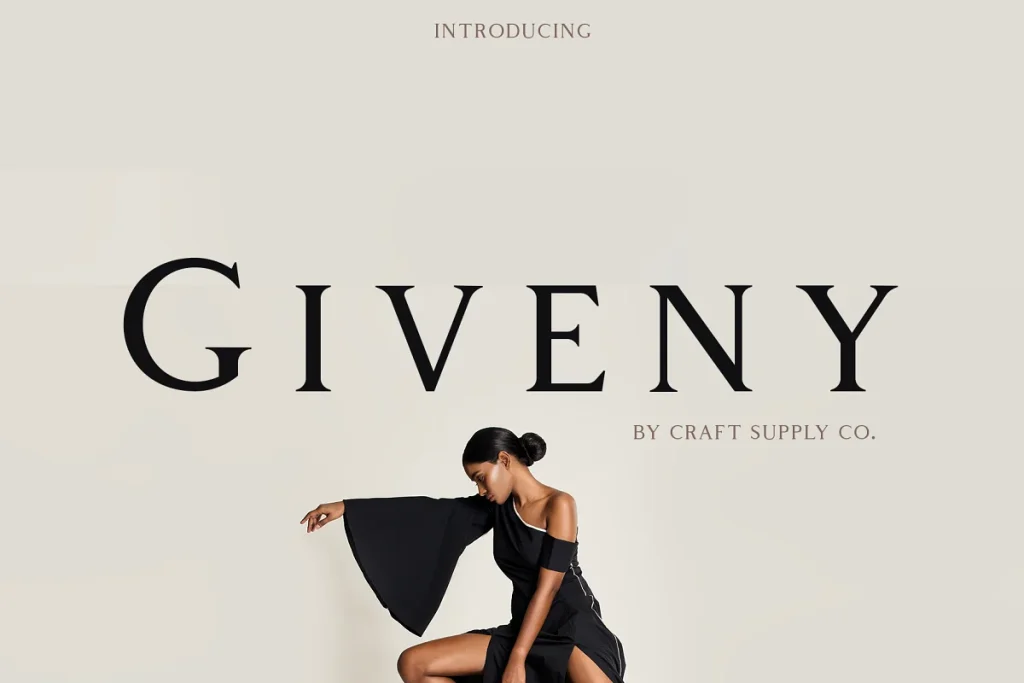 Giveny – Classy Serif Font is a Classy serif font whose design refers us to the style of transitional serifs. The distinctive features of Giveny – Classy Serif Font are the relatively low contrast of strokes, the slightly squarish shapes of round characters and the emphasized businesslike nature.
This stunning typeface package is ideal for logos, greeting cards, quotes, posters, branding, name card, stationary, design title, blog header, art quote, or typography!
Download the Giveny font here!
10. Inferno Serif Font
Inferno has a strong classical effect and modern aesthetics. Inspired by the first printed texts of the Renaissance period, this writing style has contemporary features with its sharp serif. A contemporary look at high contrast fonts that have never been out of style, characterized by elegance, tradition and timelessness.
The font is a compact typeface with strong serifs, symmetrical curves and a vertical axis. The design of its letters are simple, and it is ideal for combining different variables and typographic bodies, for digital and printed media. 
11. Tory Font
There is almost a medieval look to this font. It is suitable for supporting designs so that your designs are more dark, gothic and vintage, and is certainly a font that you should consider if you are looking to stand out, or create something a little different. 
12. Lady Suettaya
Showcasing a stunning vintage look, this Lady Suettaya font is perfect for any type of certificate or diploma award. The aim of having a good font for a certificate is to showcase your victory, and this font allows you to do that perfectly. 
As well as certificate and diploma use, you can use a font as versatile as this on logos, posters, flyers, or any other necessary designs. With this package, you pay for quality. 
13. WT Bellochero
WT Bellochero is suitable for your project and allows you to create beautiful designs, headlines, posters, logos, badges, t-shirts and more. Also best to use for headings, logos, posters, certificates, labels and signs.
The distinguishing features of the style are simple, clean shapes, often with a "streamlined" look; ornament that is geometric or stylized from representational forms.
14. Biondi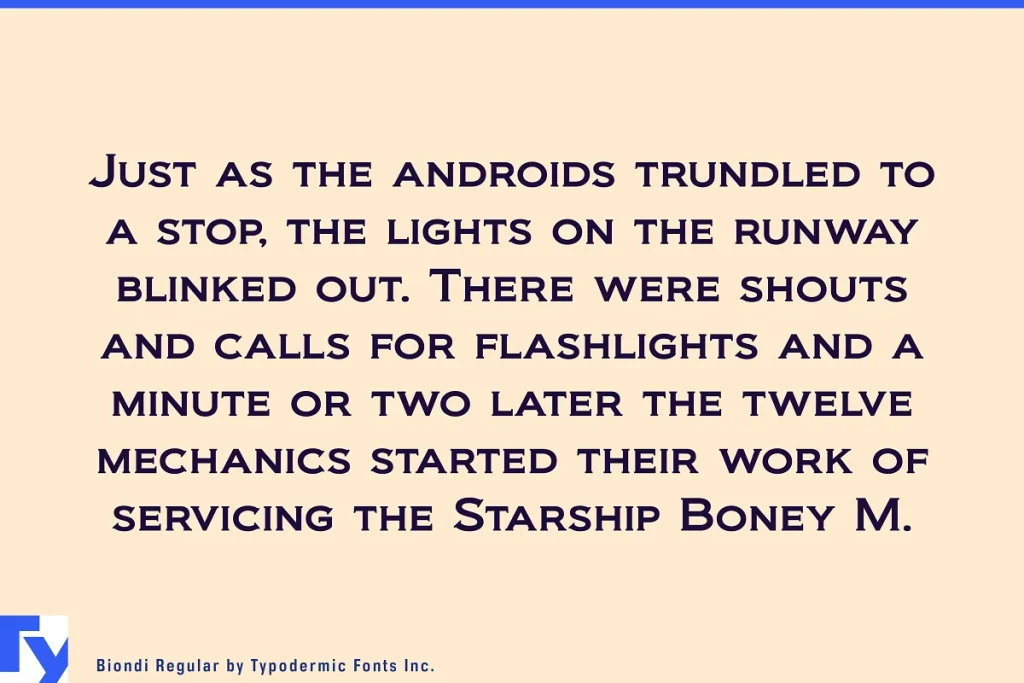 Inspired by Goudy's original from 1905, Biondi maintains the classic wide, squarish shape that made Copperplate Gothic a design staple. Beefed-up wedge serifs replace delicate hairline serifs to make Biondi stand up to today's display environment. Selective placement of serifs creates a cleaner-flowing line of text without sacrificing understated seriousness. Biondi is available in 5 weights and italics.
15. Brigattin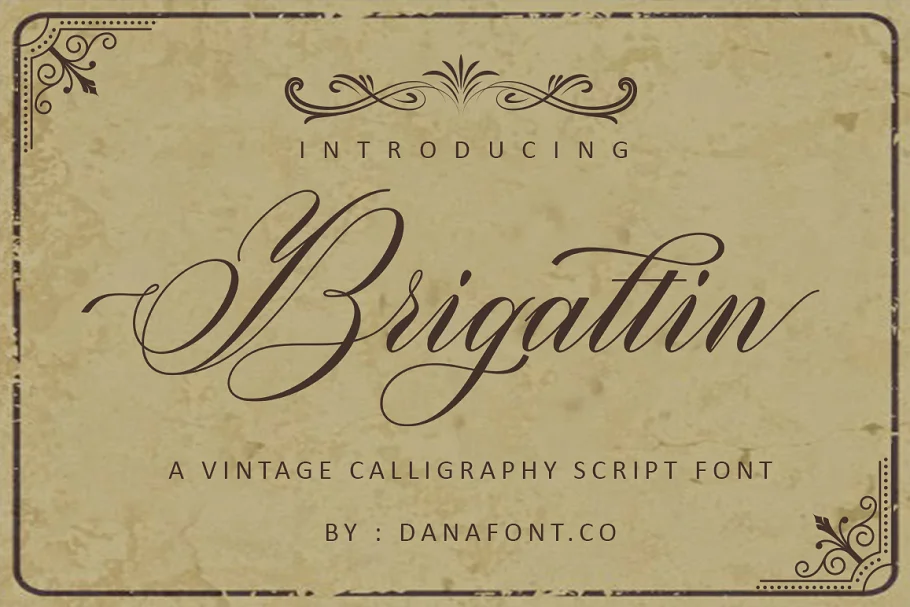 Brigattin is a calligraphy script font that comes with beautiful alternative characters. a mixture of copper calligraphy with handletting style. Designed to bring style elegance. Brigattin Script attracts such a subtle, clean, feminine, sensual, glamorous, simple and very readable typeface.
The classic style is perfect to apply in various formal forms such as invitations, labels, menus, Logos, fashion, makeup, stationery, letterpress, romantic novels, magazines, books, greeting/wedding cards, packaging, labels.
Brigattin has 494 glyphs. including multiple language support. With OpenType features with stylish alternatives, ligatures and characters, allowing you to mix and match pairs of letters to fit your design, as well as a touch of ornament to make this font look elegant.
16. Griffon
Inspired by retro faces in the early 20th century. This font family was redesigned from scratch and is now released ranging in 5 weights with small caps from Light to Bold.
The powerful letterforms can make a strong impression on everyone, so try this gorgeous serif that reminds you of the old days. 
17. Stipa Willington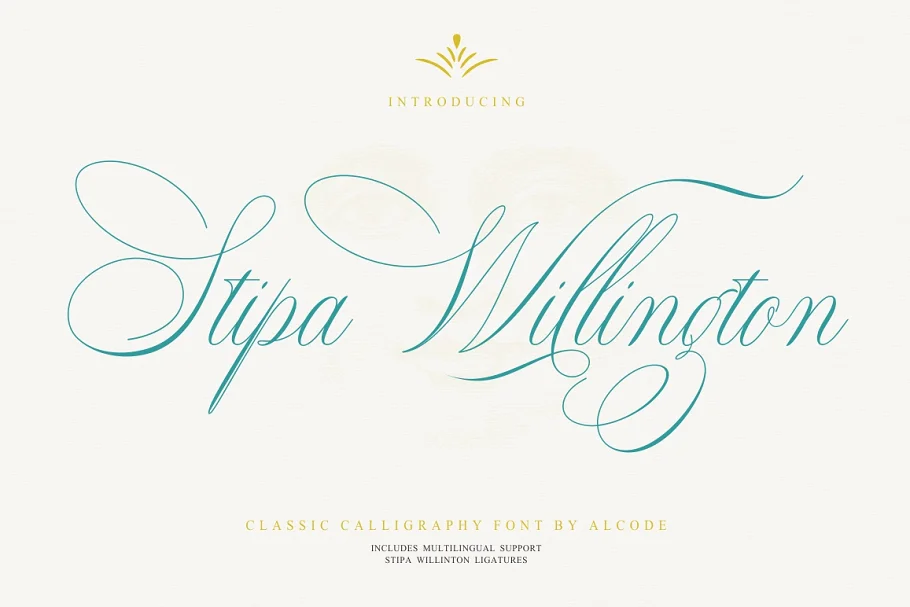 This gorgeous calligraphy font looks great on any diploma or award. Stipa Willington was born from merging classic calligraphy and contemporary tools.
The Copperplate style, which served as a baseline for the development of the font, mixes harmoniously with brush pen drawing techniques that give Stipa a modern touch. The typeface provides elegance and legibility while preserving characteristic shapes and strokes from the Copperplate style.
The package covers a wide range of uses ranging from titles, logotypes, invitation cards, certificates and labels to small-sized texts. The family comes with initial, medial and terminal alternates that allow users to emphasize specific words. Figures, fractions and symbols are also included.
18. BLOSTA Font Duo Serif Script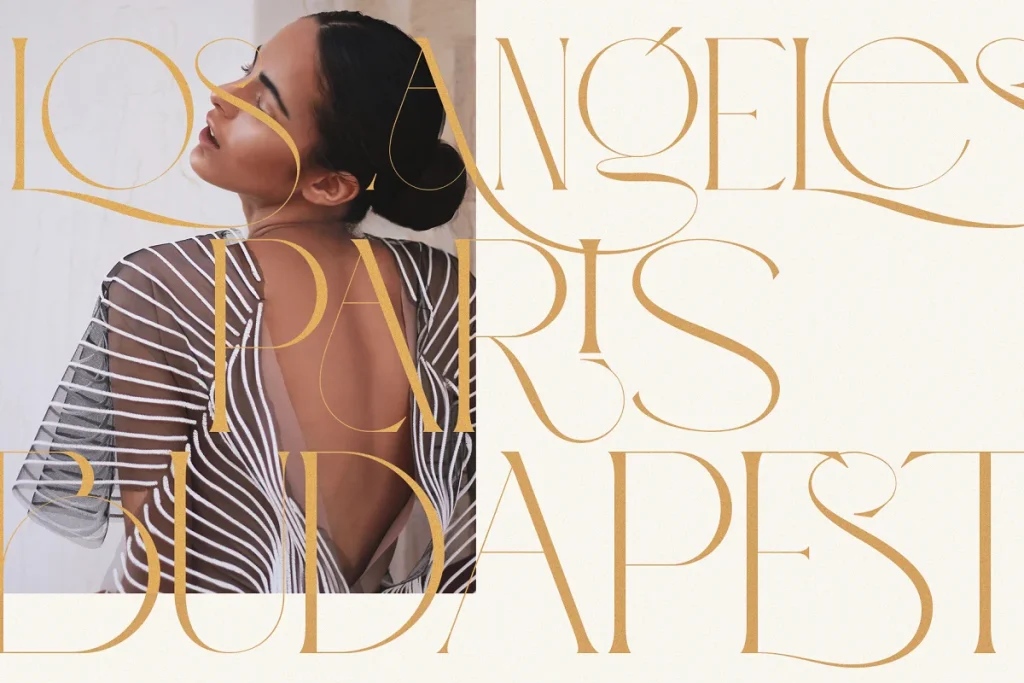 Blosta Font Duo is a luxury and elegant font pairing that will bring a unique style and a trendy look to your designs.
The design comes with Serif Decorative and  Calligraphy Typeface with trending ligatures and special character, this will make Blosta Font Duo usable in all design projects and work perfectly to pair with any other font.
With duo styles, you can create and edit design options like wedding media, book covers, greeting cards, logos, branding, business cards and certificates, even for any design work that requires 
19. Lile Dahliya
This font is perfect for your modern graphic design needs, such as social media content, wedding invitations, book covers, greeting cards, logos, branding, business cards and certificates, actually, any design work that requires a formal or luxurious impression will look fantastic with a font as versatile and attractive as Lile Dahliya!
20. Desirable Calligraphy
Desirable calligraphy is a font with a classic style and a touch of elegance, Inspired by the handwriting of Italian women and ancient manuscripts, it has been carefully designed to work together in harmony with wedding media, book covers, greeting cards, logos, branding, business cards and certificates, even for any design work that requires a classic, formal or luxurious.
21. PP Writer (FREE)
This elegant and dynamic serif by Pangram Pangram® draws inspiration from the French Renaissance type. The pack includes playful italics, text and display styles, and 9 weights per cut – that's a total of 30 styles! It has a 16th century flair but with modern vibes. You will get legible, traditional type that's perfect for print and editorial use.
22. Brock Script (FREE)
A lovely script like this should bring out your inner romantic, or add a dash of old-world sophistication to your works. Put it on your certificates, blog titles, business cards, and social media posts.
23. Rowan & Royal Font (FREE)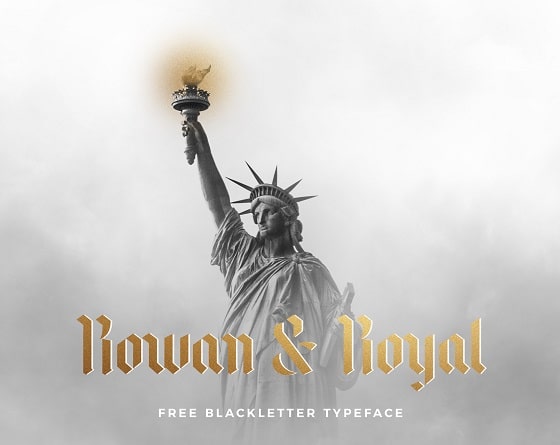 How could a blackletter font from the 1871 improve your typography projects? For one, its bold and striking features are sure head-turners. Second, with 5 styles (regular, bold, circular, stencil, and brush) to choose from, you'll never get bored. Add this regal classic to t-shirts, posters, logos, signage, diplomas, and more.
24. Diploma Font (FREE)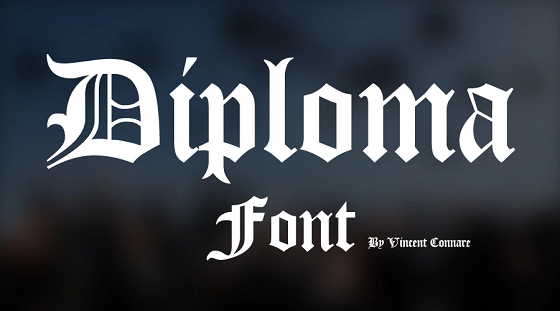 Vincent Connare proudly presents this versatile Gothic style typeface that suits most certificates and numerous official documents. Beautiful, luxurious, and with a familiar old English feel, it pairs well with any sans. Try it on book covers, business cards, ads, brochures, blog pages, or even corporate presentations.
25. Maryland Calligraphy (FREE)
When searching for free fonts, don't just go for what looks great. It should be timeless, functional, and can be used repeatedly without looking monotonous. This calligraphy duo is just what you need. With a script and sans version that goes well together, it's the best mix of modern and vintage in one. For personal use only.