Diners are more than settings in film or a nice place to grab a burger. Since their early introduction as crude lunch cars during the early 1870s, they have since been reinvented numerous times.
From WWI to the industrialization period, diners served valuable purposes. They became places where Americans got together, ate after an evening shift, and were even common stops for politicians running for office.
More than offering affordable meals, diners are undoubtedly a cultural icon today. Their Formica countertops, wood panelling, porcelain tiles, and leather booths are testament to the resourcefulness and resilience of the people who built them, as well as those who still support them.
Whether you're looking for beautiful diner fonts for your own diner, or you just want to pay homage to this cultural icon, this collection will surely satisfy.
Vintage Diner Fonts
1. Juicy Rooky
Looking for a 1960s diner font? Look no further than Juicy Rooky, an easy to read font great for outdoor signage, menus, flyers, book covers, and more. Featuring two styles for multiple combinations.
2. Retro Thunders
Think vintage with Retro Thunders, a fancy, vintage, diner font that features swashes, ligatures, alternates, and more!
3. Retrofunk
Retro and vintage advertising is back with this funky diner font style with hundreds of alternates and 3 font styles. Go all out in 1970s style with this fabulous font pack!
4. Rubra Costa
Rubra Costa is a thick, classic diner font style that comes with some very cool, classic extras like illustrations, alternates, and glyphs.
5. Winter
Handlettering in the 1960s is where it's at, man. Get this bouncy, diner font look with Winter is Coming, featuring three styles with alternates that are the bees' knees, you cool cat!
6. Palm Canyon Drive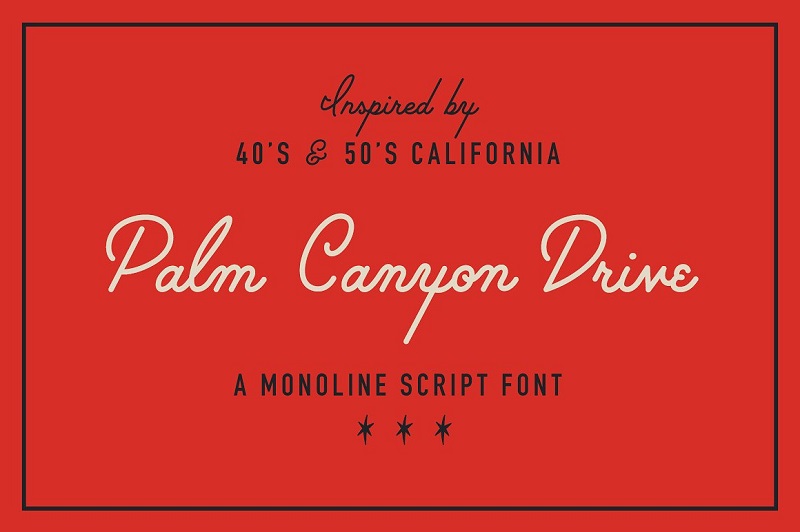 Always fancied yourself driving into the glaring sunset in a classic Corvette? Make those dreams a reality when you use this monoline script reminiscent of '40s and '50s California.
7. NightHawk Font
If there's one thing you can count on, it's that American diners will always be open 24 hours a day to serve you piping hot coffee. Find the same dependability when you get this solid font by RetroSupply Co..
8. OverEasy
More than a vintage font, this typeface is a testament to the beautifully distinct American diner experience. This strong sans serif is all about the pancakes, brewed coffee, and bar patrons that come and go on a daily basis. When you want to tell a story, this is the font you choose.
9. Bronco Typeface
This retro display typeface by Tugcu Design Co. comes in 2 versions, Regular and Inline, which goes perfectly well with thin or thick scripts.
10. Andre's Diner Display Font
Even if you can't own a diner, you can still replicate a similar feel whenever you use this deco-inspired display typeface. With multilingual support and smooth corners, it's a clean and savvy font that's as versatile as it is beautiful.
Download Andre's Diner Display Font
11. Drive-in Font
Inspired by the mid-century design movement, this tall condensed typeface by Medialoot comes in 2 versions (Solid and Inline) that combines the strength of industrialization to the chic style of mid-century design.
12. Atomic DooDads
Not a font but a set of Space Age-inspired dingbats, this product from Bob Hemphill should keep you busy on weekends crafting the best retro projects.
13. Hamburger Hop
A tribute to the classic American diner, this typeface by Nick Polifroni is everything you need to create menus, posters, signage, and logos for the perfect blast-from-the-past. The set consists of 9 styles that can be layered for interesting effects.
14. Retro Diner
Get into the groovy spirit when you get this fun typeface by Nikita Grimes. With a unique cut-out look, it's going to go great with either print or digital works, especially for logos, ads, and web pages.
15. Service Station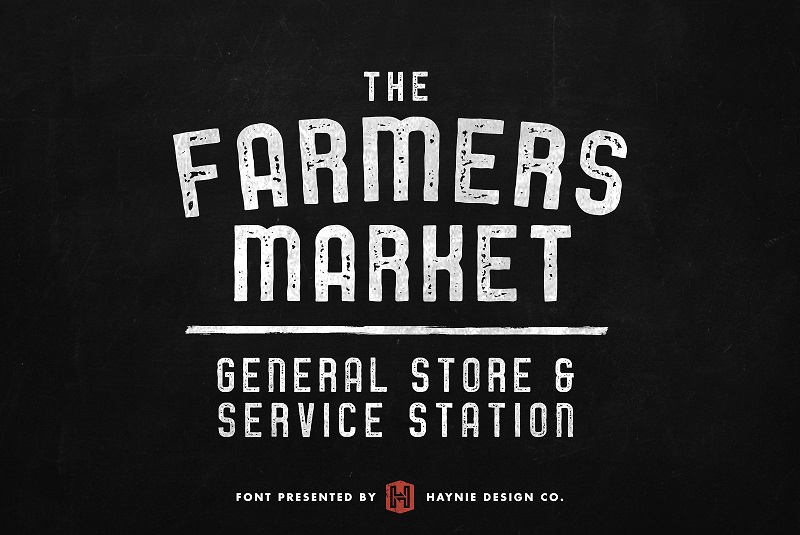 Inspired by classic signage styles from old gas stations, repair shops, and farmers markets, Haynie Design Co. gives you this timeless gem that's available in 4 styles, including Rough and Clean versions.
16. Sappy Sans
Sappy is a thick and juicy display typeface. It has tons of character and charm. This extended width font will work wonders for all sorts of design projects like posters, headlines, magazines, stationary, apparel, branding, menus and more.