Corona is a beer brand manufactured by the Mexican brewery Cervecería Modelo and owned by Belgian beer-maker AB InBev.
The beer contains 4.5 alcohol by volume and a variety of ingredients, including barley malt, hops, corn, yeast, ascorbic acid, and propylene glycol alginate. It's commonly served with a wedge of lemon or lime to add more flavor and tartness.

Corona is the top-selling imported beer in the United States. Although the brand has spawned several variations, the most popular one is a pale lager called Corona Extra.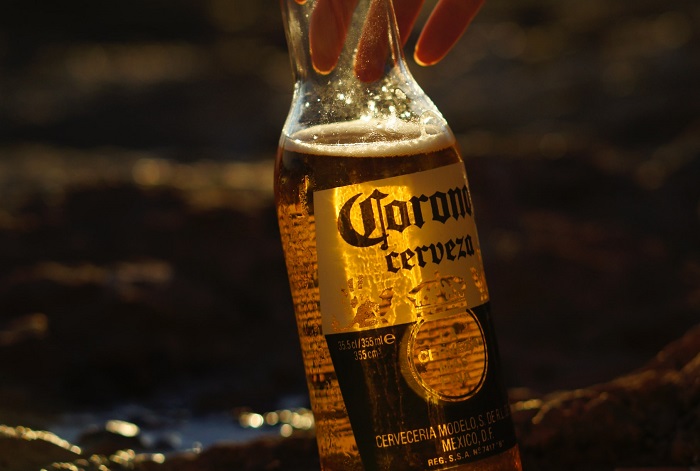 It's also worth mentioning that the Corona beer brand has NO direct association with the coronavirus disease (COVID-19) despite sharing a name. The beer was first brewed in the mid-1920s, almost a century before the COVID-19 virus broke out.

Let's take a look at Corona beer's logo and the font used on the brand's official emblem.
What Does Corona Logo Look Like?
The Corona beer logo consists of a yellow medallion with the inscription 'La Cerveza Mas Fina' (the finest beer) and a yellow crown on top. On either side of the medallion are griffins (part-lion, part eagle creatures), which represent strength and vigilance.
What is the Corona Font Used On the Beer's Logo?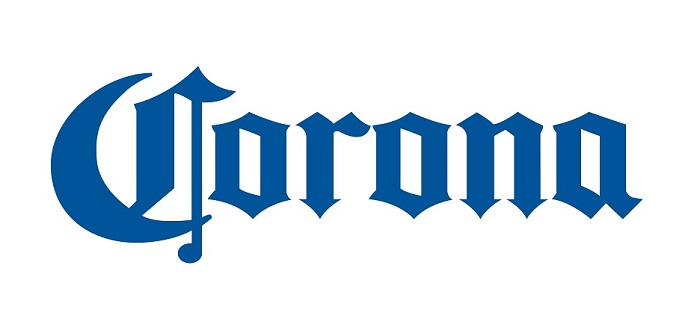 Corona's logo may feature the graphic image alone or in combination with the beer brand's wordmark. When the latter is the case, the wordmark is usually in deep blue color and executed in a fancy gothic typeface.

There's no exact match for the font used on Corona's beer logo. The closest you can get is a typeface known as Ancient. It is a font designed by Jorge Paulino Dzul Koyoc. The typeface was developed based on the gothic or Old English style of typography.
How Can I Apply Ancient Font?
Due to Ancient's gothic elements, the typeface would be best suited for projects that are mysterious or grotesque in nature. You can consider Ancient as the main font for the covers of novels, movies, and television shows whose plots revolve around mystic or paranormal activities.

Ancient can also be used in creating designs that evoke glamor and grandiosity. The font's boldness makes it incredibly legible, whether used for headers or body text. Use it for birthdays, graduations, and wedding projects.
Where To Download the Corona Font
The Ancient font can be downloaded from numerous websites. Examples include Font 2 U, Font River, Fonts Logo, and Action Fonts.

Most of these websites let you download Ancient in one of two file formats – OpenType (OTF) or TrueType (TTF). Some platforms also allow you to select your preferred file size. That's particularly important if downloading Ancient to a device with limited storage capacity.

Is Ancient Font Free? Ancient is licensed as free for personal use. That means you may need to contact the font's designer for permission before using it on commercial projects.