Almost everyone can agree: a smooth, concrete surface can be surprisingly pleasing to the eye. And it suits many tastes, too. Nowadays, many modern homes, offices, and buildings feature it in its rough, unpainted form. If you're looking for a masculine or industrial vibe, then a good concrete finish could be the answer.
But what is it about this building material that exudes such dependability, durability, and strength?
The Aesthetics of Concrete
Precursors to 'concrete' have been around for a long, long time. There is evidence that ancient Romans used it as far back as 6500 BC. Instead of gravel, sand, crushed rock, and chemicals, our ancestors utilized limestone, volcanic sand, straw, and water.
The concrete that we know today wouldn't be invented until the 19th century. It was English cement manufacturer, Joseph Aspdin, who got the mixture right. What he ended up with is what we know now as Portland cement, which is mixed with other aggregates (fine particles of crushed rock, gravel, and sand) to form concrete.
Despite its hardiness, it would take several more years before homes and roads could be made from concrete. That's because people didn't think it was so aesthetically pleasing during that time. Nowadays, this building material is a favorite among designers, architects, and artists.
Heavy-Duty Concrete Textures
Concrete isn't just solid, strong, and versatile. It can provide an interesting artistic statement, or even be a visual backdrop to a centerpiece (e.g. fireplaces, bookcases, staircase, pillars, etc.).
Exposed concrete is nothing to worry about. It can withstand the elements, while giving you a robust, low maintenance finish. This makes it an ideal material for patios, walkways, and driveways.
Want to convey the same lasting impression on your artistic projects? Check out these sturdy concrete textures.
1. Cement Texture Mega 50 Pack
A pack containing all kinds of rock, tiles, stone, and marble JPG files, Hughadams gives you all these to help you craft your most creative work yet.
Download Cement Texture Mega 50 Pack
2. Rocks & Cement Textures
Re-imagine cement as you know it with these beautiful textures by Vackground. With traces of pebbles, rock, and sand in stunning 5K, you'll enjoy putting them on brochures, posters, headers, cards, and websites.
Download Rocks & Cement Textures
3. 10 Concrete Grunge Textures
Looking for various grunge textures that look and feel real? Then you'll be glad to have stumbled upon this set from Layerform.
Download 10 Concrete Grunge Textures
4. 15 Gritty Concrete Textures
Whether you're after a rough, vintage vibe or a solid, edgy appeal, you can get both with this collection of gritty textures by Vasaki.
Download 15 Gritty Concrete Textures
5. Gritty Concrete Textures
Get the job done in half the time using old-fashioned grit – and with a little help from these practical distressed textures.
Download Gritty Concrete Textures
6. 20 Concrete Backgrounds/Textures
With grey, brown, and dark tones, these elegant hi-res concrete textures will gives your backgrounds, web pages, photos, and type posters that coveted urban vibe.
Download 20 Concrete Backgrounds/Textures
7. 50 Realistic Concrete Texture
Create realistic-looking concrete surfaces, backgrounds, and images with this collection from FWStudio. Includes 50 high-resolution JPG files and 40 brush textures.
Download 50 Realistic Concrete Texture
8. Concrete Texture Pack
This set by Ryan Miranda Creative has a total of 13 textures you can layer over flat illustrations, fonts, or photos for an authentic rough, grungy look.
Download Concrete Texture Pack
9. 22 Seamless Concrete Textures
These concrete textures by JUNNXY will make the perfect background or setting for industrial and masculine themes.
Download 22 Seamless Concrete Textures
10. Dark Grunge Textures
Dark and distressed, these high-quality digital papers from Digital Curio is going to give your backgrounds, invitations, scrapbooks, and cards a serious, professional flair.
11. Cement Textures
With intricate and natural details, this texture pack from GhostlyPixels contains Vector EPS and PNG formats to make your work easier.
12. Concrete Textures
Highly-detailed even up close, this collection by Clint English have a total of 90 different variations in 4K resolution.
13. 30 Concrete Textures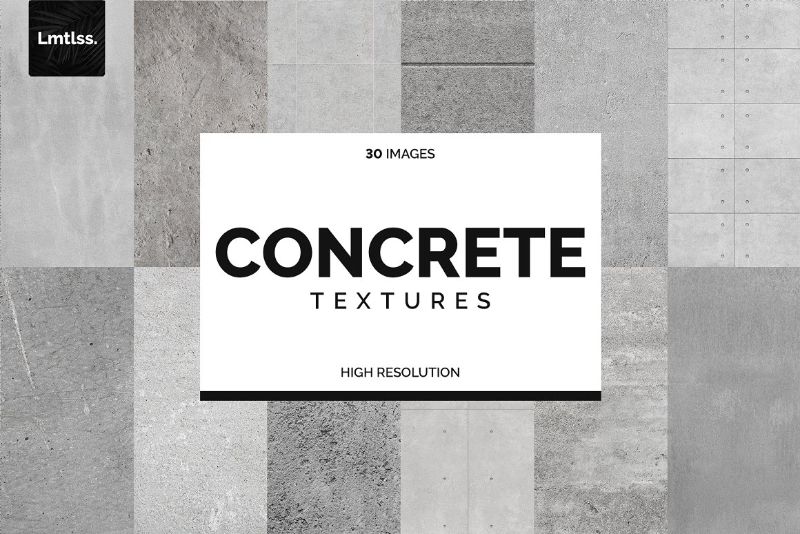 Limitless Graphics brings you these metal and concrete JPG files that will spice up your illustrations, photos, fonts, backgrounds, and more.
14. 100 Concrete Wall Textures Bundle
This massive selection of 100 high-res textures from 77 Productions will help your projects stand out.