There's nothing like the look of chalk to hark back on good old times.
Remember back in school when you and your classmates would wait patiently for the bell to finally ring? And when it did, you would make a beeline to a local diner, where burgers and milkshakes were always on the menu. Before going home, you and your friends would catch one last game of hopscotch.
Indeed, the look and feel of chalk evokes nostalgia for childhood days gone by.
Interested in going down memory lane? Then check out these fun chalkboard fonts for your enjoyment.
Chalkboard Fonts
1. Tuck Shop
Dare to go back to your child-like innocence when you use this handmade chalk font by Simon Stratford. With 2 charming styles (Regular and Outline) that complement each other, you'll be crafting book covers, quotes, labels, logos, menus, and signs with a fun, authentic, vintage vibe.
2. BiteChalk
BiteChalk is a chalkboard font with extras in a cafe/restaurant style. Perfect for menu boards, photobooths, typography art, and more.
3. BrideChalk
BrideChalk is a chalkboard font inspired by wedding backdrops, photo booths, logos, and signs. Features script, serif, and sans serif styles and extras are starring florals, ribbons, and frames.
4. LaChalk
LaChalk is inspired by lettering on the menu board of cafes, and it's specially designed for the cafe and restaurant that use chalkboard font concepts and designs.
5. Vanderchalk
Vanderchalk typeface is a handmade chalkboard font. Good for projects like menu boards, background photobooths, t-shirts, etc and has a bonus vector feature to help you mix up your designs.
6. HungryChalk Typeface
Working on a restaurant or cafe theme? Then there's no better font for you than this culinary-inspired masterpiece from StoricType. With 3 font variants plus a vector pack of food-related elements, you'll be breezing through those menus, product packaging, labels, and shirt designs with ease.
7. Gessetto Family
No need to build a chalkboard toolkit by buying one font after another. Just get this extensive collection from Rsz Type Foundry and you're all set. Featuring 9 fonts that include sans, roman, script, and even ornaments, you'd be creating beautiful menus, brochures, posters, logos, and invitations in no time.
8. Chalk Condensed
Keep it simple yet delightful with this all-caps handwritten typeface by Alexey Gorka. It's tall, condensed form is perfect for menus, quotes, logos, signs, and labels. The set also contains a free hi-res chalkboard background for personal or commercial use.
9. Chalkboard Alphabet
Get creative thanks to this gem by Ivan Kopylov. With hand-drawn letters, numbers, and vector illustration, it's easy to achieve a sketch-y look in half the time.
10. Gamble Font
Even chalkboard fonts can be elegant. Just see this vintage gothic-inspired typeface from Anna and you'll know why it's an instant classic.
11. Chalkful
This tall handwritten font by KA Designs is all about replicating an authentic 'chalkboard' look and feel. Pair this with a small script typeface for a totally cute end result.
12. Return To Sender Font
Romantic, charming, and lovingly vintage, this expressive typeface by the Tom Kolter Fun Shop can be used on almost any project – from Wild West themes to seasonal concepts.
Download Return To Sender Font
13. Chalkboard Typeface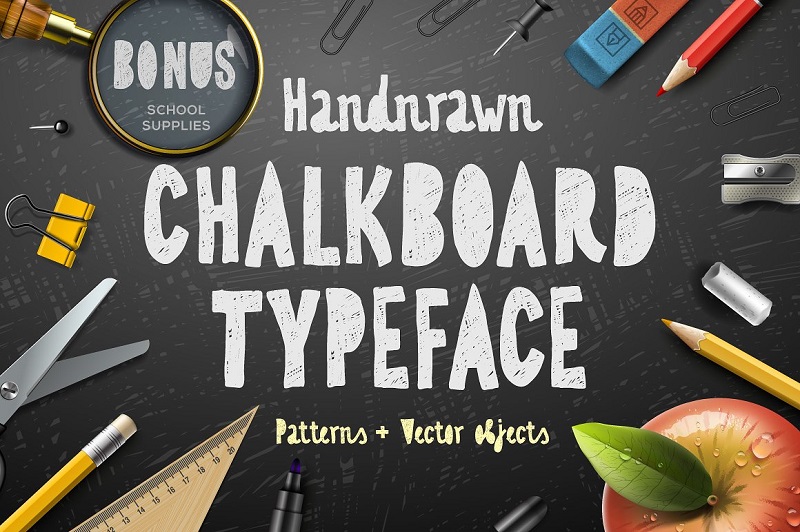 Nothing says 'back to school' than some chalk art. With 8 hand-drawn seamless patterns as well as bonus vector elements (school supplies), this font set has got your back.