There's something about the glow of neon lights, the sound of poker chips, and the smell of tobacco that draws people into the wild – and often illicit – world of casinos. Books and movies have definitely helped in bringing it to pop culture.
Who could forget the classic, 'The Las Vegas Story', and of course, the famous 'Casino Royale'. Today, people from all over the world flock to experience the thrill in Las Vegas. High rollers on the other hand, choose the celebrated Monte Carlo for a one-of-a-kind experience.
If you can't get enough of the lights, the fame, and the possibility of fortune, get a load instead of these cool casino fonts.
Amazing Casino Fonts
1. Bouchers
Bouchers features 7 casino fonts in a layered system that will bring you right back to the 1950s. Features accents and some multilingual characters, suitable for headlines, signs, posters, and much more.
2. Carter
Carter is a layered typeface casino font style reminiscent of the 1950s. Features 3 additional font styles suitable for headlines, logos, signs, posters, and much more.
3. Prestige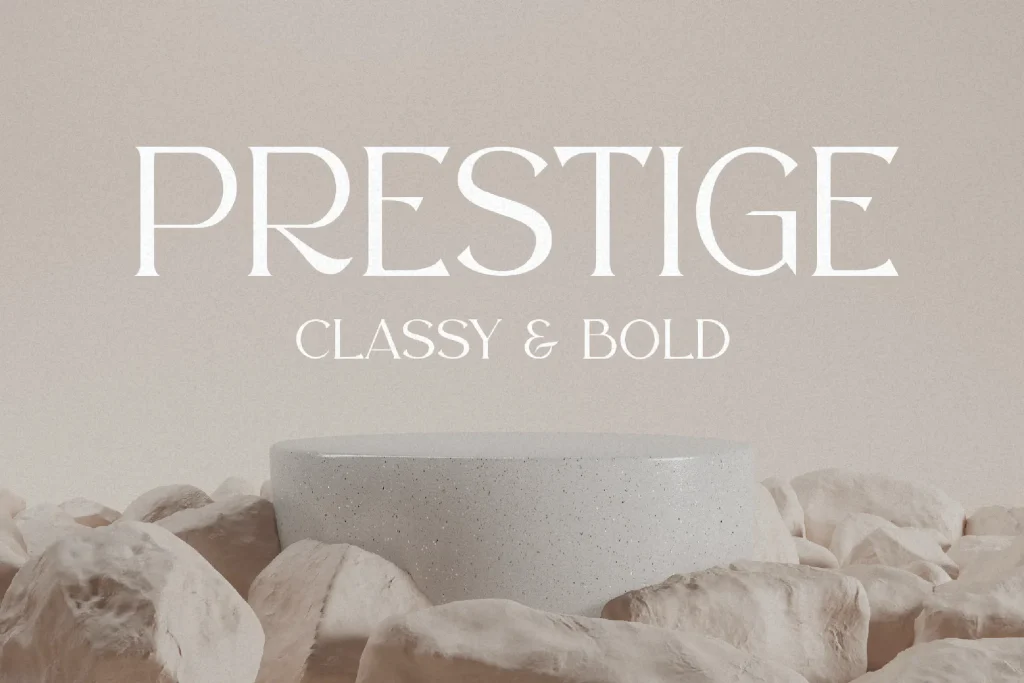 Prestige is an all caps serif typeface. This font was specially designed to be used for classy, bold, and simple projects. The font is perfectly suitable for creating elegant logos, posters, editorials, packaging, social media banners or covers, and much much more. Mix and match upper and lowercase letters to create gorgeous outcomes.
4. Enlighten
Get that 1960s, bouncy, casino font feel with Enlighten! Features a fully editable vector pack and is great for bringing that fun, classic, retro font feel to any project.
5. Neonblitz
The neon 1980s feel is on point with this casino font, Neonblitz! Minimal letter forms with smooth corners and lines with open start and end points. Pack features 6 Photoshop actions, standard glyphs, and multilingual support.
6. Florent Font Family
Inspired by The Printing Revolution in the early 15th Century, this serif typeface by Studio Sun is all about stunning simplicity. Featuring a vector pack with icons, badges, illustrations, and more, you can easily add a classy European feel to any project.
7. Cinema Font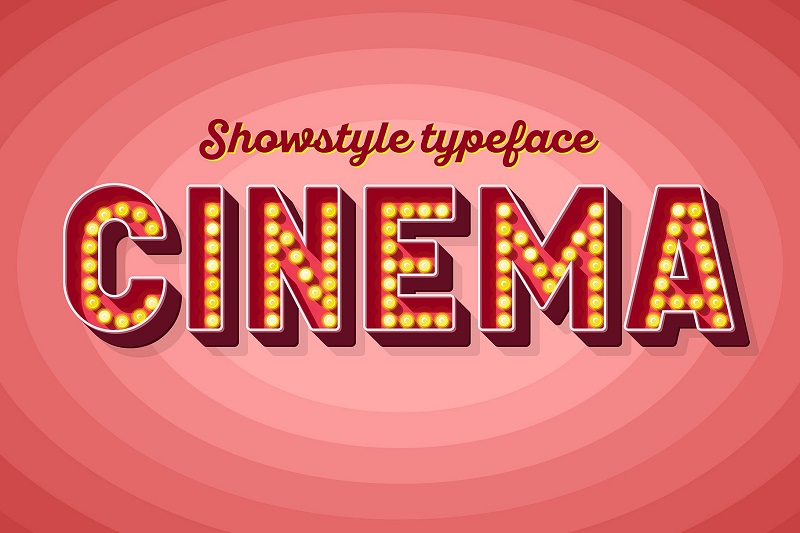 Revelstockart presents you with this retro typeface perfect for creating cabaret, burlesque, casino, or Broadway designs. It comes in 6 color options to quickly go from traditional to exciting in seconds.
8. Le Bonjour
This vintage sans with a contemporary feel from Vintage Voyage Design Co. is everything you need to make French-inspired pieces. With 3 weights and 4 styles, mix and match them to achieve the ideal French mid-century flair.
9. Realistic Neon Light Font
This retro font by Revelstockart is as flexible as it is beautiful. Easily change colors and even brightness by using Swatches. It will look amazing on titles, headers, posters, and branding concepts.
Download Realistic Neon Light Font
10. Casino
Capture the spirit of the early 1900's in this fancy typeface by Art And Sign Unlimited. Decorative yet remains highly readable, it can be used on titles, logos, posters, headers, apparel, labels, and even as body copy.
11. Retro Lightbulb Font
Nothing says fun more than glowing retro signs. Get the same effect in this typeface with remarkable detail – even up close – by Gk-creative. Download the pack today and receive handy backgrounds plus high-quality presets and additional symbols.
12. 3D Bulb Lamp Font Set
For those who want to get the artsy look of old signage, then this layered font set by popskraft is here to save the day. Featuring 5 typefaces, each with different styles, stack them on top of one another to easily create a realistic 3-dimensional look.
Download 3D Bulb Lamp Font Set
13. Artnoova Font
Grab this super adaptable typeface from popskraft. With art deco influences and 6 styles to choose from, it can be applied in various projects, whether corporate or creative, minimalist or decorative.
14. Royal Flush Typeface
Strong, bold, and sturdy, this display typeface family from Jordan Burgen Design was  inspired by the art of playing cards comes in 4 different weights that can make your designs stand out.
15. Nightlife Decorative Neon Font
Re-create the incredible energy of the 90s in this gorgeous typeface by popskraft. With 6 weights and bonus Adobe Illustrator styles, you can put on a stunning neon light show for your headers, brochures, business cards, posters, logos, and more!
Download Nightlife Decorative Neon Font
16. Chester
This unique layered casino font family collection is called Chester. Inspired by old postcard stamps and sign paintings, it can be layered in endless combinations to create a truly unique look.