Last Updated on September 28, 2023
Promoting a business can be hard work, especially when there are so many businesses out there that are vying for attention and looking for new and creative ways to attract customers. One unique way to draw a little more attention to your business or your brand is by introducing a new and professional font. 
This article looks to provide you with all of the tools that you need to start promoting your business in a more professional and unique way. So try any of these business card fonts when you create your next card, poster, logo, or flyer, and watch as your client base starts to increase. 
Professional Business Card Fonts
1. Templar 
A little more cursive and sophisticated that the other big and bold designs that we have seen so far, Templar is a gorgeous signature script typeface that will give your business cards a more personal touch. 
2. Delight 
Delight in both name and nature, this serif script font is hugely attractive. The typeface was built by fusing geometry and optical balance together. The end result is a timeless typeface that oozes class.
3. Twinton
Twinton is a special font for modern designs. Its clean and minimal character is ideal for branding, headlines, fashion, thumbnails, social media, posters, covers, and pretty much anything you can think of. Twinton is designed for optimal legibility. Make a statement today with Twinton.
4. Melissa
Melissa is a chic and girly font that radiates modern charm and polished elegance. Its flowing curves and sleek strokes are great for crafting designs that are fancy and welcoming, making it a prime pick for beauty, makeup, style, online design, and other dainty projects.
Every letter is meticulously crafted, infusing your work with a unique touch of handmade finesse. It's like each letter is a brushstroke – painting a masterpiece of effortless loveliness and classic charm. With Melissa, your designs can be as memorable and captivating as you are.
5. Zuccini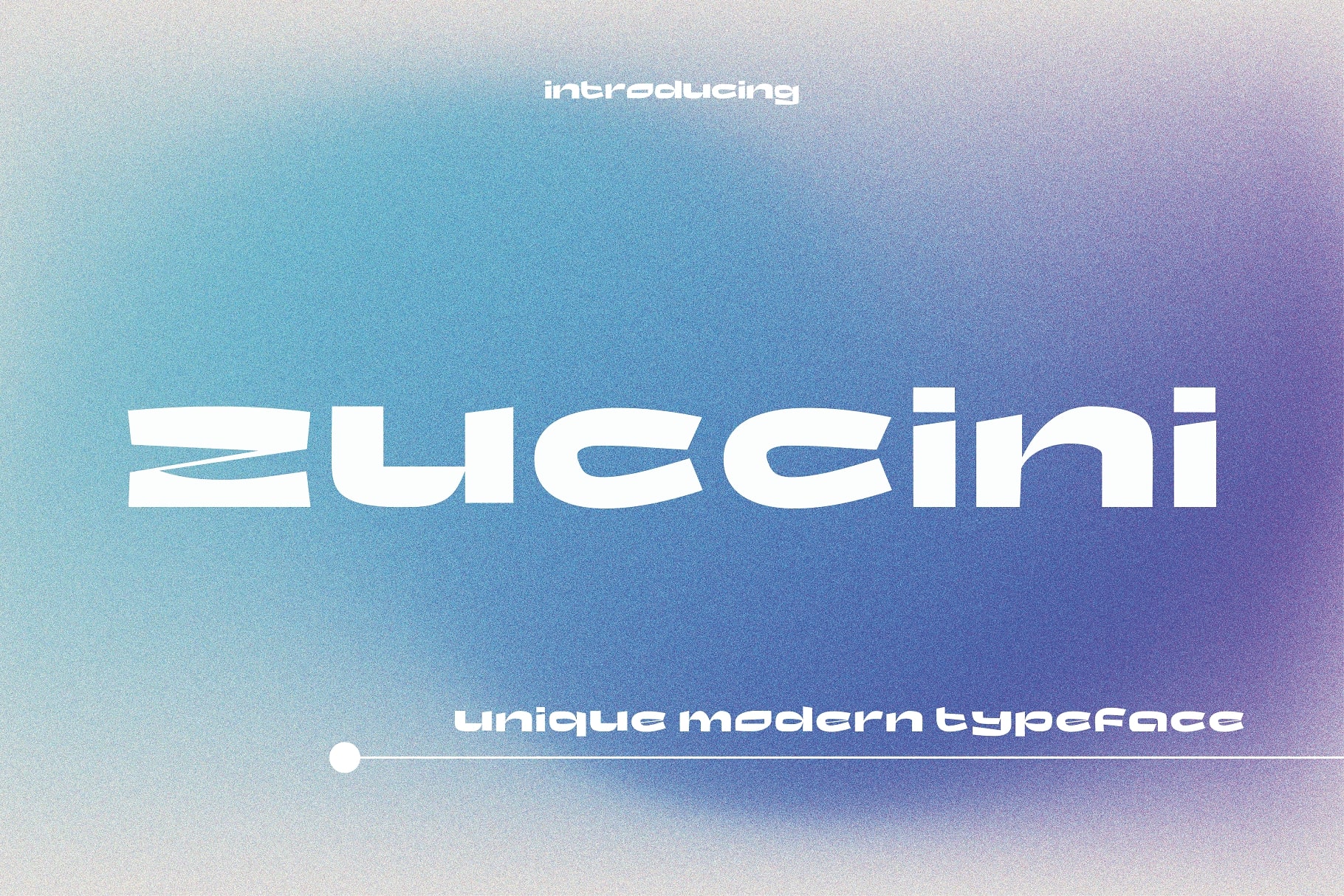 Zuccini is a unique modern typeface created especially for sleek/minimal design projects. This gorgeous font is perfect for magazines, branding, social media, youtube, packaging, fashion, posters, headlines, and much more. With stylish looks, Zuccini will make your designs stand out and get noticed.
6. Fraset Sans Serif Display Font 
Fraset Display is a modern sans serif display font. What we love is that the font is so versatile, so you won't just find it useful for your business cards, you can use the font to bolster advertisements, posters, or flyers related to your brand as well. 
7. Dozer
How does Dozer compare to other bold fonts? With its thick, blocky letters and strong masculine lines, this typeface is designed to exude power and spirit. It's perfect for projects that require a bit of tenacity and lots of creativity, like posters, logos, and branding materials. Dozer is a robust and powerful font that commands attention and makes a strong statement.
8. Dusty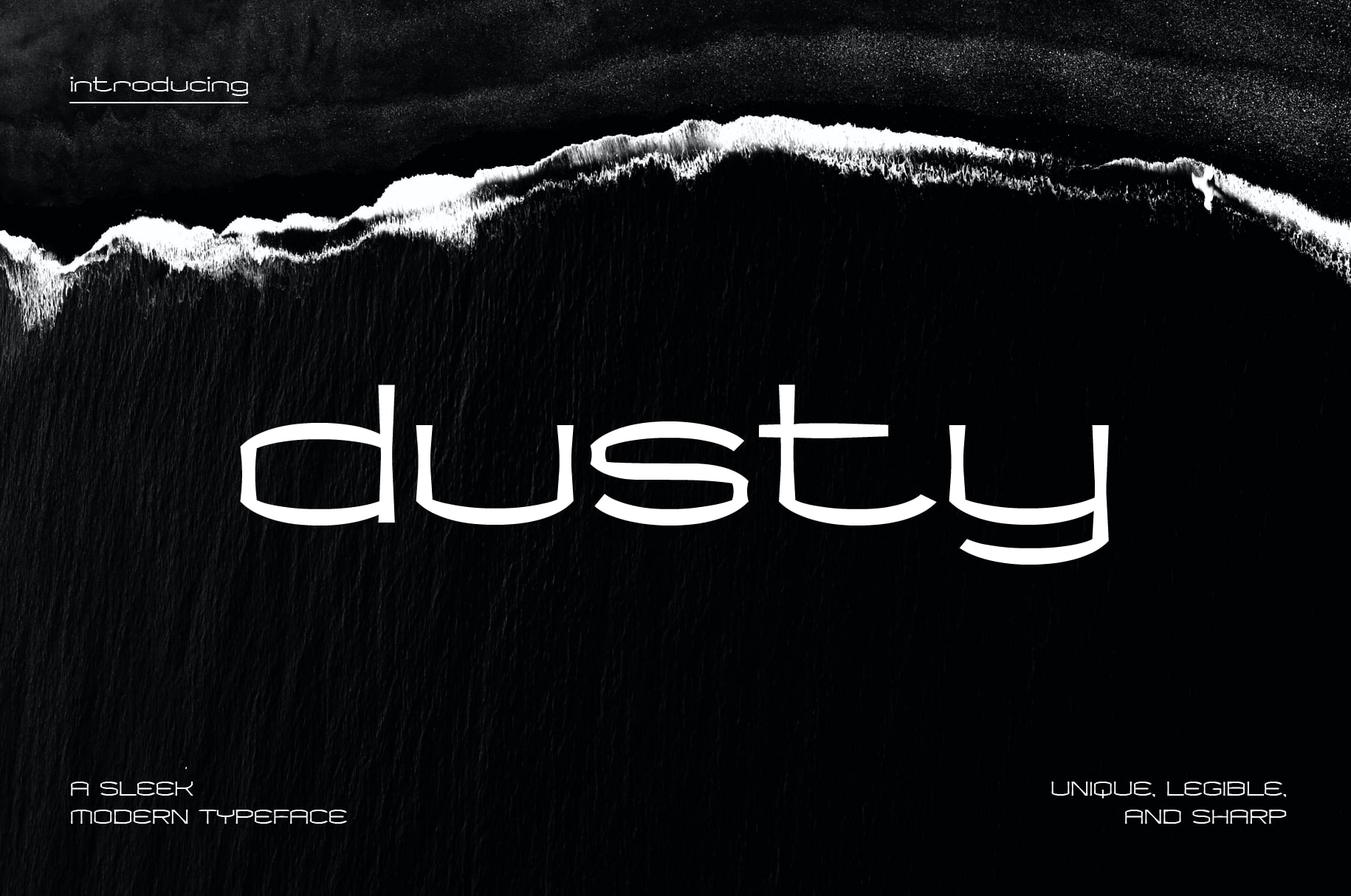 Dusty is a sleek modern display typeface perfect for high exposure without that unnecessary distraction. Its clean futuristic look is perfect for sci-fi, video games, sports, and technology themed projects. Dusty is intended to be used for headings,, branding, logos, wordmarks and other application rather than typing a body of text. If you need a head turning geometric display, then Dusty is for you.
9. SIEGNER
SIEGNER is a modern Sans Serif typeface inspired by renowned Swiss typefaces with an added geometric flavor. If you need to create a stylish headline, subheading, or print, then you can rely on this modern serif to do the job for you. 
10. Visia Pro
Elegant, simple, and attractive, this design is perfect for business cards and posters alike. VISIA comes with 7 weights (as well as italics version of each weight): Extra Light / Light / Regular / Semi Bold / Bold / Extra Bold / Heavy. The pack contains OTF, TTF and Web Fonts
11. Visage Bold & Regular 
Thick, bold, and daring, this font comes in bold and regular edition and will make any business card look professional. 
12. Callgest Display Font
With 3 different serif styles available in this package, we are confident that you will find a design that resonates with your brand within the Callgest catalogue.
13. Cropaso 
Original and quirky in its design, and with a very elegant shape that will look modern in future technology designs, Cropaso is just what you need to future-proof your brand design.
14. Bencork 
Introducing Bencork. This font would be ideal for writing titles, web designs, business cards, or just about anything else that requires a unique and modern touch. It has a thin shape that is light in weight and pleasing to the eye, making it perfect for a business card. 
15. Paslime 
Paslime is a Script Font with a Handwritten Style. The Paslime font is made with digital brush pen strokes that make this font look authentic. Ideal for business cards, posters, and flyers, use it today and enjoy its beauty. 
16. Metropolis 
Inspired by an old-fashioned 1920s design, Metropolis contains over 250 glyphs and has a range of weights ranging from thin, to light, to regular, to bold. Each of which is perfect for a business card design.
17. Hamlin
Perfect if you are looking to create a minimalist design.
18. Cantauri
Quirky, unusual and eye-catching, this font is great if you want to stand out from the crowd and create a business card that looks a little different. 
19. LUNA
Light, thin, and perfect for a business card or poster design, this font is available in a range of different styles, as well as OTF and TTF formats for each. 
20. Exodar 
There is something other-worldly about this font, so take your business or brand beyond the stars with this typeface.
21. Funtastic Youth 

This script and sans serif font is all about being fun and quirky, using this font will give an informal quality to your branding.
22. Dalton 
Simple, professional and easy to use. The benchmark of basic and effective business fonts.
23. Billion Success 
The name says it all, this font looks to bring success, and with its stunning serif design, that is exactly what it does. 
24. Bird House Script 
Handwritten, personal and professional in its design, BirdHouse comes with a number of glyphs and ligatures, and gives you, the user, a range of different options when it comes to using it for business purposes. 
25. Author Type 
Author type is hand-painted typeface designed to help you create the look of stunning custom hand-lettering.
The design comes with a range of upper and lowercase lettering as well as numerals, swashes, and multilingual support for good measure! 
26. Qanaya Serif Font Family Pack 
This eye-catching sans serif design is versatile in that it will look good on any business card, promotion, poster, or media advertisement. 
27. Helios 
Helios is a futuristic typeface with rounded and regular corner options. It includes uppercase letters, numbers and punctuation. It certainly has a unique quality to it, and many of the letters have alternates as well, so you have a lot of choices to work with. 
28. Southampton Signature Business Font 
Classy and professional, this gorgeous typeface will look good on anything, so if you are t use it for business purposes, be prepared to see a lot of return on investment! 
29. Solomon Serif Font Family 
Sometimes simple elegance works the best, and that is no different with this stunning typeface. 
30. Xaviera

Simplistic and available in a range of different file types and formats, you can edit Xaviera in whatever way you please. 
31. Munale Loird Display Font

Chic and minimal in its approach, this fresh typeface design is perfect for anyone wanting to design their brand in a fun and fashionable way.
32. Halva Font 

Rounded, balanced, and light in its design, Halva is a great font for all of your business and branding needs. 
33. Nordhead 
NORDHEAD is a modern, sans serif corporate inspired font. This font has upper and lowercase characters with bold, modern look and gentle curves, allowing you to create minimal and straightforward designs. 
It is perfect for any business card design, and with over 250 glyphs, a range of alternatives, and multilingual support, it is a perfect font to work with.
34. Mathics 
Bold, brash, and in your face, this Mathics font is attractive and modern. Mathics Round is an industrial sans serif font with soft rounded edges and a lot of character. It supports over 100 languages and can be used easily through a range of editing software. 
35. Exensa Grotesk
With 5 different weights included in the package, this slick and contemporary font is perfect for all things business.