Last Updated on October 9, 2023
Borderlands is an action role-playing first-person looter-shooter video game franchise created by Gearbox Software, 2K Australia, and Telltale Games, with the last two creators also doubling up as its publisher.

The game is set in a space Western science fantasy world known as Pandora. It follows a group of four Vault Hunters who travel to the Pandora planet in search of 'the Vault.' The Vault Hunters are motivated by rumors that the Vault contains valuable treasures and amazing discoveries, including advanced alien technology.

Borderlands was first released on October 20, 2009. The second instalment in the series, Borderlands 2, was released in 2012. Borderlands: The Pre-Sequel followed in 2014, with the most recent release titled Borderlands 3, happening on September 13, 2019.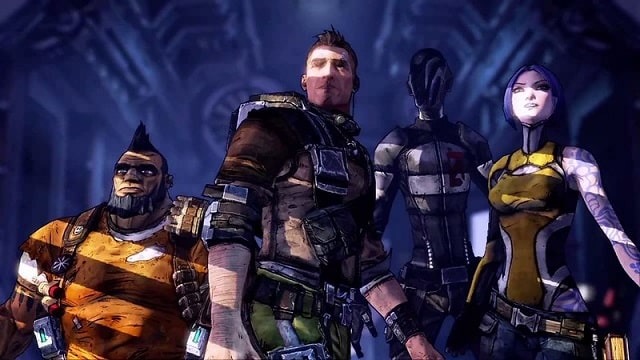 The game is available on numerous platforms, ranging from Windows, PlayStation 3, and Xbox 360, to Linux, PlayStation Vita, Android, iOS, to mention but a few.
Borderlands Font
Borderlands uses a font nearly similar to the Compacta Standard (Std) Bold. Compacta Standard Bold is a bold version of the popular Compacta font, a condensed sans-serif typeface created in 1963 by Fred Lambert for the Letraset Font Foundry.

Compacta shares a few visual similarities with the Haettenschweiler and Impact fonts. The only major difference is that this font features a distinctively square shape.
Compacta was the first typeface created by Letraset, a dry transfer system widely favored by budding and small-scale font designers. The font was released to a smashing popularity. That was mainly due to its quirky modifications which distinguished it from Impact and Haettenschweiler.
Compacta's popularity grew even further after Linotype acquired rights to it, which led to the development of other flexible weights, including digital versions.

In addition to the Compacta Standard Bold used in the Borderlands video game logos, other popular variants of the Compacta font include;

• Compacta Std Light
• Compacta Std Light Compressed
• Compacta Com Regular
• Compacta Com Bold
• Compacta Com Italic
• Compacta Com Bold Italic
• Compacta Com Black
• Compacta Std Black Poster
• Compacta Black Poster
Where Can You Use Compacta Fonts?
Compacta would suit a variety of design projects, ranging from video game covers to film and television covers. You can also apply this font on campaign flyers and store signage. Besides, there are digital versions that you can use to design your website, blog, or e-commerce store.

The following are some of the major projects where Compacta has been used besides as the main Borderlands cover font;

• The music albums 'Aftermath' and '12 X 5′ by Rolling Stones
• All music albums by The KLF
• 'The Six Million Dollar Man' and 'Emergency!' shows
• The television series Baywatch
• WWF SmackDown! (from 1999 to 2001)
• The Seattle Mariners Major League Baseball (MLB) team (since 1993)
Where to Download Compacta Fonts
Compacta Std Bold and other Compacta variants are available for immediate download on Free Fonts Family, My Fonts, and Fonts Empire websites.

Compacta fonts are marketed as free for personal use only. Remember to contact the font's publisher before applying it on your commercial projects.