Billion Dreams is a cool, script font created by renowned Sweden-based typeface designer Måns Grebäck.

The font is available only in the Regular weight and normal style. But as you shall find, there are plenty of reasons to consider this typeface for your next design project.
Billion Dreams Font Features and Applications
Billion Dreams is an elegant script typeface. The font sports thick brush strokes that give it extra character and personality. It contains stylistic alternates and swash alternates, as well as swash characters and ligatures. These features combine to give its elements incredible uniqueness and variability.
Like most fonts designed by Måns Grebäck, Billion Dreams is available in both the UPPERCASE and lowercase versions. These include both regular letters and letterlike symbols. The typeface also supports a slew of special characters and symbols, such as the dollar sign, fractions, and percentages.

Billion Dreams is especially suited for logos or texts aimed at creating a realistic appeal. Examples include store signage, t-shirt printing, and product packaging. You can also consider the font when designing your business cards, posters, and flyers. In fact, adding a few more tweaks to Billion Dreams makes the typeface fit for virtually any design project.
Still on diverse applicability, it's exciting to know that you can use Billion Dreams both for titling and body text. Again, this has a lot to do with its chic design. You'd only need to vary the font size depending on whether you wish to apply it on a title, subheading, or body text. What's more, there are tons of equally elegant typefaces that you can pair Billion Dreams with.

Another interesting fact about Billion Dreams is the unique shape of its letterforms. For instance, the counters of CAPITAL 'O' and 'Q' are incomplete. Most characters also have prominent ascenders and descenders.
The tails of most small letters extend a considerable length to the right whereas the crossbar of the small letter 't' is disproportionately smaller than the stem, making the letter appear like a stylized cross. You'll also notice that the small letter 's' looks partly like a dollar sign and partly like an ampersand.

Last but not least, Billion Dreams comes with extensive language support. You can download the typeface in at least 20 languages, including: Italian, Latvian, Maltese, Norwegian, Polish, Portuguese, Turkish, and Zulu, to name just a couple.
More About Billion Dreams Designer
Måns Grebäck is a famous font designer based in Örebro, Sweden. Grebäck began creating typefaces in 2010. His fonts are unique, stylish, and cut across various categories.
Måns Grebäck became a household name in the font market only a few months after launching his typeface design business. In 2013, Grebäck established his own font foundry called Aring Typeface. He has since released hundreds of typefaces through the foundry.
All Måns Grebäck fonts can be found on his official website. You can access the typefaces individually or in bundles.

As expected, buying the fonts in bundles allows you to enjoy amazing discounts than purchasing them separately. Bulk purchase is a preferable option if you have a number of design projects coming up and are looking for affordable fonts to go with them.

In addition to the hundreds of typefaces on his website, Måns Grebäck also offers custom design services. For a few extra bucks, you can contact the designer and have them create a typeface tailored to your needs right from scratch.
Where to Download Billion Dreams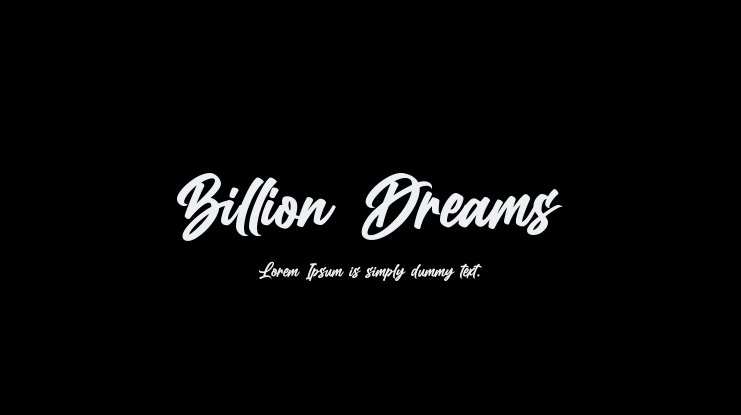 There's no shortage of websites where you can download the Billion Dreams font. Top platforms include Cufon Fonts, 1001 Free Fonts, and Font Meme. Other places to download Billion Dreams include Blog Fonts, DaFont Free, and Font Mirror.
Is Billion Dreams Free?
Billion Dreams is 100% free for personal use. You'll need to purchase a commercial license to apply the font on business projects.

The best place to obtain a Billion Dreams commercial license is right from Måns Grebäck's official website. Grebäck also maintains a presence across major social media platforms. Get in touch with him if you want a commercial license.
Many of the above-listed websites also offer both a freemium and premium version of Billion Dreams. The paid plans let you access the font's commercial license for worry-free application on your business design projects.