Last Updated on September 7, 2022
Have you been meaning to improve your skills in the area of typography? If the answer is yes, then we have a treat for you because this list includes both free and paid typography tutorials that will teach you everything you need to know to create beautiful graphic designs  – whether your goal is to be a highly-skilled creative professional, or just add typography as another 'ribbon to your bow'.
Online courses have become hugely popular in recent years, especially during and post-Covid, so it makes sense that there would be a massive selection of online courses.
To understand typography properly, you don't need years of training or experience. Instead, online classes allow you to gather all the skills you need to create beautiful words digitally. In this article, I've gathered the best online typography classes. They are suitable for various levels, budgets, and time frames.
So, whether you're someone looking to make a full-time career as a graphic designer, or a small business owner who wants to cut costs and create their own graphic designs for marketing campaigns, we guarantee that there will be a lettering class for you. Let's look at 10 of the best, in our opinion.
1. Typography Training that Helps Designers – TypeEd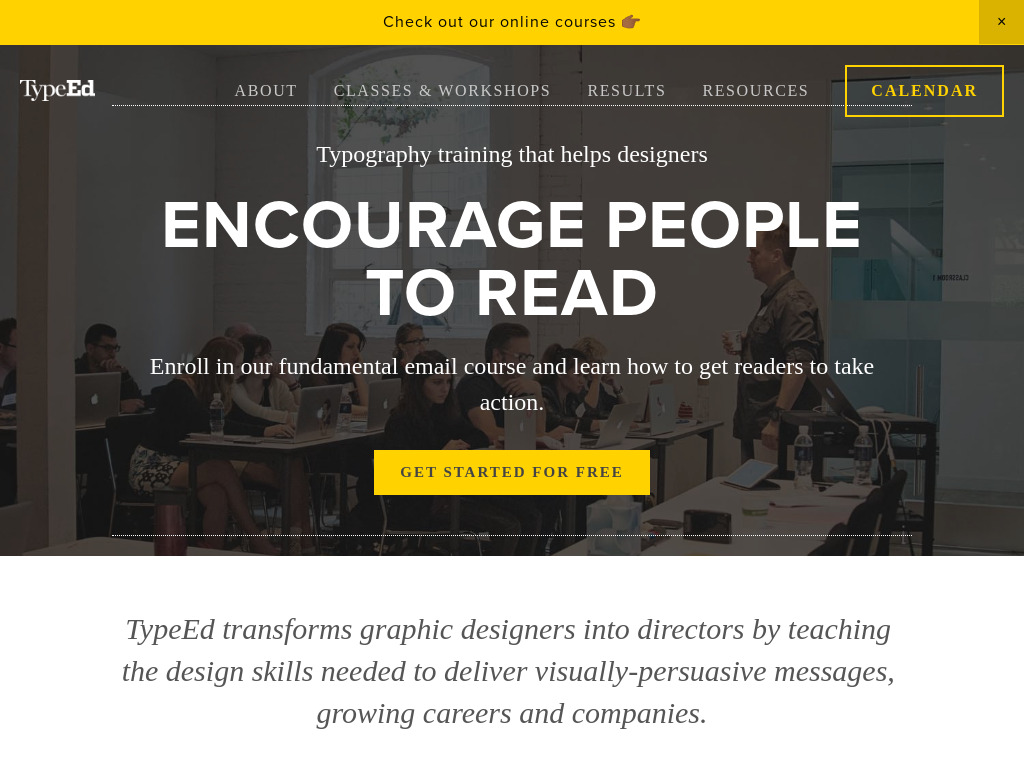 Crafting words with beautiful designs is an exceptional way to convey persuasive messages. Keeping this in mind, the educational website of TypeEd offers several courses and training classes on the art of typography that are available for typographers of all levels.
Join practice sessions, explore the history and anatomy of type so that you can better understand it, and build up your own portfolio as a mentor guides you through the course. The course length depends on you and how much time you can put into it, and best of all, you can sign up for free to TypeEd.
2. Foundations of Graphic Design (Typography) – LinkedIn Learning
Designed by professor and photographer Ina Saltz, this course on an introduction to typography will help you to learn about good typographic practices, so that you can develop an "eye" for type and understand how to effectively use it.
You will learn about type classification (e.g., serif vs sans serif, display type vs. text type), how type is measured, sized, organized, and how different spacing and alignment can affect your design. You will also learn how to use kerning, tracking, leading, and line length, and there is a separate class on the history of typography too.
By the end of this free LinkedIn learning course, you should feel confident with understanding the principles of legibility, readability, compatibility, and how they should be considered when you're selecting and designing with type.
The course takes 2-3 hours to complete, and you will even get a certificate of completion.
3. In Introduction to Typography – Coursera
Offered by the California Institute of the Arts (CATS), which has an international reputation as the leading visual arts college in the United States, this course is one of the best for lettering. Instructed by Anther Kiley, you will cover a huge amount. You will review the terminology and measuring system used to describe type, explore how typefaces tell stories and understand the historic evolution, how to conduct a peer-reviewed typesetting exercise and how to design a full-scale typographic poster.
Once the class has finished, your lettering skills should be top-class! The course takes about 8 hours to complete, and you can enroll for free. You will receive a certificate of completion at the end, and with almost 5,000 top ratings, we are sure it has everything you need.
4. Customizing Type with Draplin – Skillshare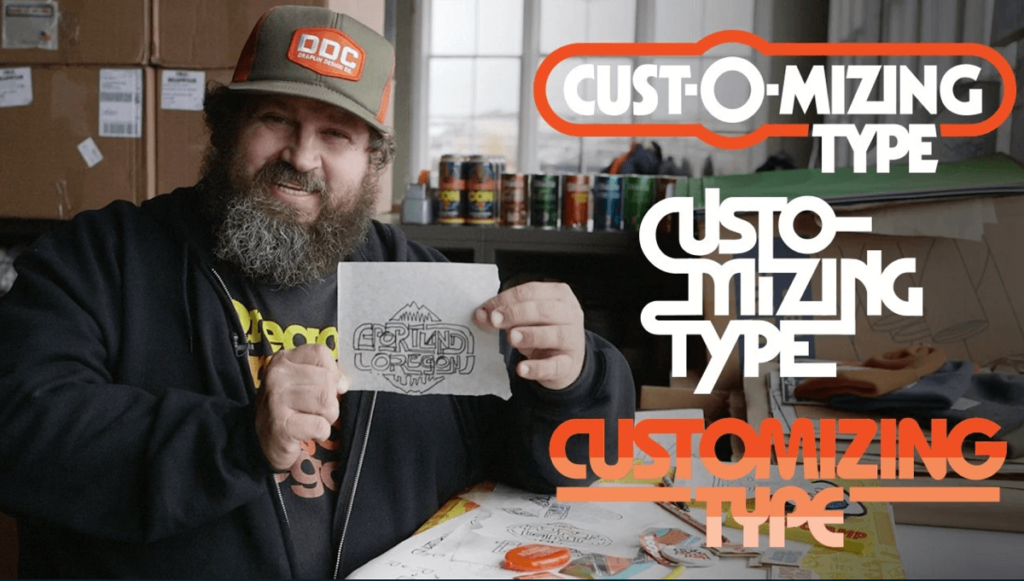 Much-loved designer and personality Aaron Draplin has several highly-recommended courses available online. Still, keeping our focus on typography, we can look to his popular Customizing Type with Draplin: Creating Wordmarks series for tips on taking existing typefaces a little further in your designs and making unique or more fit for purpose.
With a long graphic design career under his belt, his course on customizing type is seen as one of the best and most trusted on the entire site. The hundreds of positive reviews back this up.
One thing to note is that Skillshare costs $15 per month to use. However, you can avail of a 2-month free trial, so maybe you could do the course during this time?
5. Typography for Designers & Developers – Don't Suck at Design – Udemy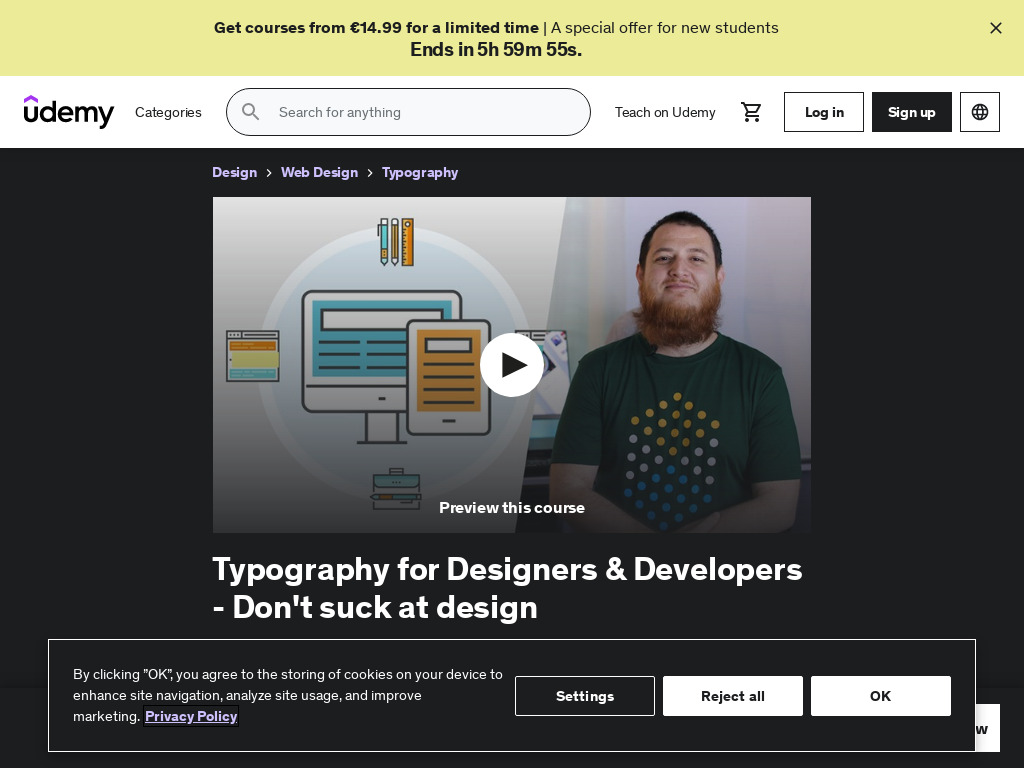 Aesthetic websites have become essential with many organizations and businesses moving online. The curriculum of this intermediate program is primarily created for designers and developers. Multiple examples and quizzes are available to demonstrate and test the knowledge of the covered concepts. Some of the topics that you can look forward to on this free Udemy course include;
How to use scales and grids
Pairing fonts and the art of decisive contrast
How to use fonts to make your design stand out
The LEGO block method
The differences between types and scales on Apple and Android
6. Build a better font – Skillshare
All aspects of the journey of making or working with a font are explored in this 16-part class; ideas and sketching, refining, tracing, positioning, spacing, kerning and of course the tools you'll need along the way, as well as the super important testing phase.
Once again this class is available on Skillshare, so this will require a premium account, or you can make use of the free trial period to access the class for free, a reminder that memberships cost around $15 a month or less and you also get access to thousands of other classes across a wide range of topics.
There are a range of positive reviews on this course, and with the content catered for more intermediate typographers, it might be best to wait for a little while before you jump in if you are a beginner.
7. The 33 Laws of Typography – LinkedIn Learning
A perfect course for the beginner typographer, this Linkedin Learning speciality is around 3 hours long. At the end of the course, you will also receive a certificate of completion, so you can add yet another feather in our cap if you are on a journey of self-learning.
There are 5 key sections to the course:
Documents
Large Bodies of Text
Small Blocks of Text
Punctuation
Typefaces
Seeing as it is a beginner course, none of these sections goes into extreme detail, but they do offer just enough to help you grasp the basics and start your journey on the road to typographic excellence. The LinkedIn Learning platform offers a free one-month trial, so if you're interested in the course, it's worth giving it a try.
8. Typographic Logos: Typography and Lettering for Logo Design – Udemy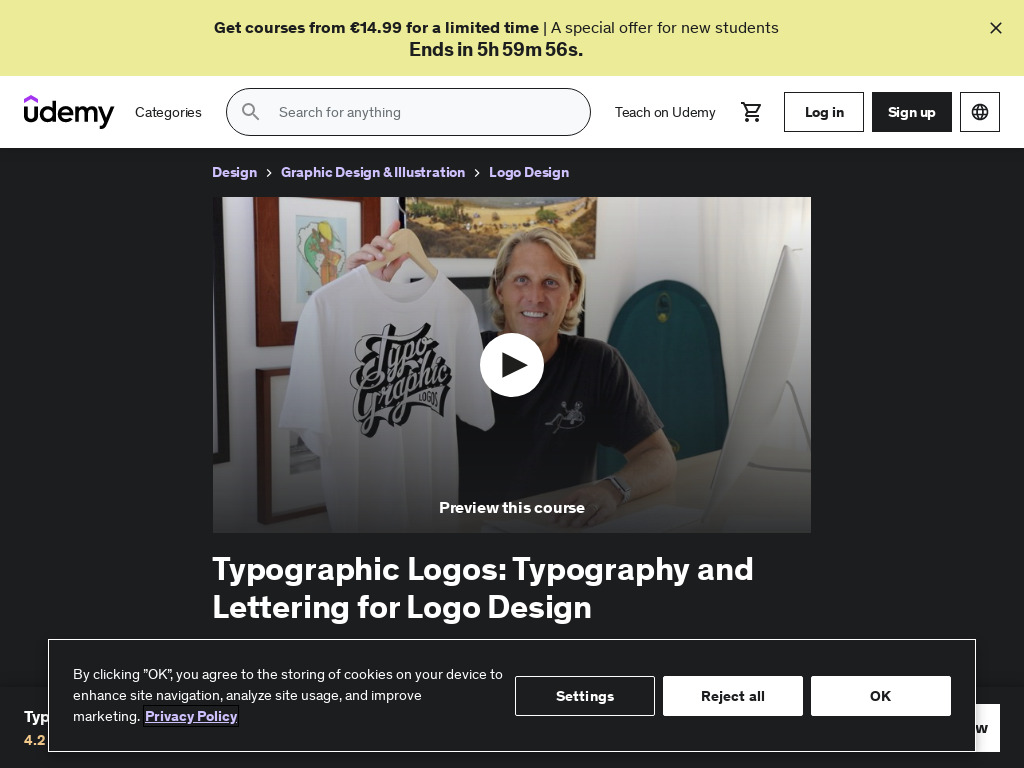 Logos are an essential part of building a brand, and it is safe to say that designing logos is one of the most in-demand skills in the industry. So if you have a working knowledge of Adobe Illustrator and Photoshop, you are good to go. This curriculum's primary focus is to cover the entire procedure of creating a type-based logo from scratch. In addition to this, you will also discover special techniques that will help you to polish your design.
The free course is perfect for helping you brainstorm new design ideas, build a basic portfolio, understand color theory, and learn how to add 3d effects and shading to your designs. All of this in just 20 short lectures.
9. An Introduction to Web Fonts & Modern Web Typography – Skillshare
An Introduction to Web Fonts & Modern Web Typography is divided into five lessons and lasts for around an hour. It's geared more toward intermediate learners, but during your free Skillshare trial, you could combine this with Introduction to Typography: Design fundamentals for beginners.
It also caters to beginner front-end web designers who are either currently learning to work HTML(5) and CSS(3) or at least plan to. And, of course, it is aimed at helping these people develop their typographical skills.
The course helps you learn about fonts, style, line spacing, contrast, the importance of readability, and cross-device scalability, among other topics. Whilst Skillshare does charge its members; you can always utilise the free trial period.
10. An Introduction to Typography: Design Fundamentals for Beginners   – Skillshare
One final Skillshare course we have to mention is this quick and easy fundamentals course. This Introduction to Typography course takes over an hour to complete and caters to beginners as the name suggests. It's divided into 20 lessons with durations that make them bite-sized and super easy to consume.
In the course, you will learn about what typography is, the correct terms used in the practice of typography, why it is important, and how to make the best choices in relation to font selection.
You will also find out about various tricks, how to use typography effectively, and how to apply your newly-learned skills to graphic design—including web and user interface (UI) design.
To Conclude
There are a huge variety of typography tutorials available. Some of them are quick and cost-effective. Others are more expensive and take more time, but they cover typography in more depth.
All of the above typography courses are excellent. They are the best of the best. Each course is taught by an experienced and dedicated teacher and they all have satisfied and happy customers.
So, which course you decide to take depends on your experience, funds and spare time. Have you ever used a computer to create a graphic design? Or have you got years of experience with drawing cool graphics but just want to nail your typography skills? Do you have a lot of money to spend on your skill development? Do you have a lot of spare time, or are you just looking for a quick, but effective, skill top-up? Whatever your preference, we are sure there's a course listed above that suits you perfectly.
FAQs
What is Typography?
Simply put, typography is the art of arranging written letters into visually appealing, legible text is called typography. The word is derived from the Greek words "typos" meaning "form" and "graphein", which means "to write".
What is the most important rule in typography?
The most important rule of typography is to make your text readable. Small, confusing font or dark backgrounds with dark text and such will make your text unintelligible. Don't choose colors or fonts because they are your favorites, instead consider them from someone else's point of view.
Is typography important?
Yes, typography and the font that you choose play a vital role in how your website/design/brand is viewed. Use your knowledge of typography wisely; it is a powerful tool.
Can I find free typography courses online?
Yes, you most certainly can find free typography courses online, and they are available across various websites like Udemy, Skillshare, and Coursera.
What happens if there is no hierarchy in typography?
Without a hierarchy, you get the "wall of text" effect that makes reading difficult. Creating an effective typographic hierarchy involves a few elements that, when combined, create a visually appealing structure for written content that makes it a joy to read.