Last Updated on January 16, 2023
Procreate is an amazing app. With it, you can create breathtaking artwork – from landscapes, abstract prints, typography posters, watercolor backgrounds, and more. If that's the case, then why are people hunting for alternatives?
Well, not everyone is willing to pay the app's price, and Procreate is also limited to Apple devices. The app doesn't have vector support as well, which could be a big deal to some artists.
Whether you're a beginner or a pro, the app's highly intuitive interface and massive brush library should suit your needs. However, it's not for everyone. Depending on what you're looking for in a creative app, it's always nice to know you have options.
Don't have an iPad? Want to draw on Android devices instead? Then these are the best Procreate alternatives that we'd recommend.
Best Procreate Alternatives
Devices: Windows, Mac, iPad, Android.
Paid Service: Yes. Pay monthly or once a year ($20.99 p.m/$240 p.yr).
Adobe Photoshop is one of the priciest options on this list but once you see what this app has to offer, it soon becomes clear why a lot of users don't mind. Many of the software's best features are still unrivaled and this means that you can create almost anything with it. From making a meme to creating a stunning brand, Photoshop can deliver every time. 
The only downside to this app is that the design and interface require a learning curve. In that respect, Procreate is still the winner. However, as an alternative, Adobe Photoshop is still golden and won't disappoint anyone who is serious about their artwork or graphic design projects.
Devices: iPad, Mac, and iPhone.
Paid Service: No. Vectornator is completely free to use.
Vectornator aims to make the ability to craft professional designs available to everyone, without sacrificing quality for versatility. This completely free app allows even total beginners to create their very own vector graphics, beautiful lettering, and complex illustrations up to 30 percent faster than normal.
You can choose images from their vast Unsplash-linked library to start creating vectors for your next project, with tools that make this task super easy and you can even add amazing effects to make the image more unique. 
Vectornator is also compatible with tools like Illustrator and Sketch, allowing you full import and export capabilities for your files. When combined with other graphic art apps, like Procreate or Photoshop, it gives you more creative options than just using Procreate on its own. 
Devices: All iPhones, iOS 13 or later, iPad, and Windows 10 or later.
Paid Service: Yes. There is a 30-day free trial. After the trial, there's a monthly fee of $9.99.
Adobe is a leader in the field of online apps and tools, so it should be no surprise that we have a second Adobe app on our list! But what benefits does Fresco offer? Well, it's mainly a sketching, painting, and art app, making it a direct rival to Procreate and a better option if you want to take your artwork to the next level on Windows 10 and later. It's particularly fun if you love drawing delicate details with a stylus pen.
Moreover, Adobe Fresco has been designed to be used on the go. Do you have an hour to kill during your commute? Simply take out your device and work on your current art project! You're not limited to a small brush kit, either. Adobe Fresco has one of the largest brush collections of any art app, including raster and vector brushes. 
If you also hate how difficult Procreate's layers can be, Adobe Fresco offers layers that are easier to work with, giving you more time to enjoy your creativity and less time feeling frustrated with the technical details of an app.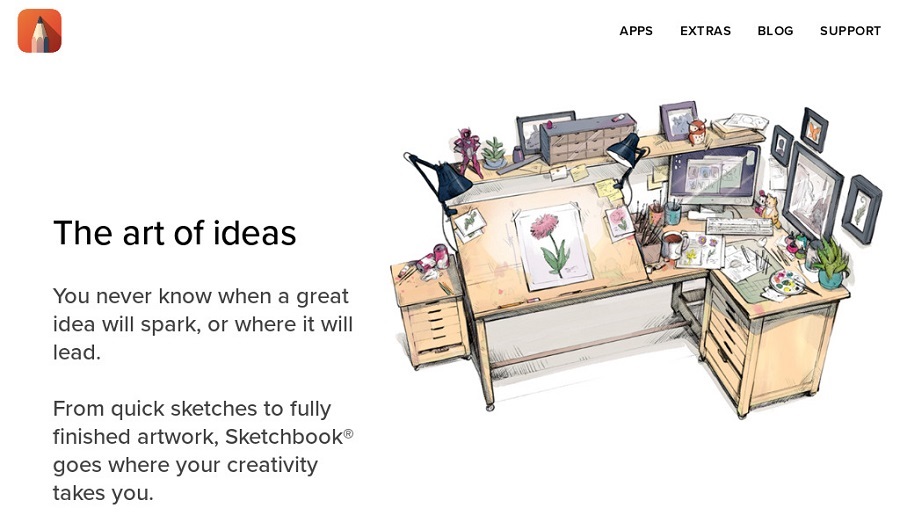 Devices: Mac, Windows, Android, iOS.
Paid Service: Users can explore Sketchbook with a 7-day free trial. The monthly fee is $10.
What makes Sketchbook stand out is the authentic "drawing on paper" feature. It offers you a canvas that lets you draw naturally as if you're using real paper. This allows you to create stunning pencil sketches that look completely authentic.
Brushes and pens also behave like their real-world counterparts. So, if you're after genuine handcrafted art, sketches, and work-related designs, then Sketchbook might be your best option!
Indeed, this suite is not just used by beginners. It's also the preferred option for many salted graphic artists, illustrators, and professionals like architects. You can also look forward to intuitive tools and brushes, a user-friendly and distraction-free canvas, and the option to save your work in different file formats, including JPG, PNG, BMP, and TIFF.
Devices: Windows and Mac.
Paid Service: Yes. After a 15-day free trial, the most basic package costs $271.
Corel Painter is probably one of the more expensive options out there but thanks to its decent features, it remains one of Procreate's main competitors. Just some of the perks that users love with this app include the easy interface, color-mixing options, good control over brushes, and the ability to create your own custom brushes and palettes. 
Despite offering artists a lot of versatility, Painter's hefty price tag is not the only downside. You cannot use the software on mobile devices and the pressure on the brushes are not always that good. That being said, the Painter software crashes less often than Procreate and it's also more intuitive and user-friendly.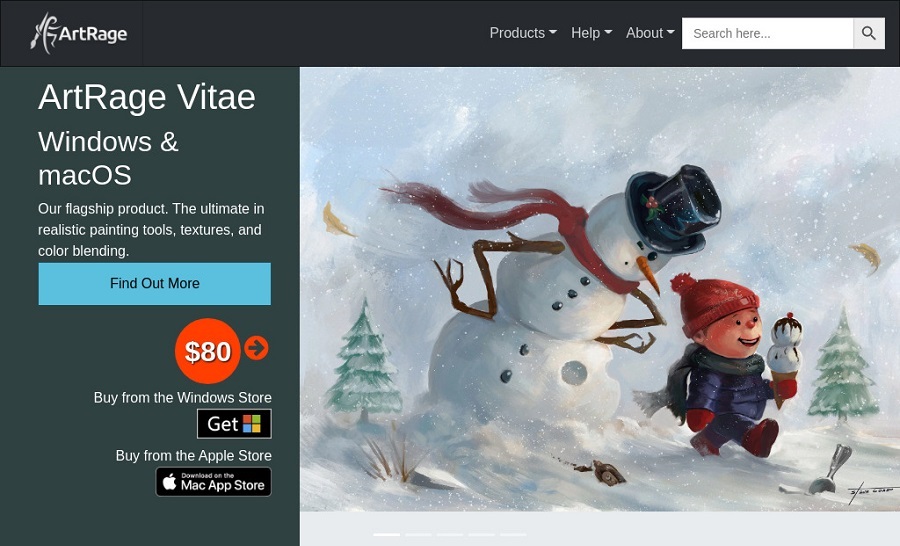 Devices: Android, Mac, Windows, iPad, iOS.
Paid Service: Yes. Downloading costs $4.99 on mobile devices and $47 to $80 on Windows, Mac, etc.
ArtRage is a great choice if you love to create paintings – especially watercolors and oil paintings. This software allows you to create stunningly realistic paintings, offering textured paper as well as tools like paint, pencils, and pastels. It's easy enough for kids to use but professionals can also look forward to complex tools that will help them to churn out realistic paintings and designs. 
It's fully compatible with Samsung's S-pen and the Apple Pencil, and you can also use the app's easy sharing system to forward your creations to friends, family, and even clients. Once you find settings you like, you can also store them as custom presets for future use! Overall, ArtRage is a great painter's tool that is basic and classic.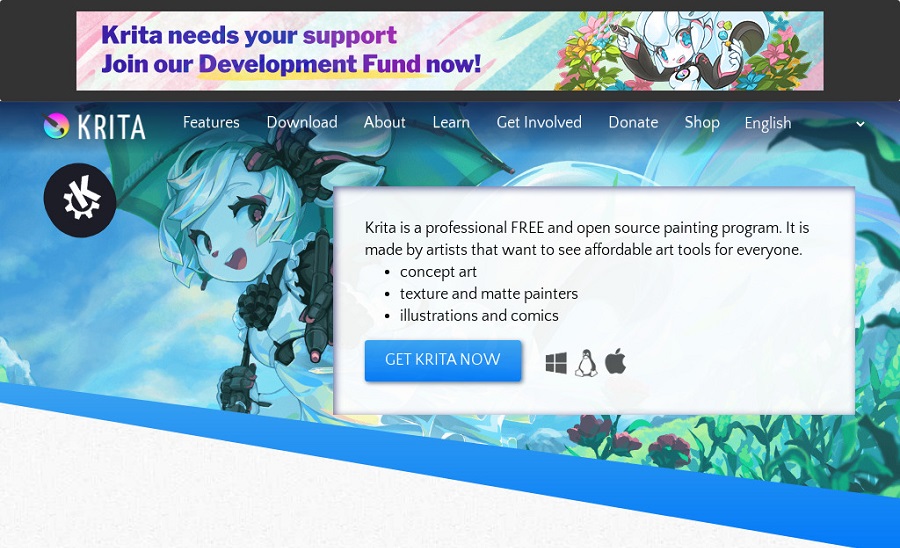 Devices: Android, Windows, Linux, Mac.
Paid Service: Free open-source software.
Krita has been created by artists for artists. What's amazing is that you can create mind-blowing artwork and you don't have to pay a cent. This makes Krita a fantastic choice for those breaking into the digital art scene who do not want to purchase an expensive suit just yet. Krita is so versatile, that you might never abandon it for another app! But what exactly makes it so amazing, apart from being completely free?
You can expect a flexible and clean interface, a vast collection of beautiful brushes, brush stabilizers, vectors, texts, image resizing options, the choice to save your artwork in different file formats, easy import and export, and a lot more. 
Conclusion
The most popular drawing app at the moment is Krita. An important reason for its popularity is the fact that it remains an open-source and free software that is available to everyone. It can create anything from simple doodles to complex art. 
Art is both a skill and a talent. That's why anyone can learn how to draw or paint. Even if your best is a stick figure, you can learn how to paint a beautiful portrait. It just takes time and dedication. Should you feel that your skills aren't improving, take a step back and see if you're taking your art too seriously. Try again and this time, draw or paint with enjoyment and a relaxed attitude. Usually, when you stop being too rigid, your work will improve by itself.
When starting art as a hobby, one needs to have realistic expectations. It takes about two years to become average or good. Excellence takes between five and 10 years, depending on how often you practice.