Last Updated on January 5, 2023
Back to the Future 2002 is a techno, science fiction typeface inspired by the 1985 American science fiction movie by the same name. The font was designed by Cyril Bourreau.
About Back to the Future Film
Back to the Future is an American science fiction film directed by Robert Zemeckis and released in 1985.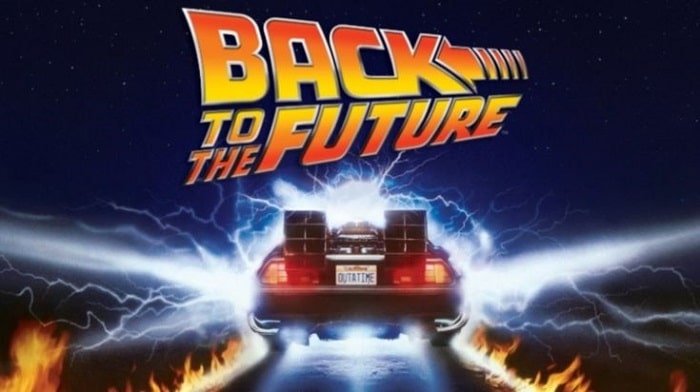 The film stars an ensemble of Hollywood A-listers, including Michael J. Fox, Lea Thompson, Christopher Lloyd, Crispin Glover, and Thomas F. Wilson. It follows the exploits of a teenage boy named Marty McFly (played by Fox), who accidentally travels back to 1955 to prevent his future parents from dating.

Although his mission seems exciting at first, Marty soon realizes that his parents must somehow meet and date for him to be born. This realization forces him to reconcile the pair, after which he gets back to the future.
Back to the Future 2002 Font Features
Back to the Future 2002 is classified as a techno, science-fiction typeface. That isn't surprising, considering that the font mimics the style of the 1985 movie which it's based on.

Back to the Future 2002 includes 104 defined glyphs and 241 characters. Letterforms in this font are mostly noted for their bold square shapes and compact designs.
Another thing worth noting about Back to the Future 2002 is that the typeface is currently available only in the Regular style. However, the single style comes with a number of unique characters, including UPPERCASE ALPHABETS, lowercase alphabets, numbers, and basic punctuations.
The characters also include special symbols, such as exclamation mark (!), question mark (?), address sign (@), star (*), hash (#), geometric shapes like a square, mathematical operators like + and =, to mention but a few.

But perhaps the main feature that associates Back to the Future 2002 font with Robert Zemeckis' 1985 film is a special character that contains the phrase "TO THE" as one element. This character has the words set in two lines, just as they appear in the movie.
What Design Projects Can You Use Back to the Future 2002 On?
Back to the Future 2002 looks exceptionally stunning when used as a digital display typeface. Therefore, the font is best suited for projects like movie posters, billboard advertisements, website and app design, social media usage, or even corporate presentations.

This typeface could add powerful visual effects to non-digital design projects, too. Examples include company logos, business, cards, apparel branding, book covers, etc.
Where Can You Download Back to the Future 2002?
Numerous websites will let you download the Back to the Future 2002 font. Examples include Dafont, Urban Fonts, and Action Fonts.
Is Back to the Future 2002 Free?
Back to the Future 2002 is generally licensed as 'unknown.' However, that doesn't necessarily mean you can download and use the font free of charge. Although little is known about the font's license type or designer information, you're safer using it only for non-commercial purposes.

It's also prudent to check a website's specific download terms before downloading the Back to the Future 2002 typeface from such platforms. As you shall find, some websites may package the font into a premium plan, in which case you'll need to pay before downloading it.