There's something about a person's handwriting that makes it unique and personal. It's the same reason you'll appreciate a handwritten birthday card or a thank you note more than one that's already been printed.
Similarly, a simple handwritten autograph font could be the secret ingredient your design has been missing all along. With a dash of elegance, a slice of delicacy, and a sprinkle of class, a handwritten font can transform even the most mundane designs into something beautiful and personal.
From their unique strokes to their exquisite curls and twists, handwritten autograph fonts are perfect for everything aesthetic and creative. It makes an impression in whatever form it is used and elevates any design from zero to a hundred.
They are the perfect fit for fashion-related designs, wedding invitation designs, book covers, magazine covers, classy logo designs, social media posts, and so much more. Feel free to add a little something extra to your creative projects with these stylish, eye-catching autograph fonts!
Stylish Autograph Fonts
1. Faithfull Modern Signature Font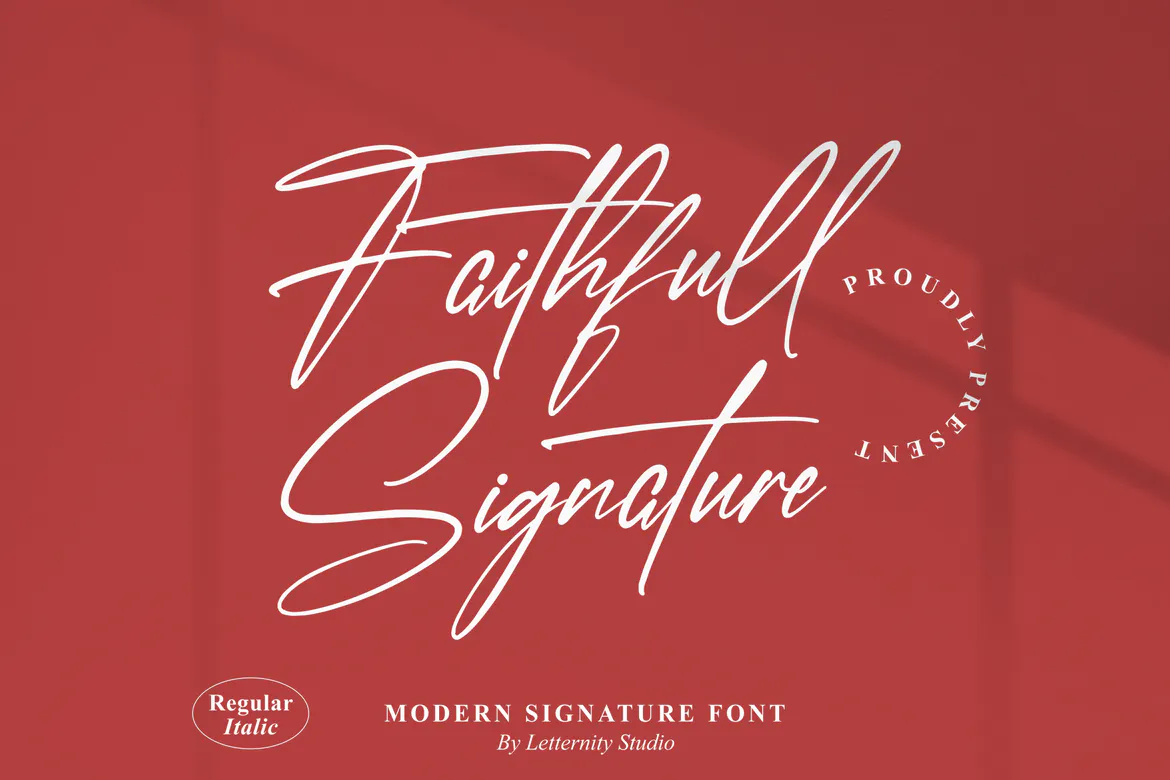 The Faithfull Signature font gives a sleek and delicate feel to your work. Designed by Letternity Studio, this modern signature font comes in both regular and italic, with features like uppercase, lowercase, numbers, and punctuation. It's perfect for both digital and printed creative products. 
Download Faithfull Modern Signature Font
2. Gojelles Signature Script Font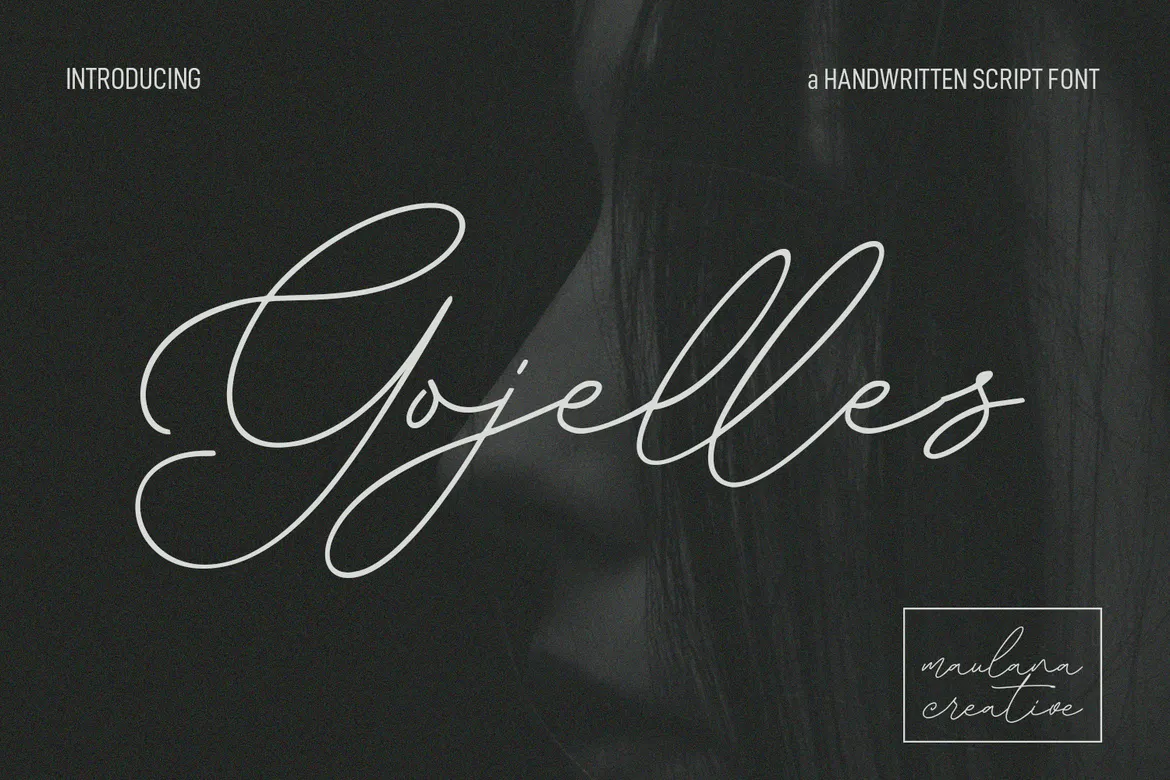 This signature script font uses a thin line weight that is consistent across all of its characters. Created by Maulana Creative, it contains uppercase, lowercase, numbers, and special characters. It is best for logo design, movie titles, book titles, social media posts, and any other creation that could use a little spicing up.
Download Gojelles Signature Script Font
3. Alekin Wiliam – Signature font & Singleline
The unique construction of each glyph in this two-style variation font makes Alekin William a lovely addition to your design project. It is similar to cursive handwriting and can be used to create signature logos and watermarks for photography studios or wedding invitations.
4. Raster Signature Font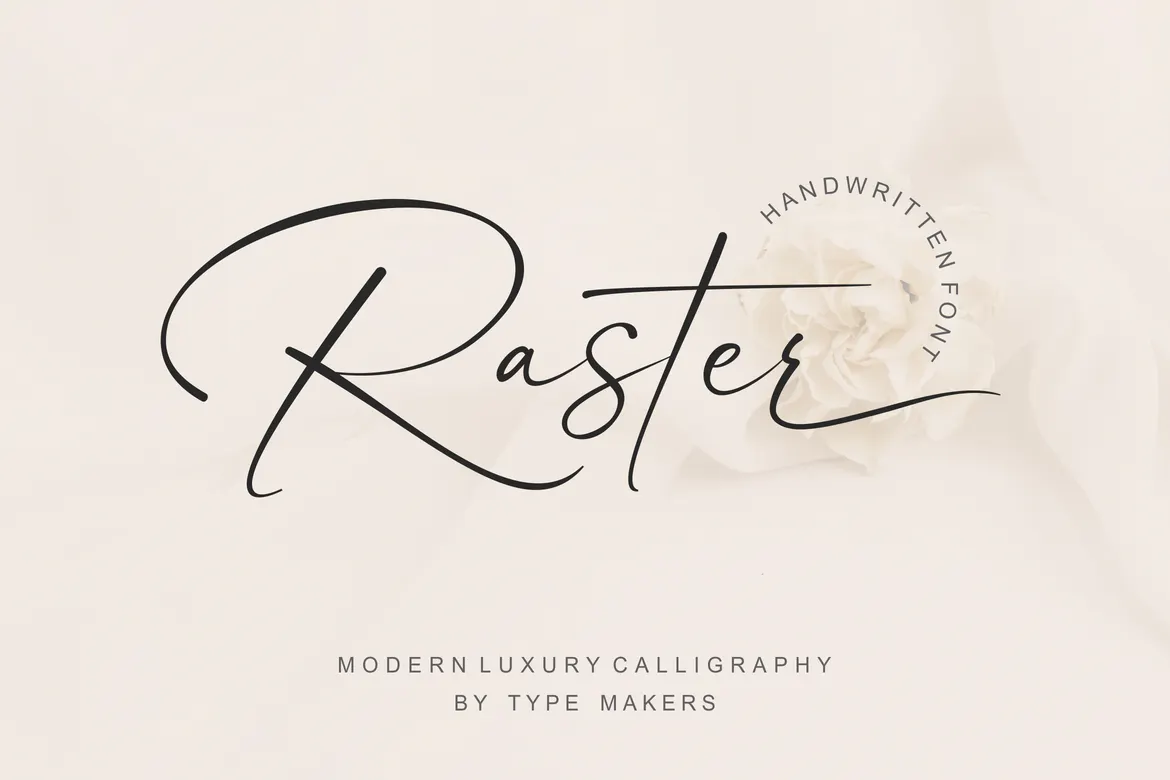 In creating this font, Type Makers combines modern and chic to bring your design to life uniquely. This relaxed handwritten font will look great on logos, invitations, product packaging, wedding designs, photography, advertisements, and social media posts.
Download Raster Signature Font
5. Jack Walker
The Jack Walker Signature Font is your go-to if you're looking for unique creative flair. Adopting this font naturally takes your project from zero to a hundred. It is most suitable for your business presentations, elegant wedding designs, classy logotypes, and even photography watermarking.
6. Omaha Beach
This font is designed to look like a natural signature or handwriting drawn with a dry ink brush. It includes ligatures, stylistic alternates, multi-languages, and swashes. Omaha Beach Font will look great on your designs, giving them a natural brush handwriting feel.
7. Mockine – Monoline Script Font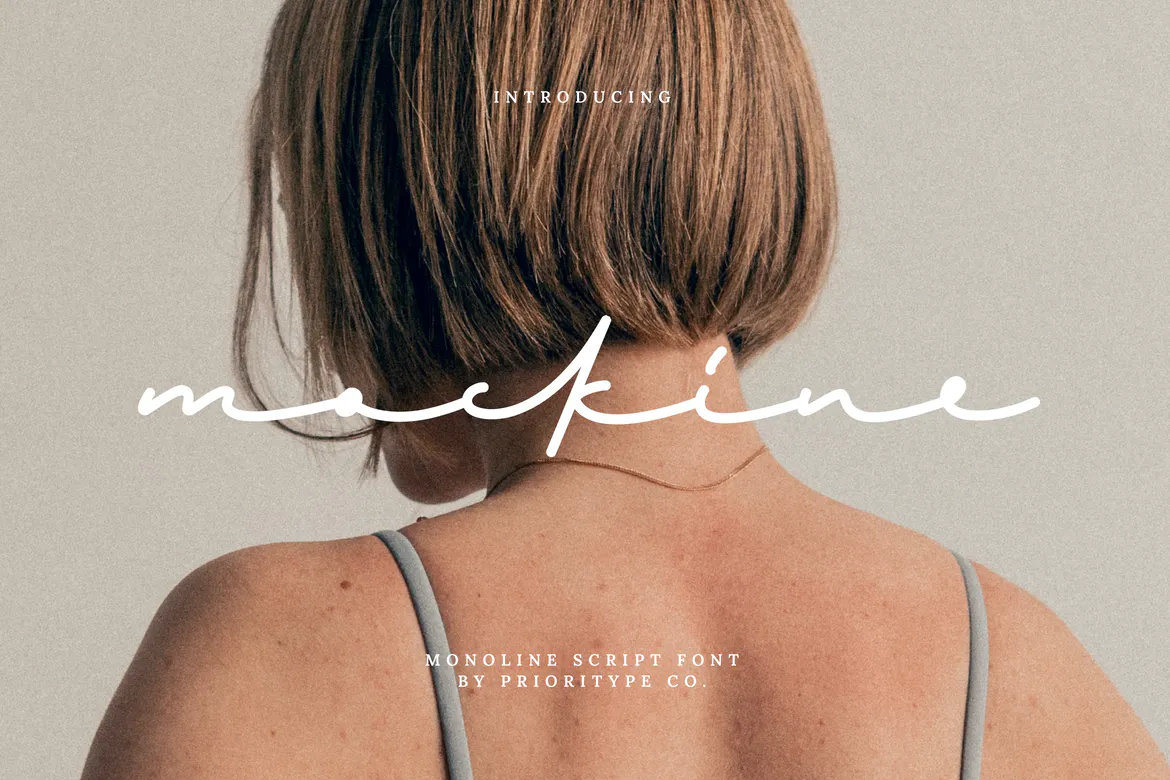 The Mockine font by Prioritype co. brings to mind a typical handwritten signature. The medium-weight typeface features open lowercase letters and a variety of loops and curlicues in the ascenders, giving it a cheerful appearance. It is perfect for poster designs, clothing designs, and logo designs.
Download Mockine – Monoline Script Font
8. Mark Rasford Signature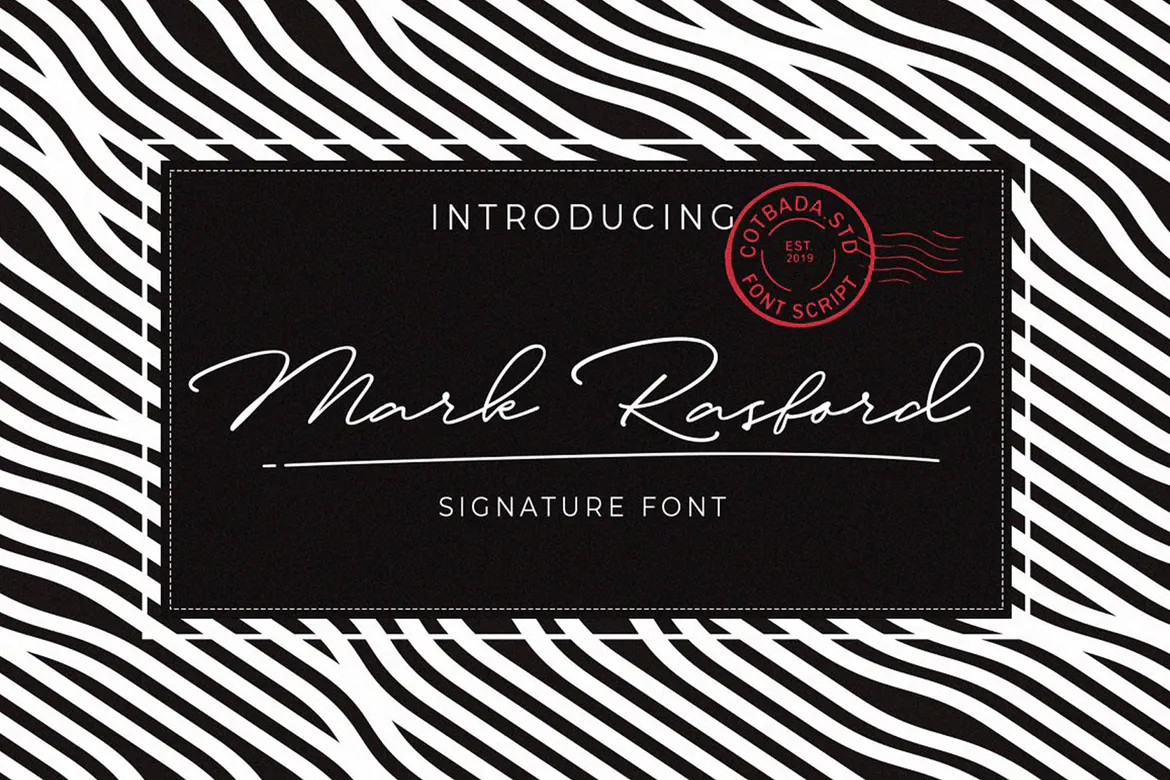 Cotbada Studio Team outdid itself with this elegant typeface which emulates the unique strokes of natural handwriting. It's a perfect fit for watermarking your photography, branding yourself or your business, creating signature logos, and basically everything creative.
Download Mark Rasford Signature
9. Intervensi Elegant Signature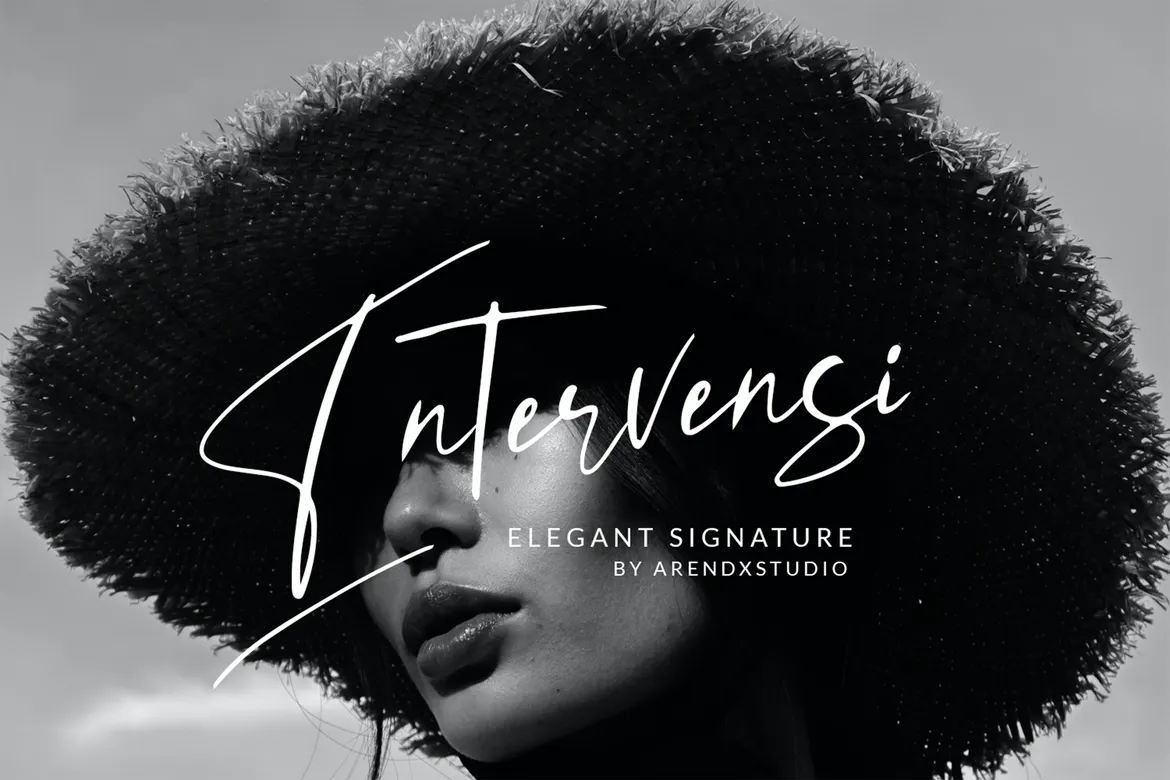 This elegant signature by Arendxstudio features a brush-drawn approach. It supports the A-Z and multilingual character set, numerals, and punctuations. The Intervensi elegant signature is excellent for wedding card designs, brand logos, website homepages, fashion designs, and many other purposes.
Download Intervensi Elegant Signature 
10. Maristella Signature Font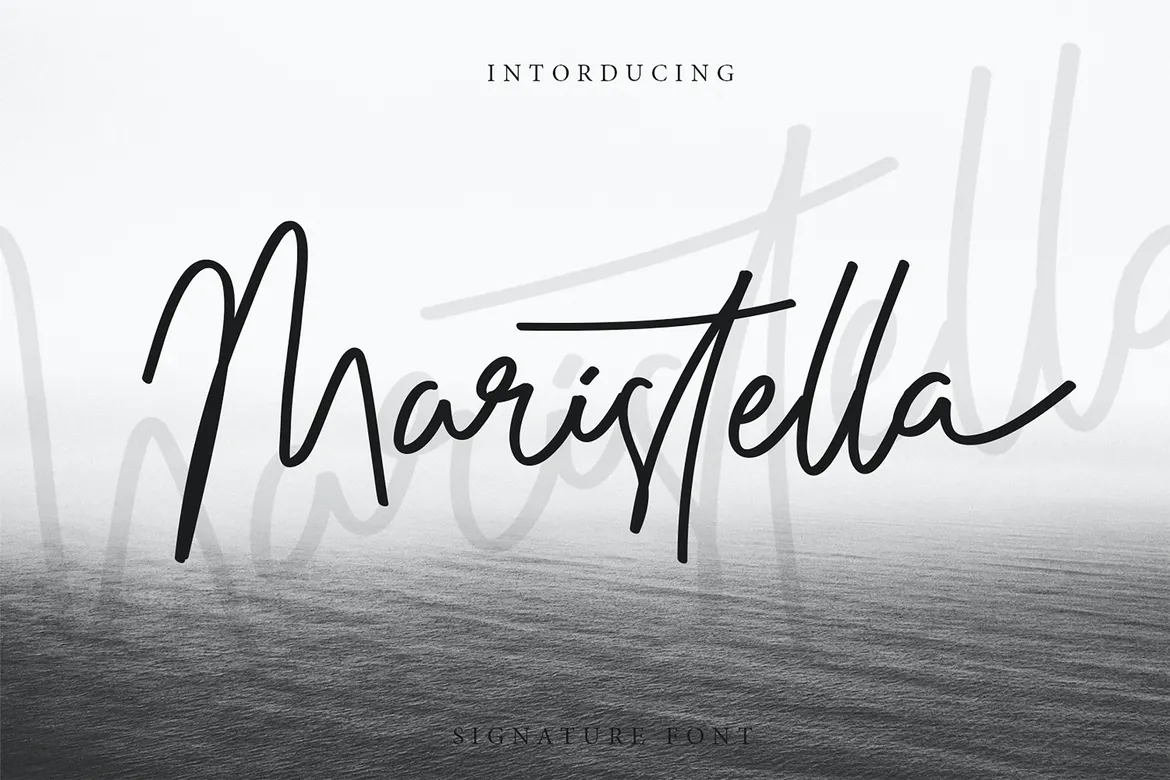 Maristella is a one-of-a-kind trademark font with an elegant style and an unconventional hand stroke, making it ideal for your next design project. If you ever feel like your design appears bland and lacks something to make it irresistible, Maristella is your next best bet. 
Download Maristella Signature Font
11. Moonlight Signature Font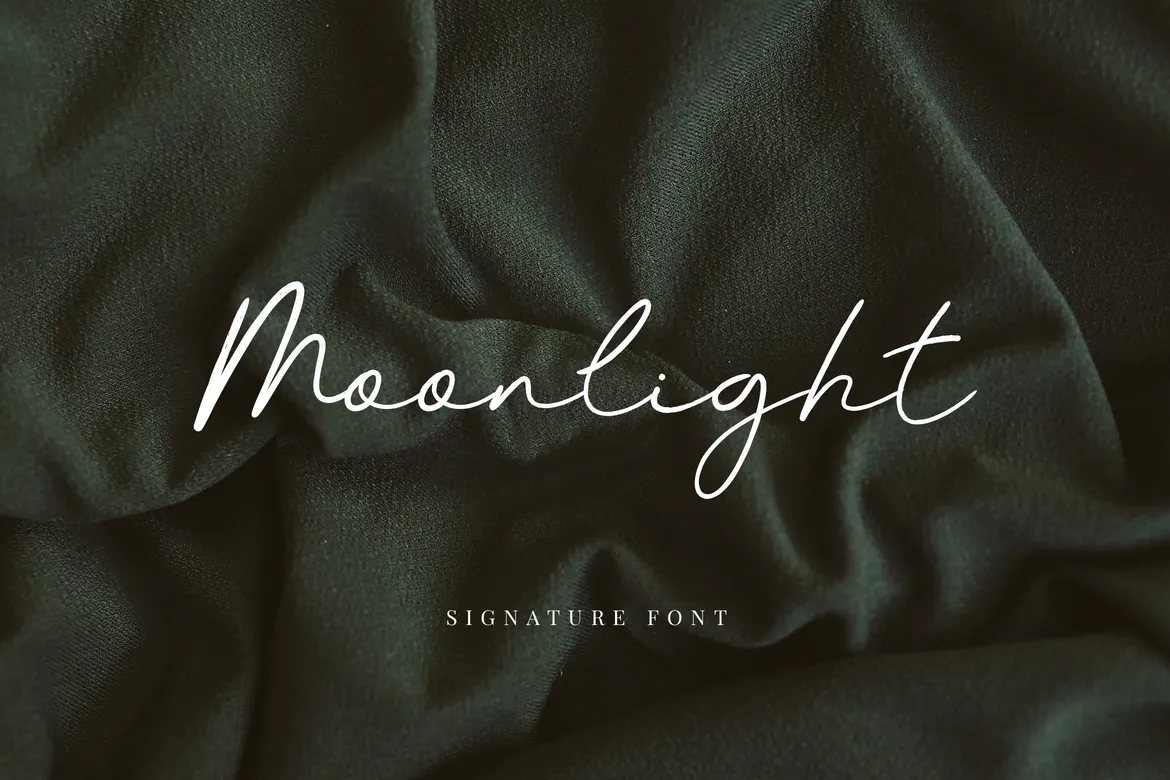 Sometimes choosing simple fonts over-exaggerated ones is what your project requires. Moonlight Signature font is the perfect blend of classy, elegant, and modern. It displays both masculine and feminine characteristics that make it better suited for a wide range of projects.
Download Moonlight Signature Font
12. Jilliankrots Signature Font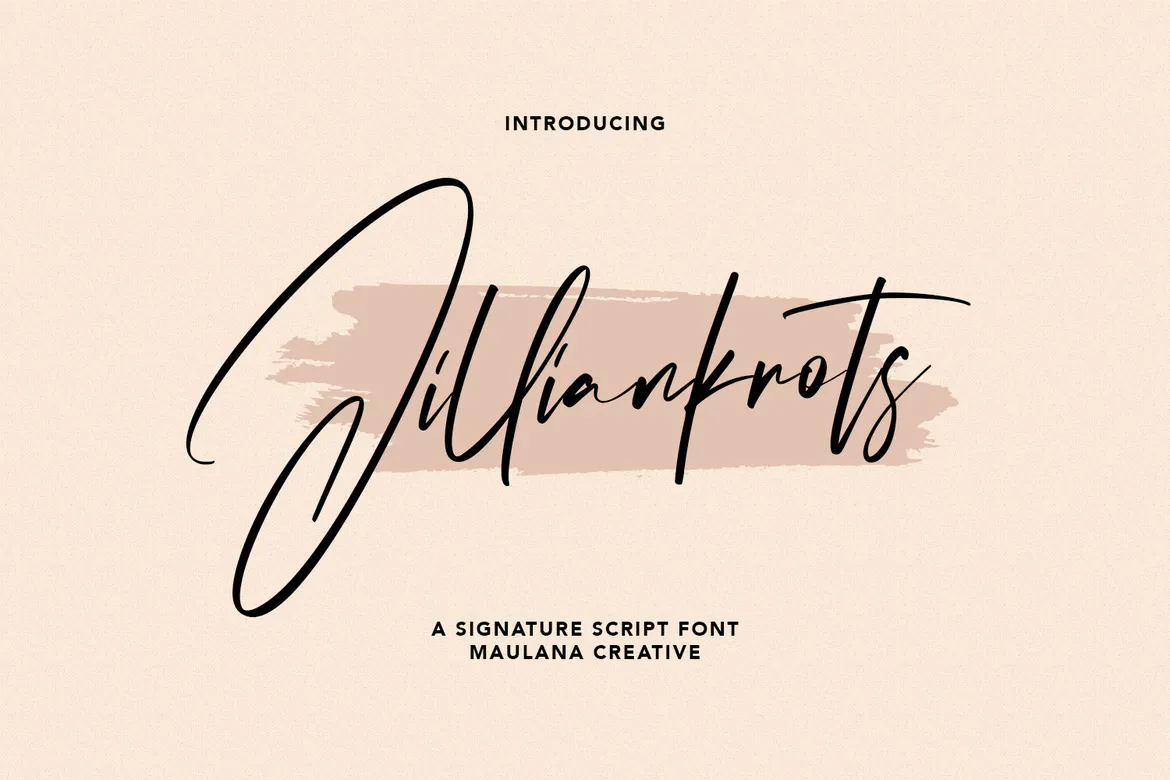 Jilliankrots is a multilingual typeface that works in over 100 different languages. Characterized by its smooth curves and fancy characters, it is modern, bold, and stylish. As such, it's an excellent option for your next editorial or fashion branding project.
Download Jilliankrots Signature Font
13. Christopher Signature Font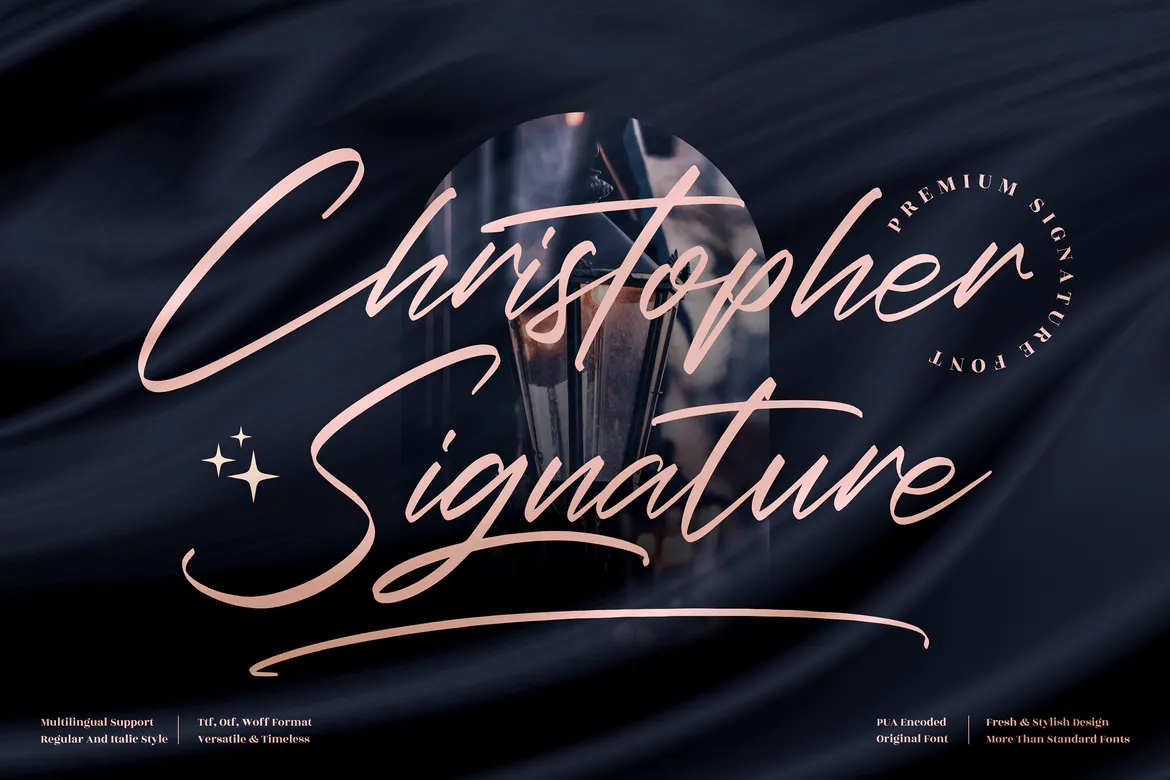 This signature font adds a certain level of charm while giving an authentic autographed look to your design work. It is fashionable, unique, and ideal for projects that require a handwritten feel.
Download Christopher Signature Font
14. Rockystyle Signature Font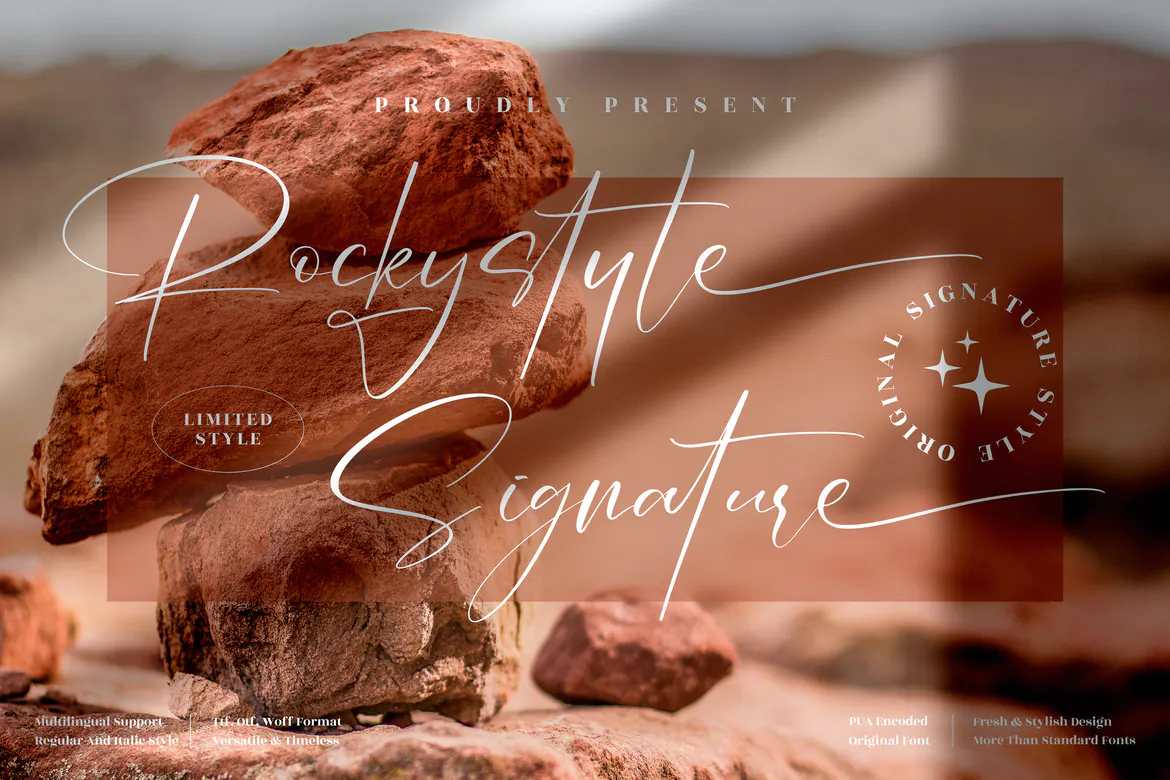 The Rockystyle Signature lets you make a statement with its versatile and timeless typeface. Its characters have a beautiful stylistic swirl that goes beyond the typical standard character. Using this font in your project, whether it's posters, social media posts, branding, or personal projects, will undoubtedly make an amazing impression. 
Download Rockystyle Signature Font
15. Handmagic Signature Font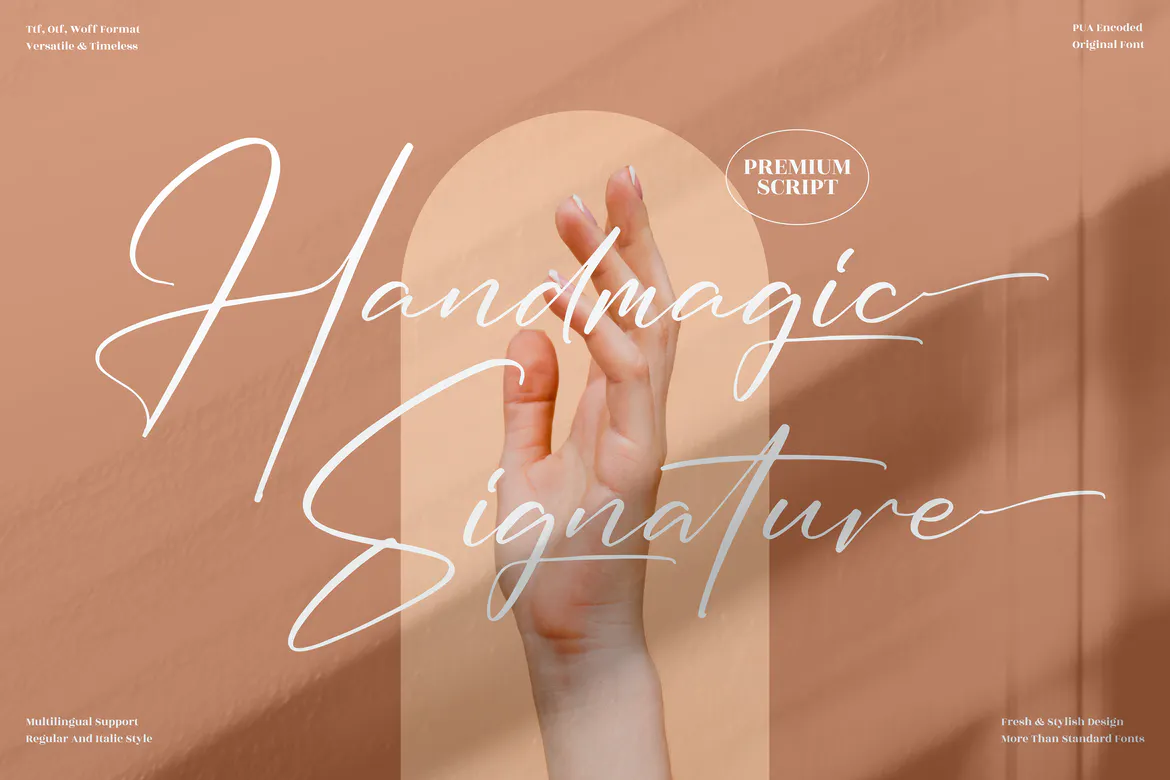 As the name suggests, this typeface works like magic to bring your work to life. It is available in regular and italic styles, and it includes ligatures, alternates, swashes, and multilingual support.
Download Handmagic Signature Font
16. Oturllis Signature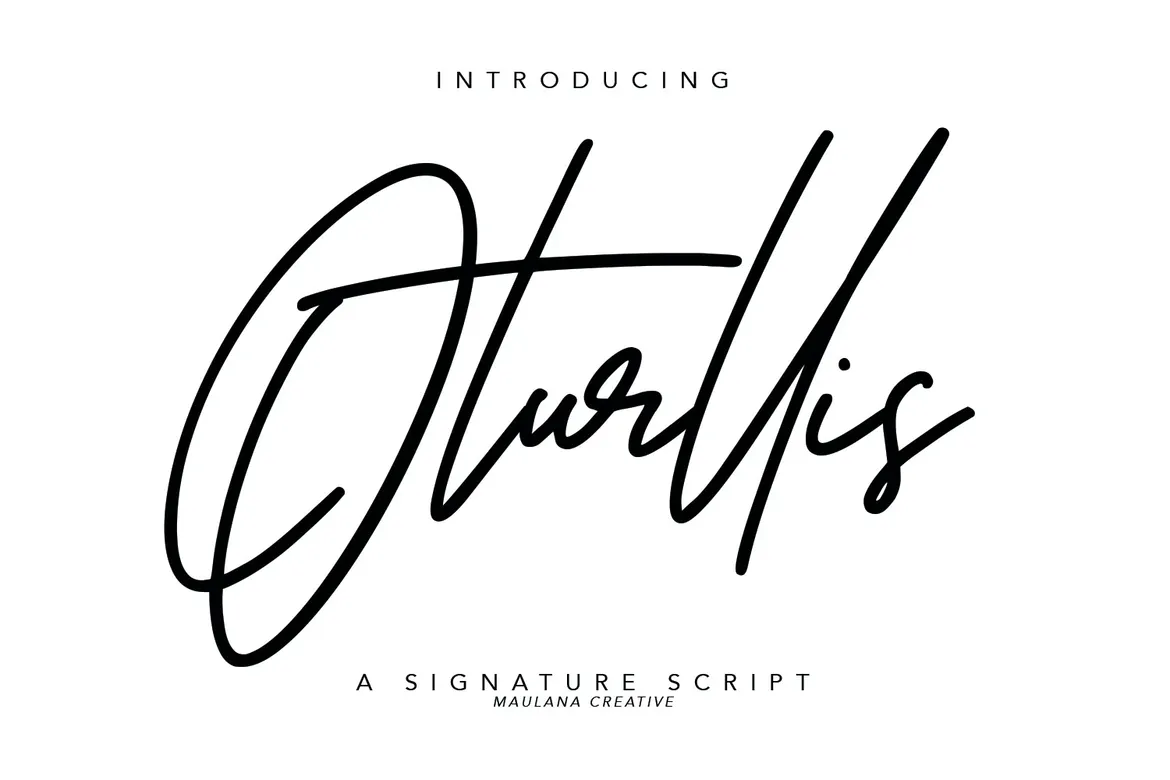 Oturllis is the kind of font that gives your work an artistic feel. It mimics the fluid strokes of a person's handwriting, with every line, letter, and connection sharing the same consistent thickness. This font is dynamic and suitable for all aesthetic and creative purposes.
17. Miyake Signature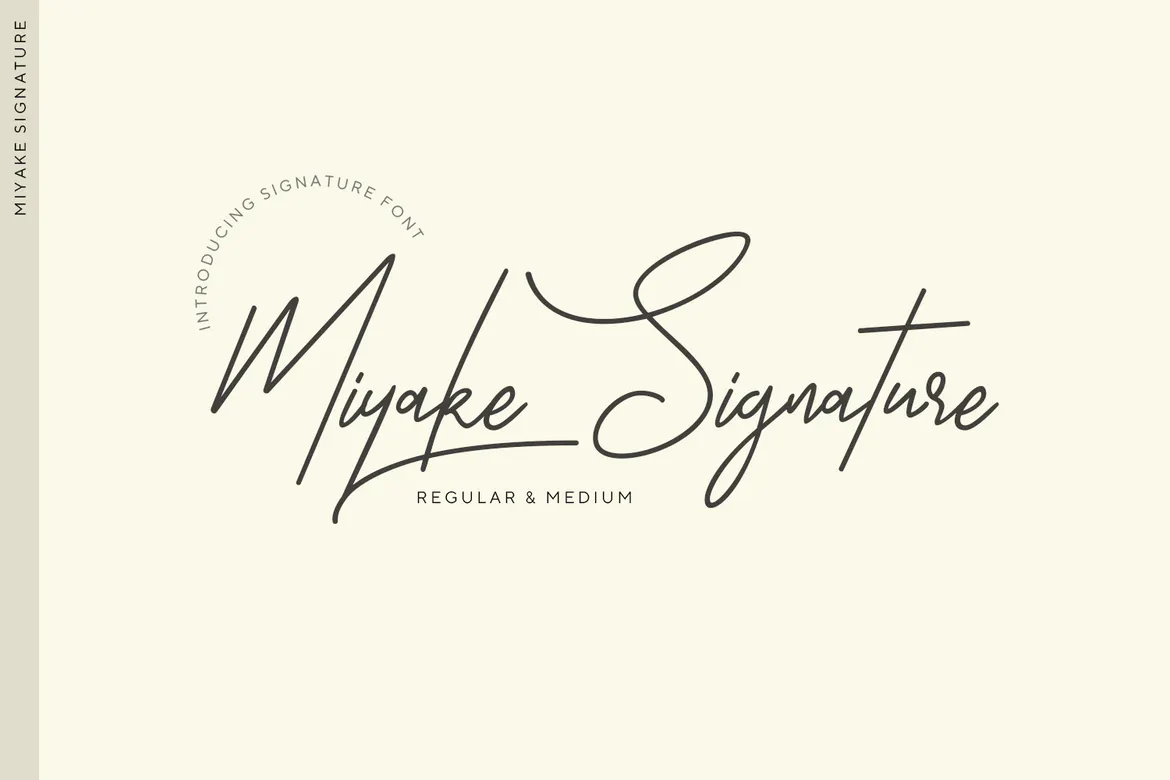 This two-style signature font comes in regular and medium. The font-weight variations can be used together or separately to give your work the desired effect. It is perfect for logos, wedding quotes and letters, photography copyrights, life quotes, love quotes, and social media posts.
18. Breakloft Signature
At first glance, the Breakloft signature font appears like something off a piece of paper, probably written by a calligrapher. It has over-the-top curls and flourishes that beautifully intertwine to make even the most random design look classy.
19. Hegomoni Signature
Hegomoni is a smooth wet ink textured script font that can be used for almost any type of printing. These might include fashion designs, magazines, advertisements, wedding invitations, or business cards. Beyond that, the PUA encoded features allow you to access the extra characters in any graphic design app, even without OpenType support.
20. Manchester Signature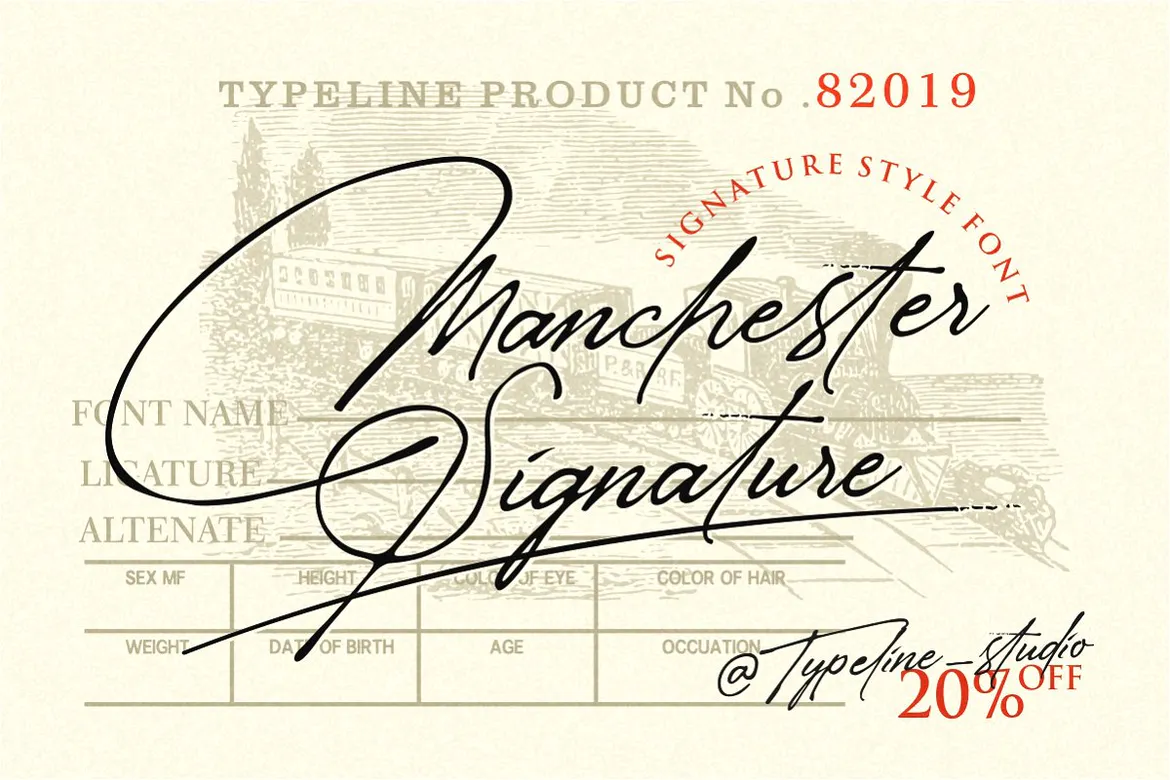 This beautiful font from Typeline studio will give your project a sense of beauty and luxury. A lowercase version of this font is remarkably similar to handwriting with a pen. The Manchester Signature can be used to create signatures, logos, and watermarks. Also, the typeface is available in OTF, TTF, and WOFF formats for customization.
21. Ariel Signature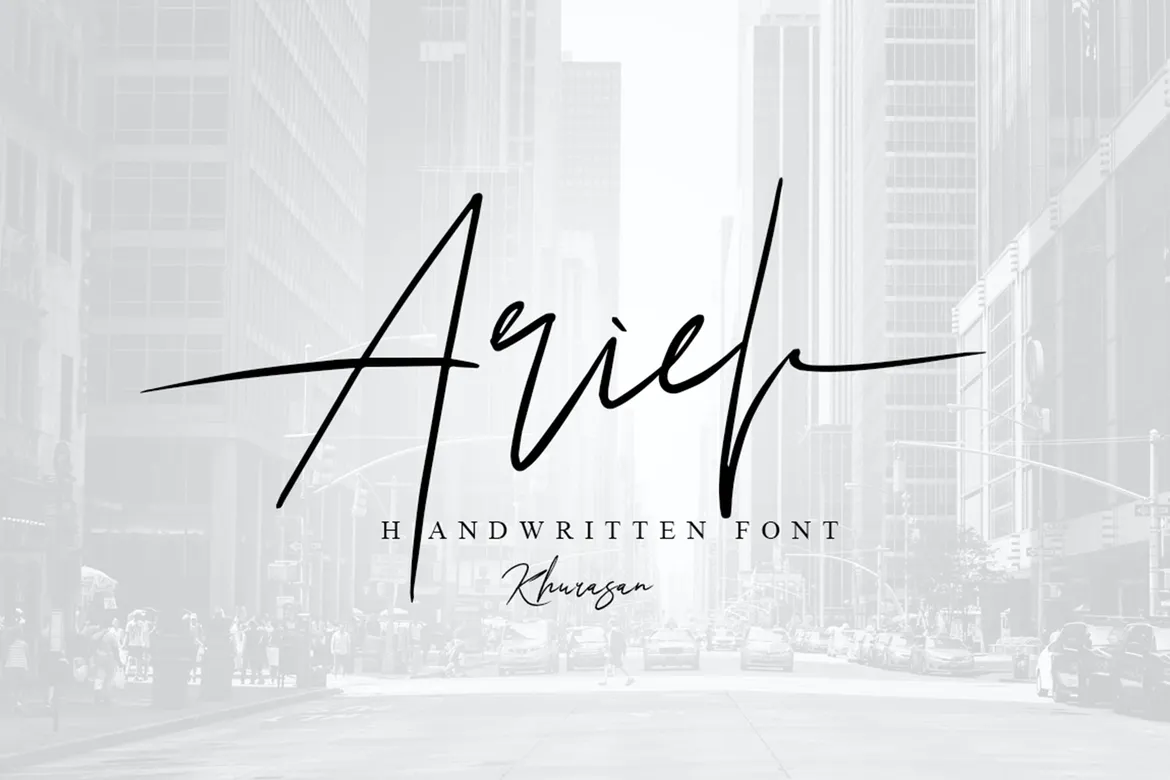 Ariel is a trendy and distinct typeface that will definitely stand out in your work. This digitally handwritten font gives your work a new look with gentle curves that flow into each other. It is available in three different styles: regular, bold, and wide, each with its own distinct look.
22. Bountiful Signature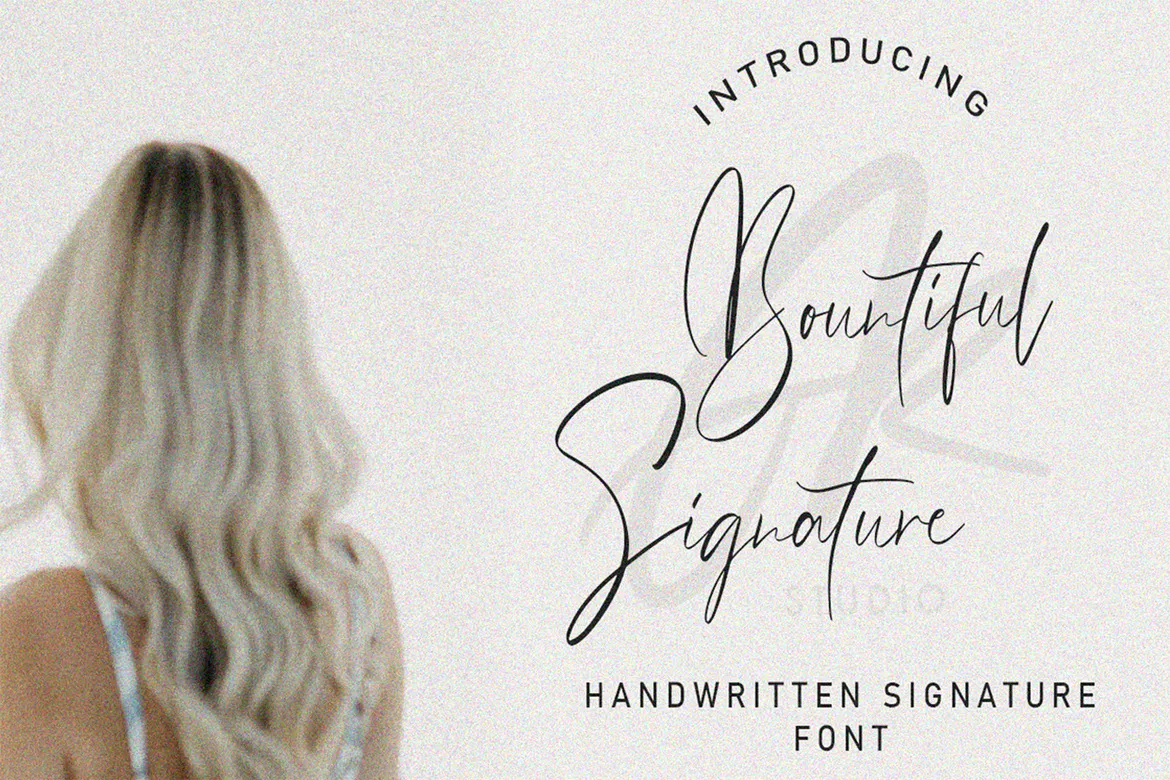 This signature-style script font features light pen strokes that will undoubtedly stand out in your next creative project. Its smooth flow will be suitable for product packaging, logo/branding projects, headers, and posters. 
23. Ruth Signature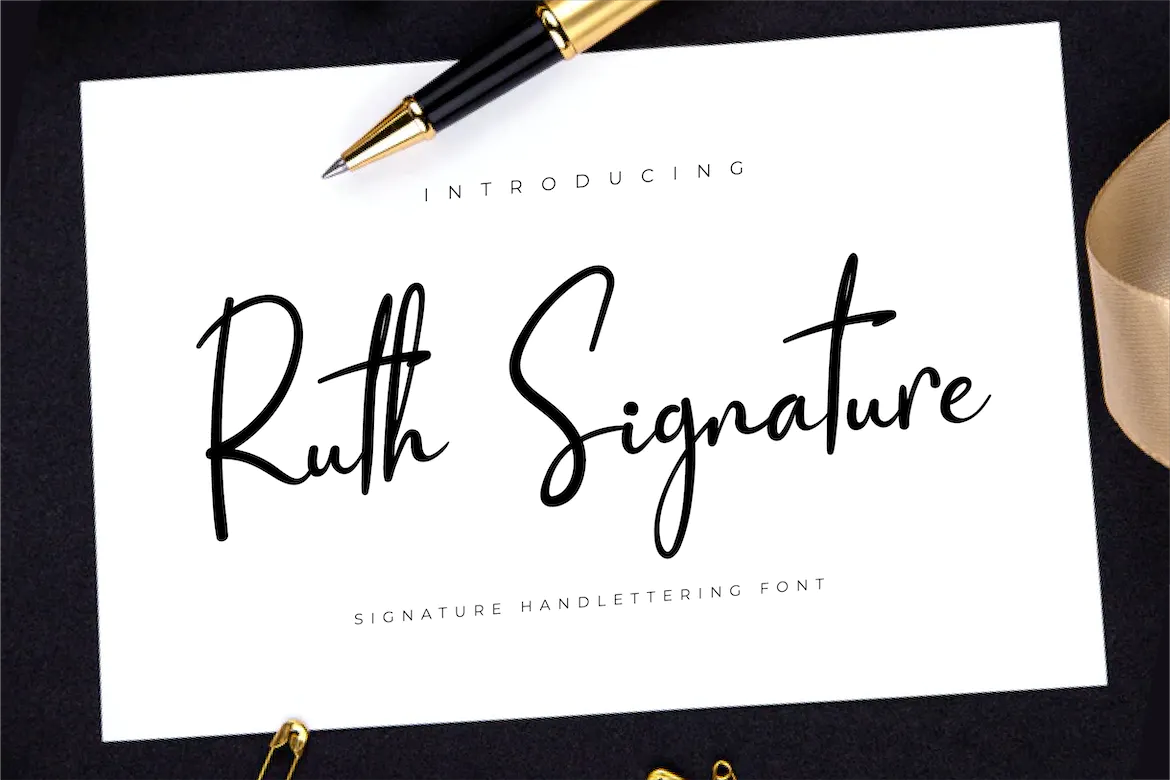 Minimalist meets classy in this signature hand lettering font. It is more relaxed compared to the dramatic swash characters found in many signature fonts. It is suitable for adorning your website banners, photography works, greeting cards, business cards, logos, wedding invitations, and pretty much any project that requires a handwritten touch.
24. Washington Signature Signature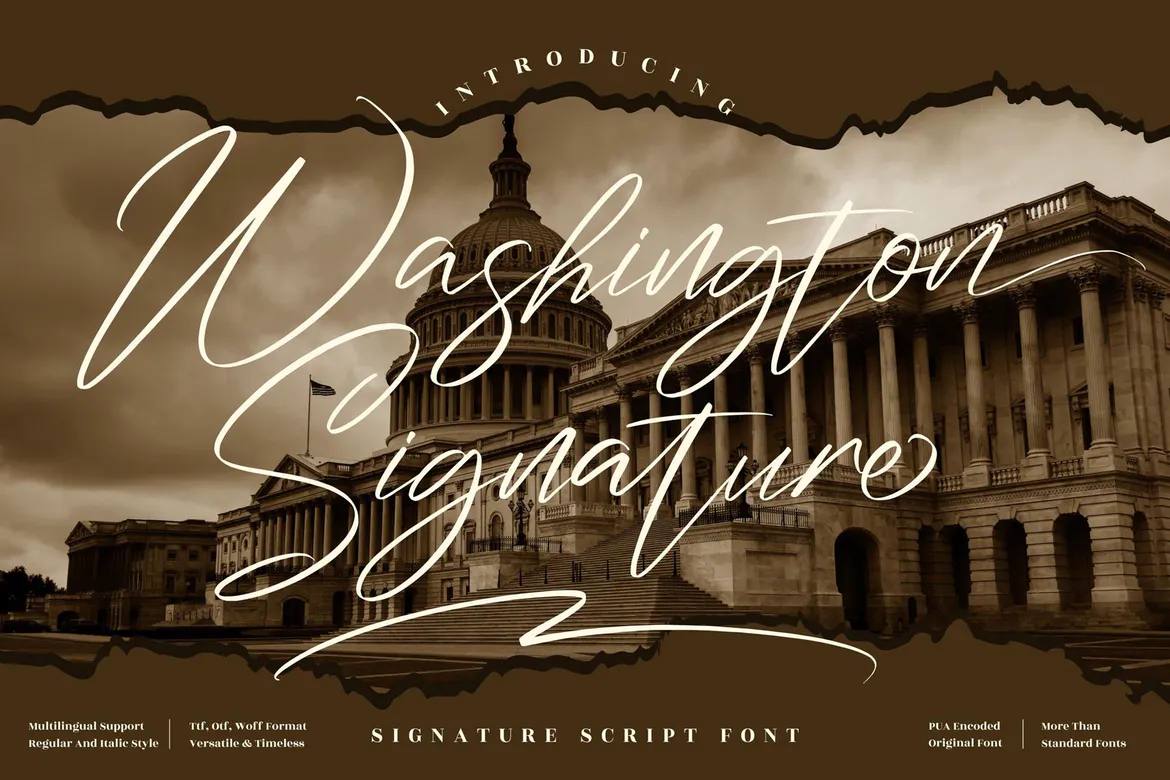 The Washington Signature font is your best bet for creating a flawless and stunning design. It offers a range of character sets, including ligatures, stylistic alternates, swashes, and multilingual support. 
Download Washington Signature Signature
25. Hedota Signature
Hedota is a handwritten font inspired by signatures and stylish handwriting. It's perfect for your projects which might include logos, posters, product packaging, printed quotes, wedding invitations, thank you cards, life quotes, and letterheads.
26. Motherland Signature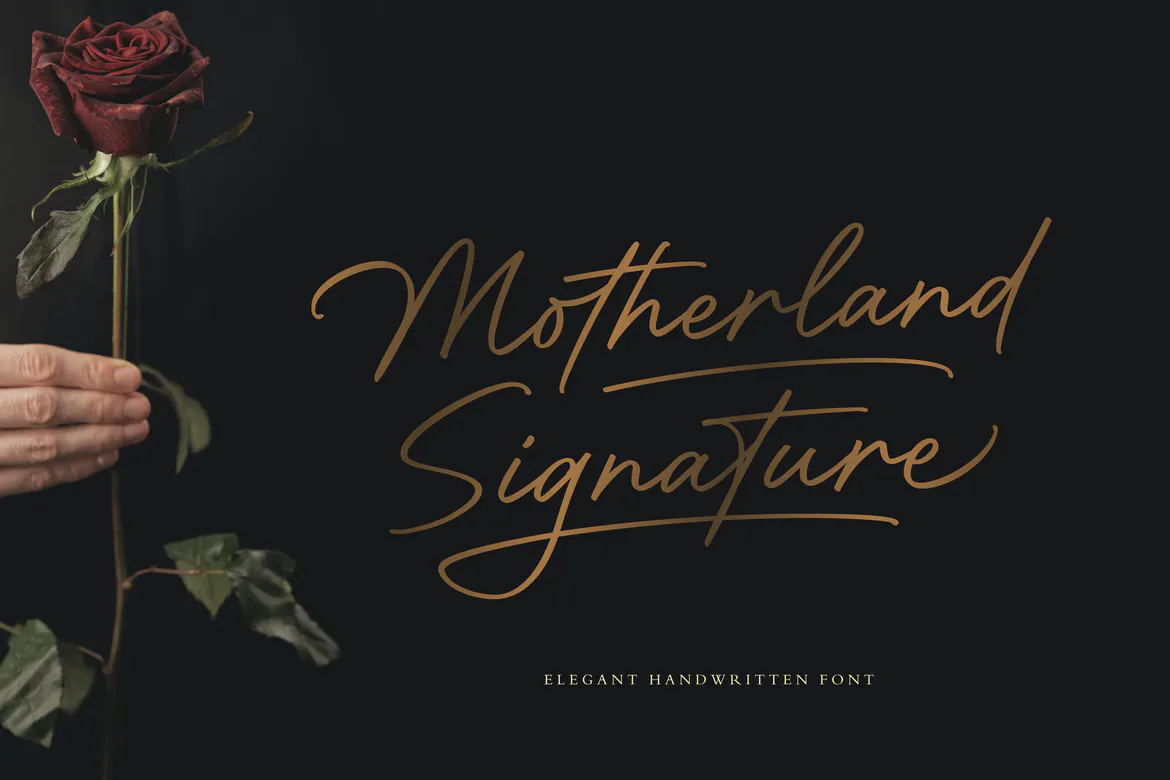 Introducing, drum roll please, Motherland Signature. For what it's worth, this handwritten font is unlike any you'll ever come across. Featuring a modern spin on the concept of elegance, this font is here to suit your artistic desires. It is suitable for logotypes, fashion banners, website banners, movie or book titles, and quotes.
27. Arabilla Signature
Sometimes a lightweight signature font will suffice rather than a thicker one to compliment your project. Ardyana Types designed this beauty, and it is written in cursive with its characters interwoven.
28. Smith Signature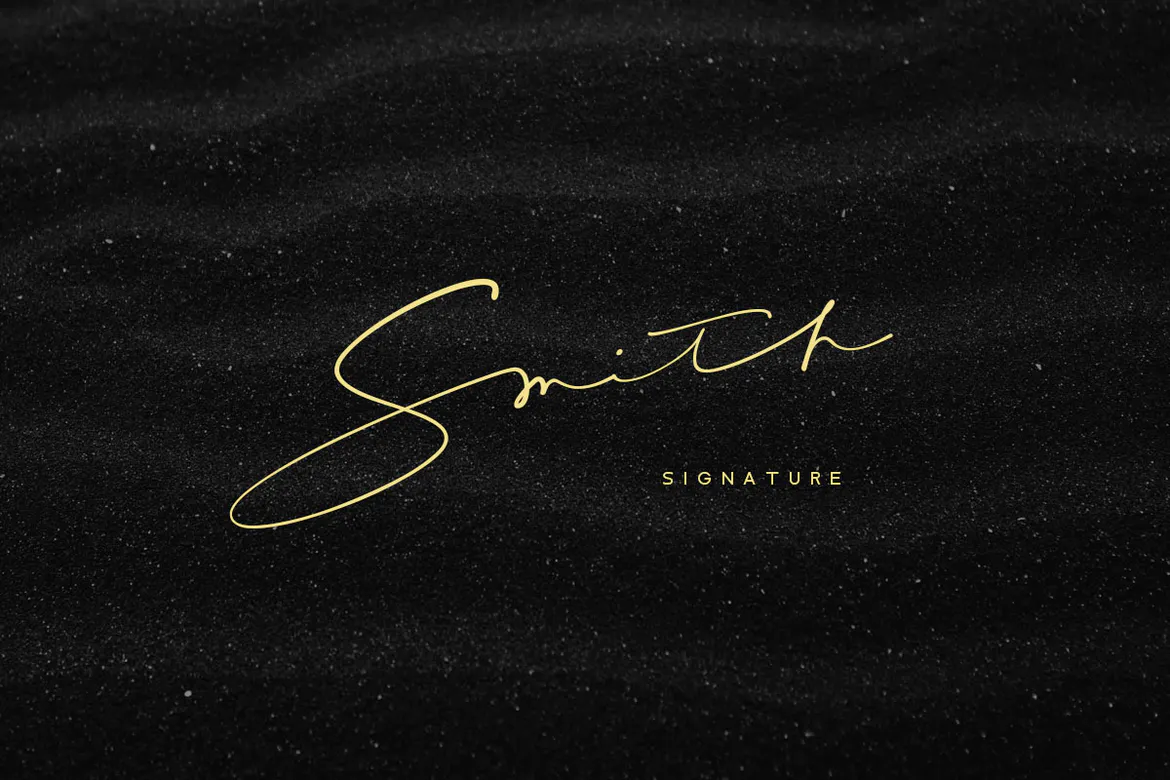 Applying a modern, feminine font once in a while never hurt anyone. Each letter of Smith Signature has been meticulously designed with gentle curves and strokes to make your text appear irresistible. 
29. Bambang Signature V2.0 – Signature Font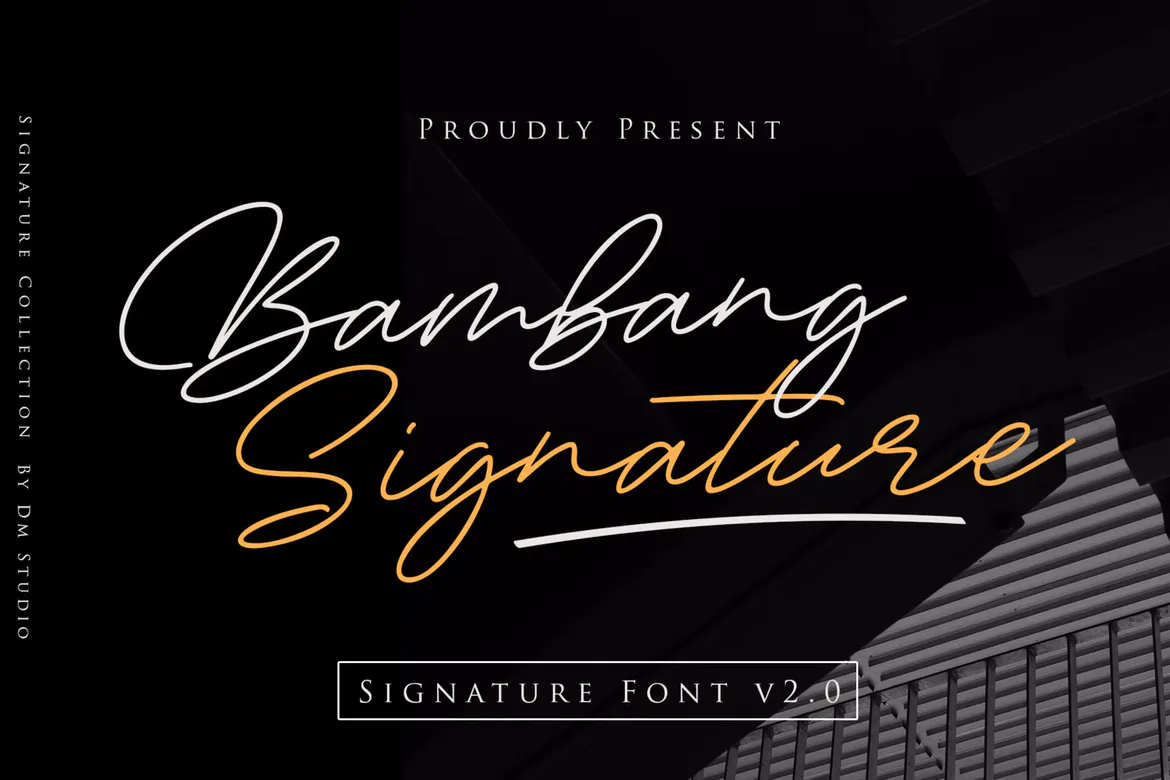 Believe it or not, the cursive signature style is here to stay. Bambang Signature not only stands out, but also exudes class and elegance. DM Studio has created the ideal signature font you can never go wrong with for your design project.
Download Bambang Signature V2.0 – Signature Font
30. Keanister Modern Signature Font
Keanister Modern Signature Font is laced with a thick texture. It offers language support and extra alternates, including an open-type feature that allows you to customize its character set and layout features to your liking.
Download Keanister Modern Signature Font