Last Updated on May 29, 2023
Astrology is pretty awesome. For centuries, people have been obsessed with space, the stars, and the planets, and this obsession has led to some of the greatest scientific discoveries ever. 
Well, what if we told you that you could take that love for astrology, and manifest it into a usable font for a variety of designs, logos, flyers, posters, or scripts? Sounds cool, eh? This article highlights fan favorite Astrology fonts that will make any design stand out. 
Alchemy- A Magic Typeface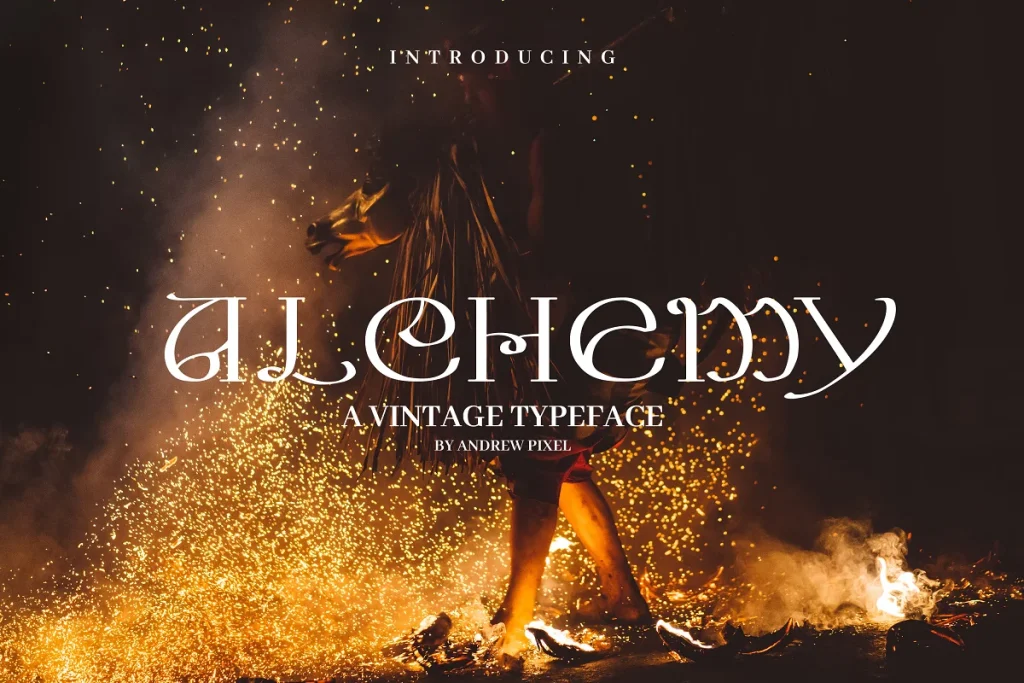 A typeface that brings about the feeling you have in the early hours of a morning when the sun is just to burst over the horizon and glace you with its warmth. Or when you're alone in the middle of the night and the bright full moon is lighting up your room, Alchemy is all about beauty and mystery. 
The typeface in this package has a selection of upper- and lower-case letters, and the entire package is even a part of a bundle! 
Download this magical typeface here!
Trippy Tarot Piece Font Family
Trippy Tarot is a witchy handwritten serif, sans serif AND a dingbat set. The perfect balance of cute and creep to complete any of your crafty woo-woo, astrology, zodiac, mystic, spellbook, or magic projects. This family of fonts come with an abundance of glyphs, alternates and ligatures.
The dingbat set is a collection of 36 doodles that perfectly go with the regular or serif Trippy Tarot font (or any other font, for that matter)!
Download the Trippy Tarot set here!
Retro Cyber Moon Font Typeface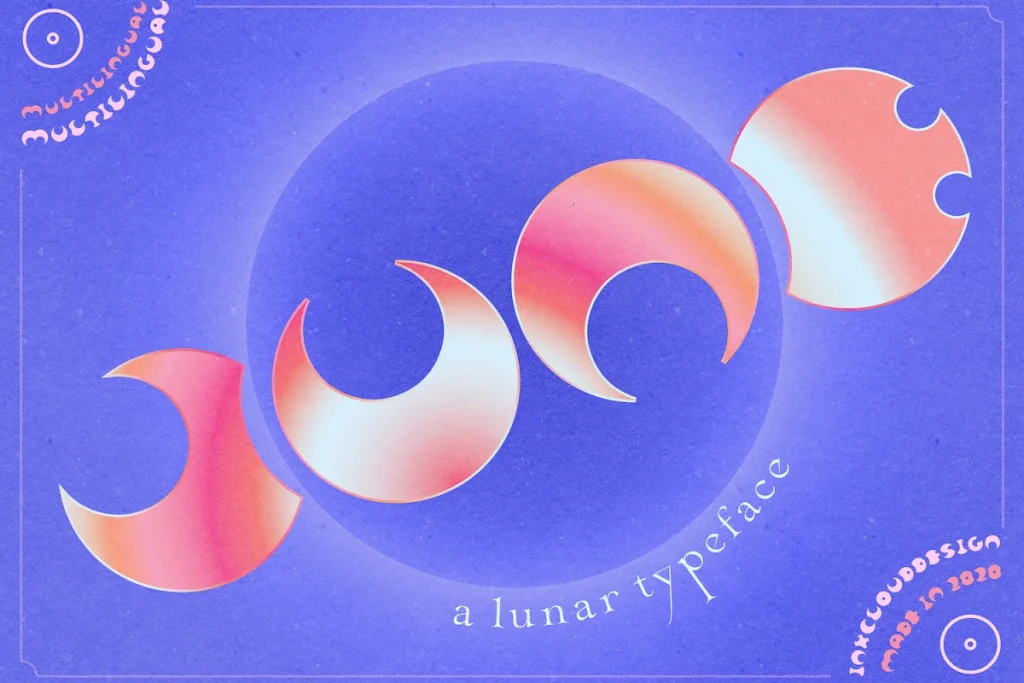 This is a super unique lunar typeface. Each letter is hand-made and consists of simple circles. Its round characters bring warmth and personality to your designs, and its unique design is unlikely to be duplicated by anyone else. 
The font in this package come in OTF and TTF formats, and the characters are multilingual as well! What's not to love? 
Download the Cyber Moon typeface here!
Wysper Font
One of the more unique designs on the list, Wysper has over 500 ligatures to its name and has a range of unique letters and characters as well. It has a simple, yet elegant design that will look good and be easily readable on any poster, logo, or flyer. 
Enchant
Enchant is a Celtic inspired typeface from the 1600s. This calligraphy font is legible, beautiful, and distinctive. You can use Enchant to create mesmerizing books covers, social media posts, magazines, packaging, logos, t-shirts, emblems, posters, and pretty much anything else you can think of. If you want to replicate that medieval/Celtic look, then Enchant is for you.
Peachy Fantasy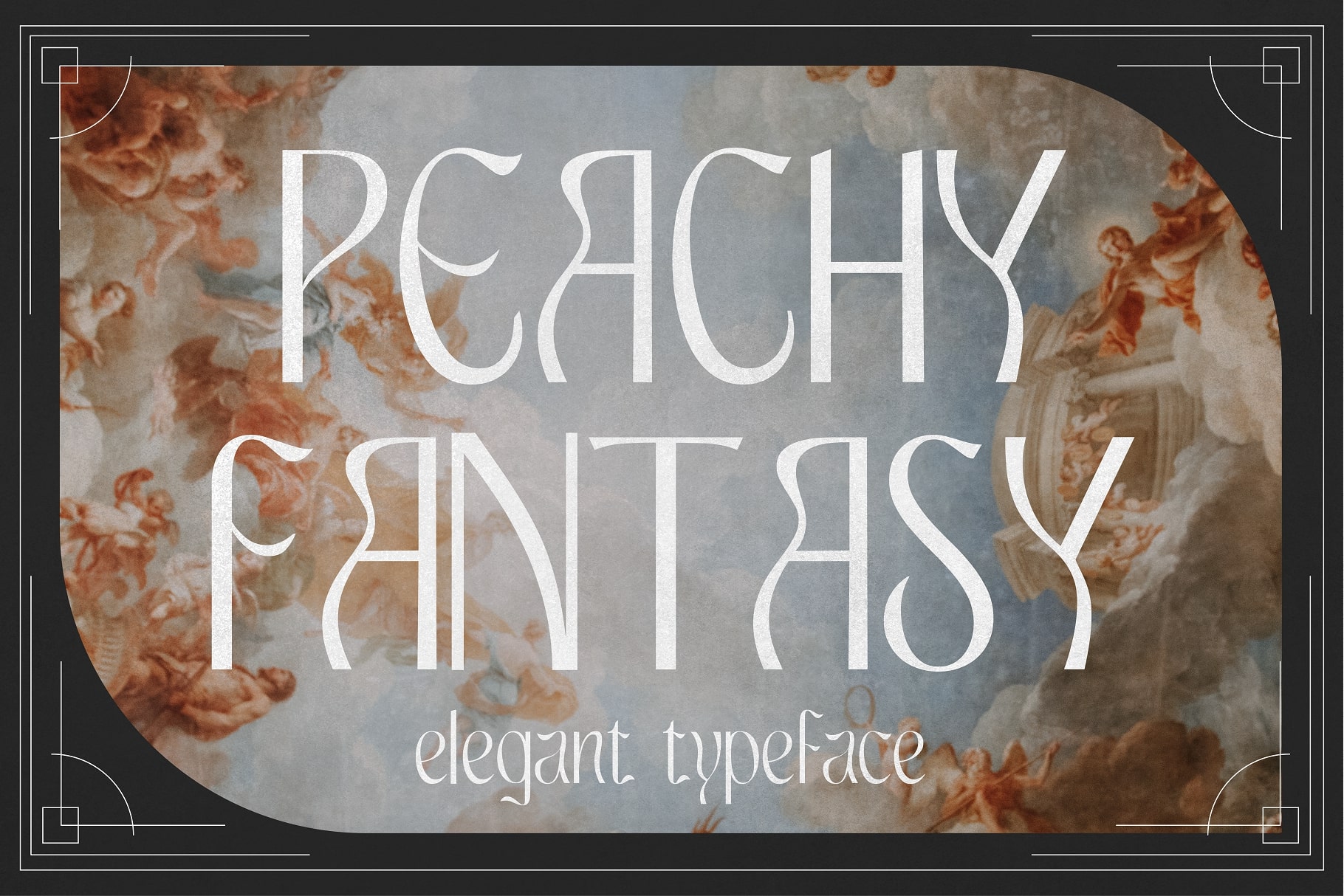 Peachy Fantasy is an Art Nouveau inspired typeface that evokes nostalgia. This typeface is ideal for a wide range of projects such as magazines, posters, branding, apparel, editorials, social media, packaging, advertisements, and much more. Each letter stands out on its own, giving your designs a touch of elegance and originality. If you're in the market for a modern typeface with vintage influences, then Peachy Fantasy is for you.
Geminian Set of Fonts
Geminian is a set of fonts that started as a simple idea based on a theoretical level and developed during a long time, to be able to take shape under a creative impulse inspired by the need to communicate, today more than ever. From an astrological point of view, it celebrates and contributes to this practice, the study of stars' position and movement and their influence on people's destiny.
The Geminian set comes in 5 styles including a script with multiple ligatures and alternates, 3 sets of caps and dingbats. In addition, the complete font family supports a wide variety of Latin alphabet-based languages.
Download the Germinian set here!
Alchemy Family OTF
This family is a compilation created from a Garamond set in use in Paris circa 1651, but similar to those, eroded and tired, that was in use during centuries to print cheap publications, as well as in Europe than in America, and from a large choice of printed symbols—all specially redrawn—used for alchemical, pharmaceutical and astrological books, covering 1550 to late 1800s period.
Each alphabet is doubled by a slightly different one, and a special OTF encoding allows to give an irregular effect with never the same twin letters in a single word. The Normal style is enriched by small caps and the Italic style by Swashes.
Download the Alchemy Family here!
The Witches Font
The Witches font was lovingly created for all your esoteric or Halloween needs! This font would be great for logos, event titles, social media posts, or even merchandise. This font is only uppercase, but it will work with caps lock on or off. Numbers and basic punctuation are included. Also included are .otf, TTF, and web-safe fonts – which means you can use them anywhere, on any computer.
Astrological Symbols
Is your future written in the stars? These Astrological Symbols will help guide you. The set comes with 12 different font types, a unique style for every sign of the zodiac, and is super versatile. Perfect to help promote any event, the styles are unique and will make any design stand out. 
Download Astrological Symbols here!
Le Tarot Celestial Serif Font
Le Tarot is a modern serif font with celestial motives. The font is created in classic proportions and decorated with the moon and stars. Le tarot includes stylistic alternates and ligatures. The font is suitable for the design on the theme of astrology, mysticism, spirituality, witchcraft, magic, esotericism.
Astrology Initials Font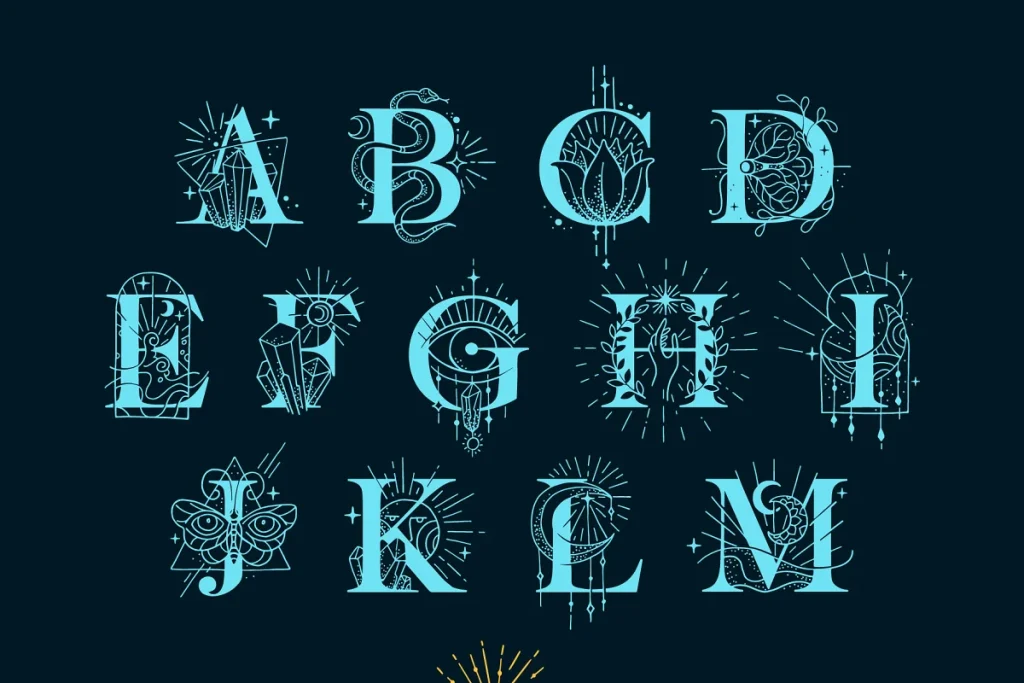 If you need a font that looks mystical and astrological, then look no further, this initials font is super-intricate and looks great on a variety of designs. They are perfect if you are creating tarot cards, making a poster for a space-related event or an event that has a little mystery behind it. 
With the package, you get upper case lettering only, but it is so well designed and sleek that you won't even notice that there is no lower case included in the package. 
Download Astrology Initials font here!