The typeface has been around for thousands of years. People have come and gone and written in various languages that many of us fail to understand or comprehend throughout the ages. Language aside, how writing has been portrayed over time have significantly differed.
We humans have gone from drawing lines and scribbles to shapes to hieroglyphics to total words in a matter of 2000-3000 years, and while that may seem like a long time, it is an awe-inspiring feat considering the 200,000 years that came before it. 
What this article looks to do is offer you the chance to experience a snapshot of ancient life and type using these 13 ancient fonts. Whether you are a big history buff, are curious about trying something new, or are promoting an ancient-themed event, this list of fonts is for you. Each package is comprehensive and provides the buyer with a selection of exciting font variations that anyone can use. 
Rouge
This fun ancient font is perfect for anyone looking to add a little ancient flair to a promotion or their business. It is well priced for the amount of content it offers. The text is easy to understand and it will add a layer of authenticity to any poster/flyer/card/logo. 
Harga Runic Pagan Font
Harga is a runic pagan display typeface inspired by the pagan cult in the horror movie Midsomar and ancient runes. Perfect for projects about cults, witchcraft, Vikings, horror, paganism and more.
Harga features all caps, punctuation, numerals, as well as multi-language support characters.
Vinque Antique
Vinque Antique is an interpretation of a nineteenth-century Arts & Crafts revival of medieval lettering with a rustic texture. Most current Latin-based languages are supported as well as Greek and Cyrillic. OpenType fractions, f-ligatures and old-style numerals are included. 
It is perfect for a book or a pamphlet promoting an event that is related to myth or something old fashioned, and with two stunning fonts available, you get to choose which design works best with your concept. The possibilities are endless. 
Vinque
Vinque is an interpretation of a nineteenth-century Arts & Crafts revival of medieval lettering. British type designer William Morris completed Troy in 1891—a splendid blackletter typeface in the medieval style. It's beautiful but some modern uses like UI and video game text require a less ornate gothic appearance.
Vinque is simple. It avoids strong vertical blackletter strokes which can present problems for contemporary readers. The end result is an uncomplicated, crisp typeface that successfully conveys medievalness to the reader. 
Barka Font
Barka is an unusual and creatively crafted handwritten font, both curly and bubbly. Barka font will help you to create a unique and stylish signature look for your work. It's good for brand identity, plus you even get five free vector symbols in AI, PDF, EPS, PSD formats.
Northern Runes Font
There are two unique versions of this Northern Runes.  The Northern Runes Dots font consists of runes on a background of dots. In the Northern Runes Frame font, the letters are in stone frames. It is a unique take on an ancient look. 
Delugional Typeface of Atlantis
Delugional is an Atlantis theme typeface, its character set is an imaginary alphabet inspired by Greek-style scripts mixed with Classic Latin. This font is a display font family of two weights, Regular and Bold. It can be used for various creative/mythological and fantasy theme projects from book covers to games or movie titles.
With the package, you get access to some OpenType features like ligatures and alternates, and the fonts are easy to read and even easier to edit. A great choice.
Download the Atlantis Typeface here! 
Telegdi Old Style Regular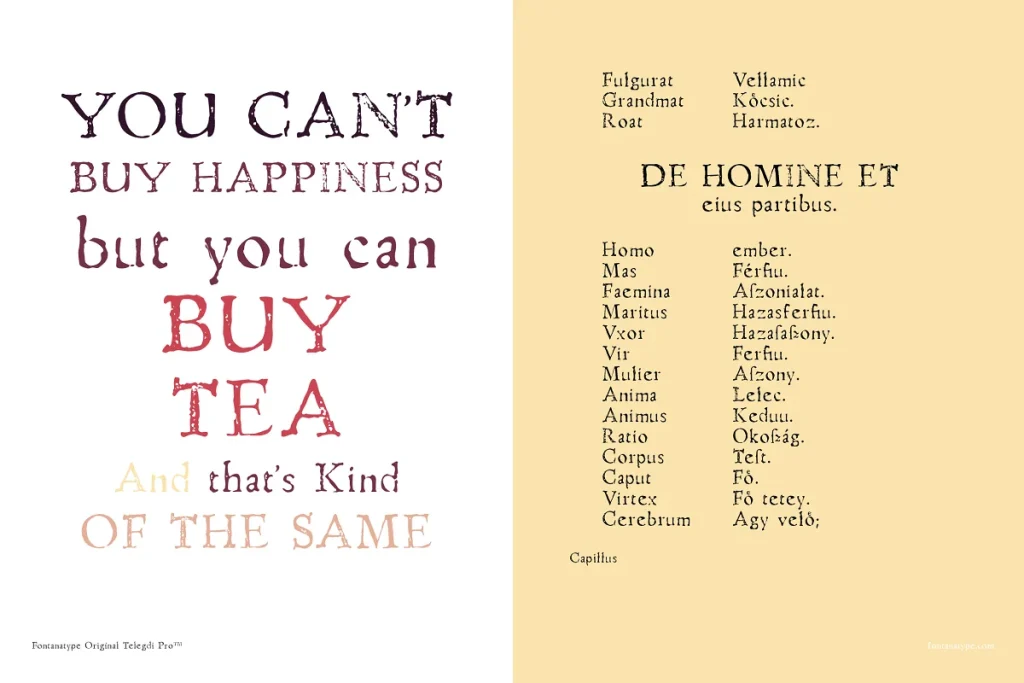 This gorgeous ancient font is inspired by the unique, historical character of Jesuit press letters in Nagyszombat. High contrast, thin serifs, sharp terminals and large x-height are the key features for distinctive headlines. The whole family consist of 5+1 weights and real italics, small caps, swash caps glyphs, old-style, tabular figures and fractions. It covers an extended Latin script. Every weight has almost 600 glyphs.
Xalapa
Xalapa is a reproduction of an old woodblock typeface that's since gone missing from the world. Too much character to let it stay that way, so its been brought back to life with some modern tweaks and touch ups.
Caveman Dingbats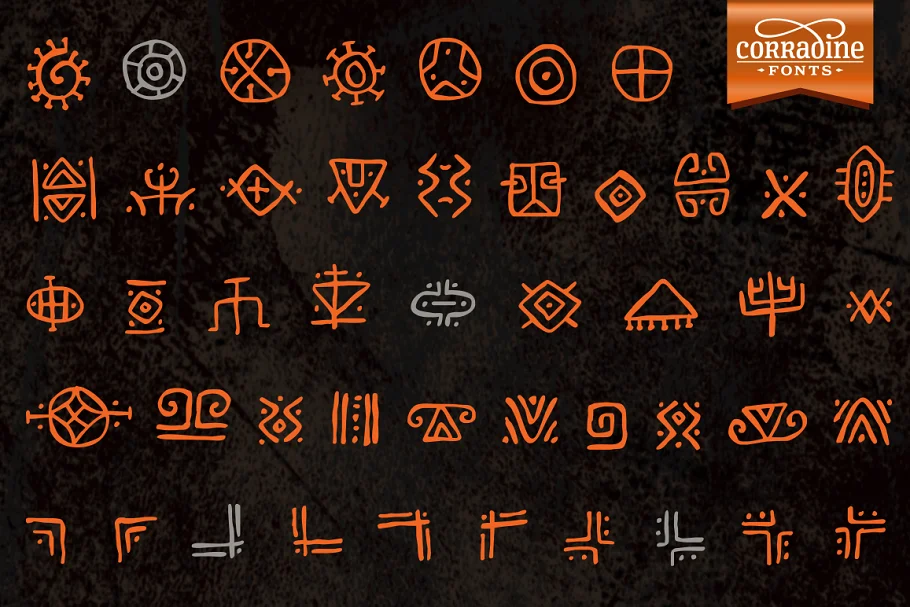 The Caveman Dingbats set is fictional but maintaining the idea of the prehistoric art, so you can use the dingbats to give a prehistoric environment to your work. A great option for anyone looking to add an ancient element to a poster, a flyer, or a social media post. 
Download Caveman Dingbats here!
Paradox X
An ancient and almost extra-terrestrail font type, Paradox X is super versatile contains upper- and lowercase letters (A-Z + swedish characters Å Ä Ö), numbers and many many special characters and glyphs.
Seaker Serif Typeface
Seaker blends modern and ancient typography to create a sense of nostalgic wanderlust. This spiritual serif comes with 2 uppercases to mix and match letters. Subtle irregularities have been added into the letters to give an aged/handmade aesthetic.
Download Seaker Typeface here!