Last Updated on August 29, 2023
In the past, designing a logo for your business was expensive and time-consuming. Today, there are plenty logo makers online that can give you what you need – and you never even have to talk to a designer! Besides being cost-effective, these tools can also create logos in minutes. 
Perhaps this is your first time considering one of these tools, or maybe you are looking for new options. Either way, our list contains the top logo generators guaranteed to give your brand a new look! 
The Best Online AI Logo Makers
Cost: Premium service.
TailorBrands is a good tool if you want flexibility – especially when it comes to colors, fonts and more.
You simply enter the name of your company, home business or product and write a short description in a text box. You can also choose your target industry and whether you prefer a logo that is based on an icon, text or initials. 
Now that the app knows a little bit more about your preferences, it will request that you make one final selection. The program will offer different fonts to determine what you like. After you tick several of your favorites, it will then automatically generate logos. 
After you choose one, you can purchase it straight away. Alternatively, you can also change the colors, icon or font before you download the logo. 
Cost: Premium service.
Logo Makr is more complex to operate than our first option. The software is worthwhile if you are looking for a design that appears less generic (a common problem with AI logos).
Unlike most other programs, this app does not automatically generate logos based on your preferences. Instead, it offers an impressive library of tools to create your own.
You can use the blank canvas to design a logo, drawing on Logo Makr's library of icons, colors, shapes, fonts and their user-friendly graphics editor. The learning curve is not too steep and to make things easier, Logo Makr also offers a video tutorial that explains how to navigate the site effectively.
Cost: FREE service.
Straight off the bat, we loved two things. This logo generator is free and you don't have to open an account. The site is also incredibly user-friendly.
You simply enter your industry, the name of your business or product, and select several font styles that you find appealing. Finally, choose three icons. Using this information, the app then generations logos for you. 
The available icons and fonts are not too unique but Namecheap manages to make the combinations pleasing and all logos appear a cut above what most other free generators will give you. Once you have your logo, you can also edit the image until you are satisfied. Downloading is quick as well. 
Cost: FREE service.
Canva offers one of the best self-customization tools on the Internet today. Although the process is not fully automated and you have to design the logo yourself, Canva offers a mind-boggling smorgasbord of colors, fonts, images, styles, and more. 
The site gives you a blank canvas and a small learning curve is required to use the tools. However, the whole process is user-friendly and sort of addictive! Check out Canva too if you need to make posters, invitations, and even book covers. 
While Canva is free, the site also has a paid option that provides better images and more versatile tools. 
Cost: FREE service.
Brought to you by Shopify, Hatchful is a good choice if you want a simple design or need to design a logo on your mobile device instead of a laptop (hey, we all work on the go!). If you prefer working on your desktop, you can. 
The app is designed to make your brand stand out. In order to do this, you are required to answer a few questions beforehand. The questions will touch on your values, industry, personal style and more. Once that is done, you can enter your title and view the resulting logos. 
Keep in mind that Hatchful is simple to use and creates modern logos but it does not provide vector files. This makes printing your new logo nigh impossible. However, the small PNG is a temporary patch for your product or business until you can get a vector logo. 
Cost: FREE service.
Ready for something amazing? This user-friendly option is another DIY logo maker that provides you with a canvas and great tools. The color options are limitless – so if you are tired of all the free logo generators that give you six ugly shades to choose from, then this is your new logo maker!
Besides providing a wonderful color palette, Themeisle can also create professional-looking logos. In other words, they don't look cheap.
You work with pre-made icons, fonts and templates. The app allows you to make combination marks, abstract marks and pictorial marks (among others). This makes designing a fantastic brand series easy. Even for beginners.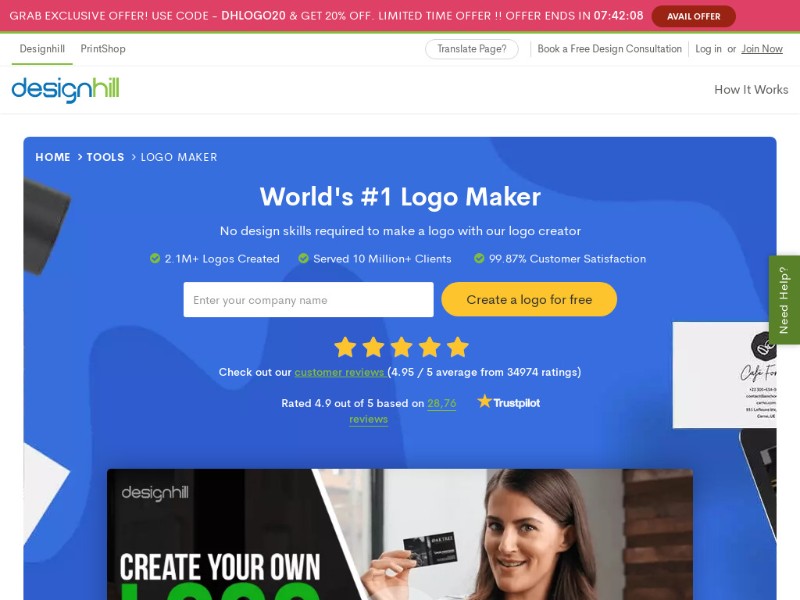 Cost: Premium service.
It is true what they say. Some of the best logo generators are not from the free pool. Designhill is a great example of why some people choose to pay for their new logos. It creates unique designs so that your logo stands out among the generic crowd, the logos look fantastic and they also give more information about your product or business.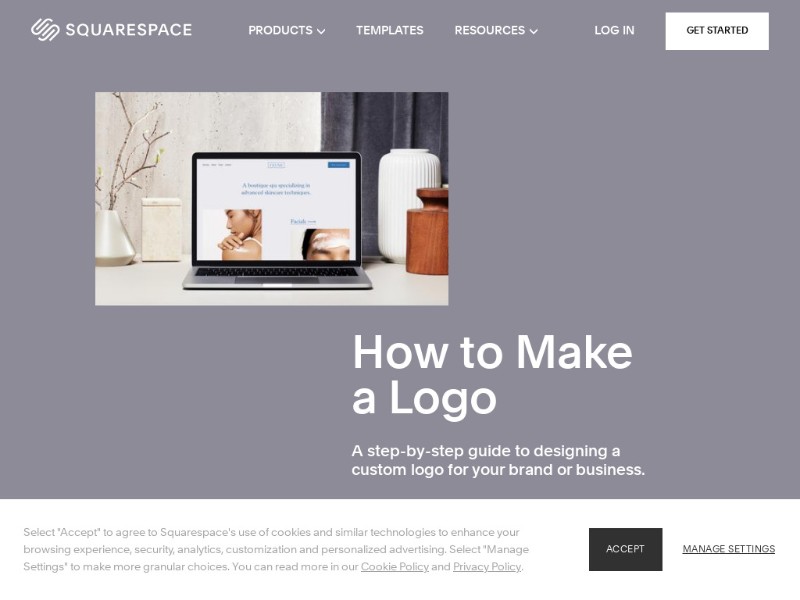 Cost: FREE/Premium service.
If you are also looking for a free logo generator that shows you what a design would look like on a card, t-shirt or website, then head on over to Squarespace.
The logo maker is suitable for simple, minimalist designs and works on the drag-and-drop principle. Once you have your new logo, you can also look forward to receiving high-resolution files. 
Just some friendly small print here. Squarespace is a free logo maker but this courtesy only extends to registered Squarespace users. If you are a non-client, you can still use the generator but there is a once-off fee of $10. 
9. Hipster Logo Generator
Cost: FREE/Premium service.
As the name suggests, you can expect plenty of hipster logos with this generator! That being said, this logo maker also offers classic and modern designs. The interface is simple to use and intuitive, making creating your own logo an engaging experience. 
When it comes to pricing, Hipster does not charge for low-resolution files. If you are satisfied with this, then you can download your final design at absolutely no cost. But if you request a high-resolution file, there is a fee of $5. 
Cost: Premium service.
The AI of this software is quite advanced and as a result, you can expect splendid logo options. With roughly 1,000 templates to use and choose from, your design is guaranteed to be unique as well. The logo you choose can also be easily edited to change colors, fonts, and text.
Some of the top features you can look forward to is a user-friendly interface, vector files, and the option to save your project for later completion. 
Cost: FREE/Premium service.
Looka (formerly Logojoy) relies on a smart AI system to guide you through an initial process (this is to help the AI to learn your preferences). Afterwards, the software creates stunning logos for you to choose from. From this batch, you can select a single logo and tweak it until you are happy. 
Looka does not charge if you choose to abandon the project. You can create to your heart's content or if you discover that the platform is not for your brand, then you can log out without incurring any penalties. To download your file, expect a $20 fee (basic logo package).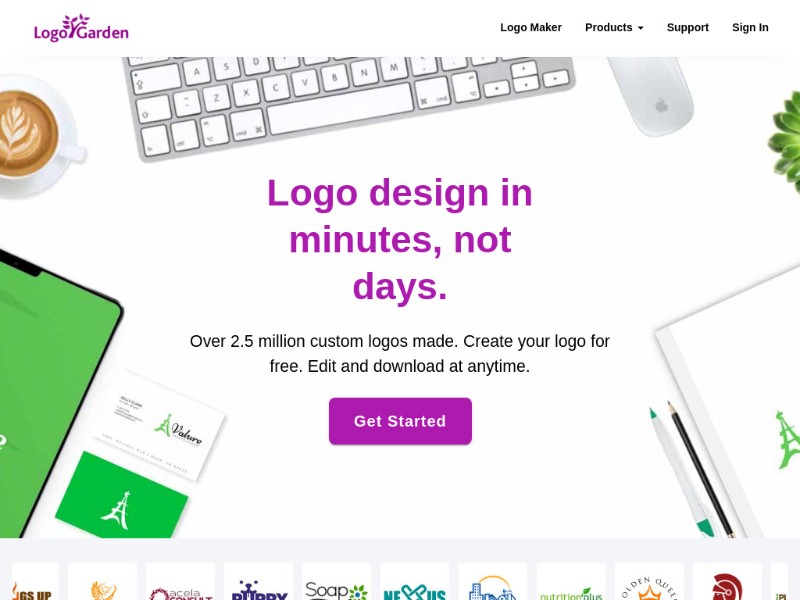 Cost: FREE service.
If you are looking for free logo generators, then you might love this one. Geared more towards business owners, Logo Garden creates visually appealing logos for any industry. Whether you are in communications or transportation, this software can whip up something that suits your company. 
You have to put in most of the work but the effort is worth it. This logo maker offers thousands of symbols and layouts to create a logo that is unique and in line with your company's style. Logo Garden is not just for websites and business cards. It can also be used to create logos for coffee mugs, T-shirts and smartphones.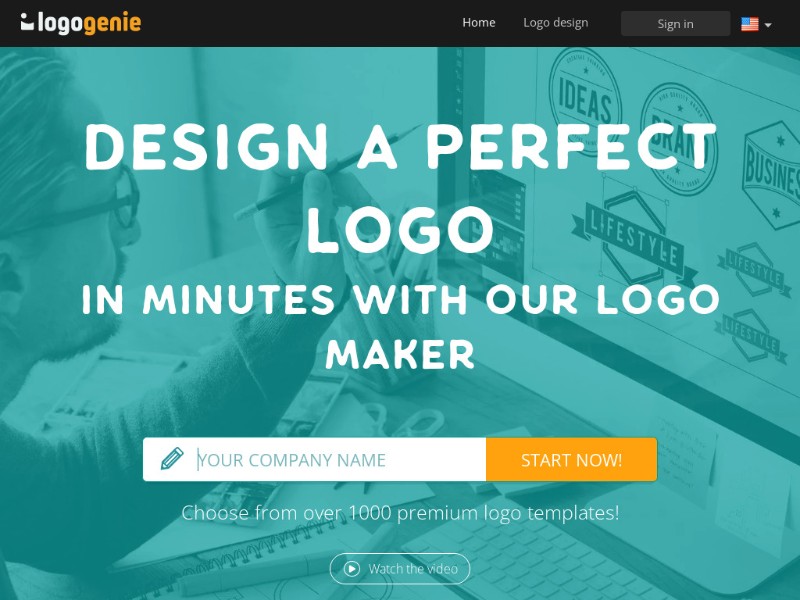 Cost: Premium service.
If you don't mind putting in the elbow grease and paying for a logo maker, then Logo Genie has a couple of benefits. The tools and canvas are super-intuitive and easy to use. Indeed, you can have zero design skills or experience and still create amazing art with this software.
Once you have your design, you can customize fonts, size, colors, gradient, and orientation. Logo Genie is also a good choice if you want to download or store your logo in multiple formats. Just some formats this generator offers include JPG, PNG, PDF, and EPS.
Cost: Premium service.
You can create your logo for free with GraphicSprings and the results are satisfactory for both personal and business use. You can also store or download your file in JPG, PNG, PDF, and SVG formats. 
However, downloading a general logo will cost you about $20. If you want to create a high-end professional icon for your business, it could cost you as much as $150.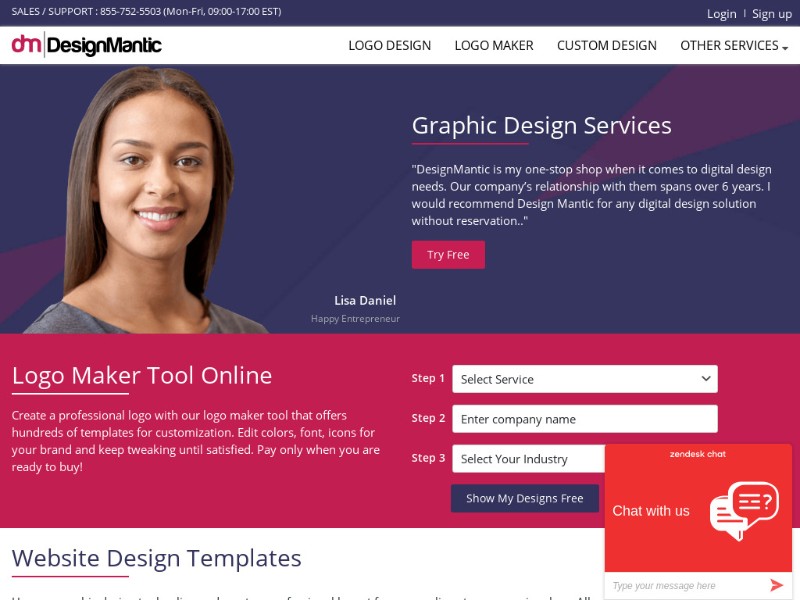 Cost: FREE service.
DesignMantic is another good choice if you want something free that delivers quick results. With this app, you can create simple logos in minutes. Despite the free software and minimalist graphics, the results can turn out to be surprisingly professional.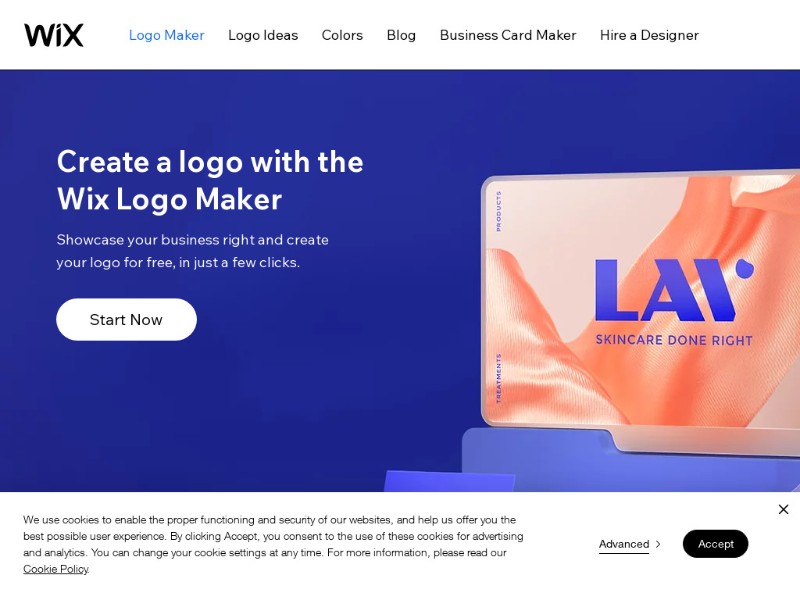 Cost: FREE service.
Wix is more known for offering free websites but you can also use their free logo maker software. It offers enough tools and options to create a unique design that not only looks professional but also modern.
The Wix logo maker will also do most of the work. Simply answer a few queries and it will generate several options for you to choose from. The logos are customizable and you get full commercial rights to your new logo as well.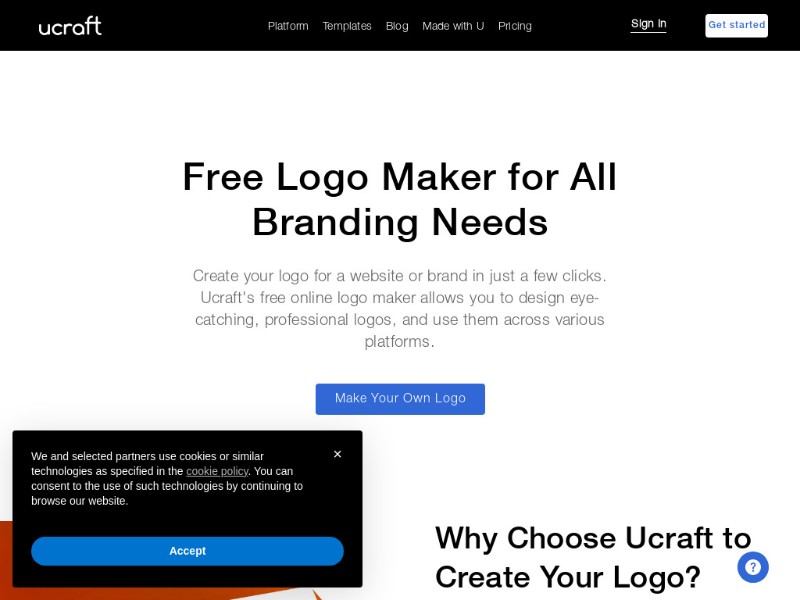 Cost: FREE/Premium service.
Ucraft is another option if you want to avoid a generic-looking logo. With thousands of royalty-free icons, you can whip up something that reflects your brand's own style. Editing is also easy, making it a breeze to adjust colors, fonts, shapes and more.
You can download your design as a free PNG with a transparent background. Bear in mind that this is a low-resolution image of 600 pixels. A high-resolution vector file costs $7. 
Cost: FREE service.
Fiverr's logo maker is completely free to use. Most of its templates have been designed by Fiverr's own freelancers.
The majority of the templates are geared towards people who need ready-made logos with minimal adjustments. While this certainly decreases the odds that your logo is unique, some of these templates are attractive. 
Bear in mind that Fiver requires you to open an account before you can use their free logo maker. 
Cost: Premium service.
DesignEvo might appeal to you if your logo simply has to be unique and available as a 300 dpi file. The site's tools allow you to create an infinite amount of designs, ensuring that nobody else will have a logo quite like yours. 
The Basic Plan costs about $24.99 per month. This plan allows you to create and download multiple 300 dpi images. But if you also want font files, the capacity to export vector images and full copyright ownership of your creations, you need to purchase the Plus Plan membership at $49.99 per month.