Last Updated on October 9, 2023
Are you a gamer or looking to promote a gaming/retro/vintage-related event? Then look no further than the classic 8-bit style of font.
Below, we have included a stunning selection of 8-bit fonts that you can use to enhance your project, brand, poster, flyer, or social media design today. Each font is easy to edit using a range of OpenType features and comes at a great cost. So feel free to browse the collection below.
Stylish 8-bit Font
1. Alpharush 
A simple and effective 8bit design, Alpharush is good for any design project which requires that nostalgic 80s feeling.
2. Cyber Soulja
Yo, check it out! Cyber Soulja is a dope pixelated sans-serif font that brings back all the sick vibes from the 80s and 90s. Every letter is crafted with mad precision and attention to detail, capturing that retro aesthetic from the classic arcade games we all grew up on.
Its bold, blocky letters are straight-up sci-fi futuristic, making it the perfect choice for logos, titles, game design, packaging, and posters. It's like each letter is a pixelated warrior, tearing it up through a digital landscape full of endless adventure and epic excitement! Tap into the nostalgia with Cyber Soulja and level up your designs.
3. Bit Game Retro Pixel Font
Bit-Game is a retro pixel font style, perfect for retro game design themes. It is a very unique and creative font so we are sure that you will be able to use it for a range of purposes.
4. Tickerbit Retro Pixel Font
Ticikerbit pixel font is a modern pixel font that comes in 4 styles. This font is great for retro or contemporary displays. It works for headlines or body copy and subtext. There are over 200 characters included as well s upper and lower case lettering. With added numerals and punctuation too, downloading it will give you are comprehensive text package that you are free to use on any design.
5. Mainport Neue
Ideal for both print and screen, Mainport is a cool futuristic game font that works well and supports upper and lower case lettering.
6. Bitcraft Computer Pixel Font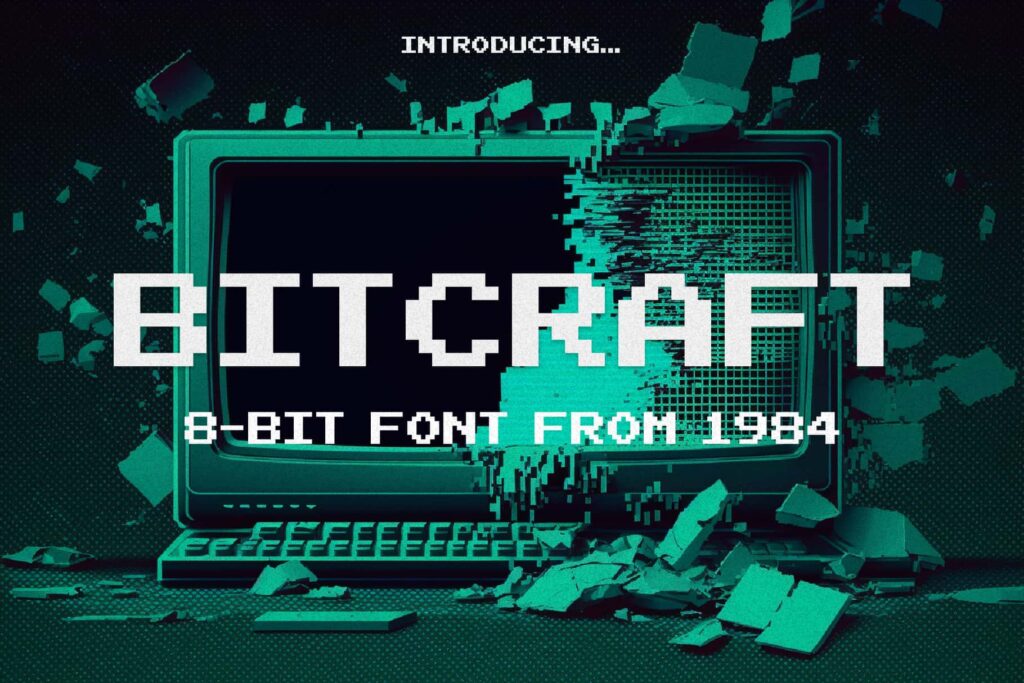 Bitcraft is a fun display font from the 80s! It's perfect for 8-bit styled illustrations, icons, logos, posters, and t-shirts. We think that it epitomises a fun 80s retro style. Well worth a try.
7. Pixeldust 
Pixeldust is a unique pixel typeface that looks like a handwritten font. The possibilities for this font are endless, you can use it for mobile apps, games, retro design projects, and much more. Not only is the font easy to read and versatile, but it is well supported with upper and lowercase support available as well as added ligatures and glyphs.
8. Broken Console
Let us tell you, there's nothing broken about this font, in fact it is super versatile and will work a charm on posters for gaming, movie nights, or retro events. A great option.
9. Navigator Pixel Art Font
With over 500 glyphs included and over 90 languagessupported for good measure, it is safe to say that this font is highly effective and perfect for a range of projects or ideas. It contains rounded and regular styles of font and is available at a great price. Well worth considering.
10. Newsgeek
This is one for all of the newsgeeks out there. A simple and effective font, Newsgeek is easy to read, great fun to use, and ideal for posters, flyers, news headers and subtext.
11. Minibyte
Simple, modern, cool, and effective. We love Minibyte because it provides so much versatility, legibility, and uniqueness to projects and designs. While it is an '8-bit' font, it can be used for a range of different projects, so make sure to download it today and begin to stand out for all of the right reasons.
12. Pixelated Display Font
Vintage, fun, and quirky, this typeface is the ultimate standout font for any gaming-related or digital design. Inspired by the 1980s, its goal is to help elevate your design and add layers of mystery and intrigue. We think that it does exactly that.
Download Pixelated Display Font here
13. Arcana Font
Arcana is a modern, digital, and carefully designed font that looks perfect with a range of projects and designs. With multilingual support, extended upper and lowercase support, and a range of formats (TTF, OTF, WOFF), it is a perfect fit for any project.
Download this Awesome Arcana Font here