Creating convincingly realistic designs is not always an easy feat. Certain conditions like layers, shadows, highlights, and colors all add to the overall look of the final outcome. You need to test various combinations, play with it a little bit, until you get what you really want.
But in the end, if the design looks like it's about to leap off the page, then you know you did a pretty good job. After all, there's nothing like a 3D effect to wow audiences at first sight.To help you achieve this, here are incredible 3D fonts for your toolbox.
Amazing 3D Fonts
1. Black Heat
Just because it's vintage doesn't mean it has to be plain or bare. Dirtyline Studio has the answer in this decorative typeface filled with playful curves and stylistic sets. It comes in two versions to help you effortlessly bring out a classic vibe in modern times.
2. Sevastian Layered Typefaces
Want to make cool 2D or 3D designs without breaking too much sweat? Thanks to Adam Fathony, now you can. This pack featuring 7 layered fonts are as adaptable as they are beautiful. Build them upon each other, modify colors, and experiment with arrangements until you get the look you want – in just minutes.
Download Sevastian Layered Typefaces
3. Astro
Created by Drizy, this layered typeface was inspired by futuristic, robotic, and geometric concepts, making it the perfect font for sci-fi themes. Available in 6 styles you can mix and match, this pack is guaranteed to be a blast to work with!
4. Vhiena Layered Type 2.0
Inspired by old serifs on classic bottles of whiskey and old labels, this typeface set from Lostvoltype has 7 practical styles you can mix and match for endless possibilities.
Download Vhiena Layered Type 2.0
5. Double Bubble 3D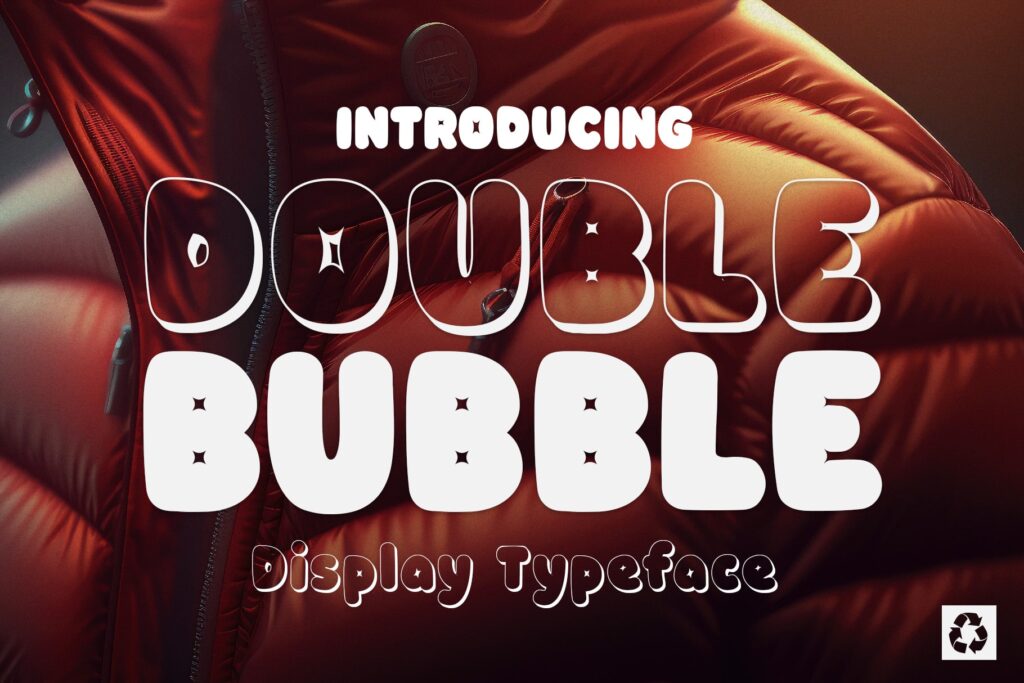 Double Bubble is the bubbliest, fluffiest font out there! Each letter is like a little ball of energy, ready to bounce and play at a moment's notice. And let me tell you, the text you can create with Double Bubble is simply mesmerizing. It will bring a sparkle to the eye of anyone who sees it!
The best part? You get two versions of this font – Outline and Regular – so you can mix and match to your heart's content and create designs that'll knock your socks off. And speaking of designs, Double Bubble is perfect for tapping into your playful side and conjuring up images of bubble gum, bubble tea, and cozy, puffy jackets that make you feel like a kid again.
So, whether you're making a poster, designing a website, or whipping up a social media post, Double Bubble is the font for you. It's sure to grab everyone's attention and put a big, bubbly smile on their face!
Download Double Bubble 3D Typeface
6. Bite Hard Font
This handcrafted lettering by Gleb Guralnyk comes highly detailed, perfect for headlines, tattoos, titles, shirt designs, and more. Featuring 4 variations, you can layer one on top of the other for edgy or badass effects.
7. Fonseca Grande
A bold, retro sans serif paired beautifully with a perfectly handwritten script. Make your vintage projects look more authentic using this font combination by Nasir Udin.
8. Butter Layer 4 Fonts
What's smooth as a criminal undercover but delicious on toast? It's this fancy layered font from Shirongampus.
9. Chivels
Looking for an ornate font you can proudly put on whiskey bottles, Victorian postcards, and luggage tags? Look no further than this chiseled masterpiece from Adam Fathony.
10. Jamer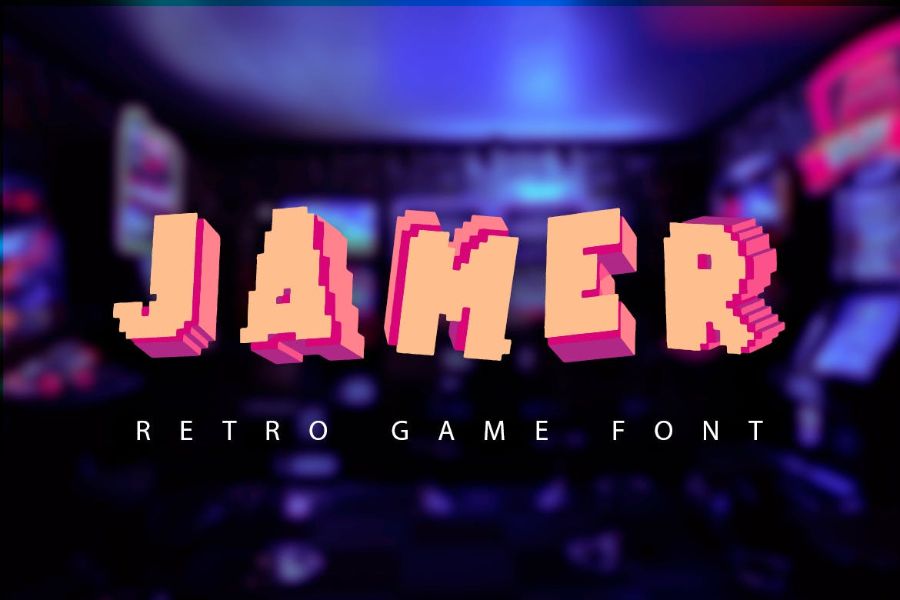 This all-caps three-dimensional sans serif by Wowomnom will take you back to the decade of arcade games, mix tapes, and bell bottom jeans.
11. Euphoria Font Family
Aiyari presents this Victorian-inspired typeface that includes a total of 11 fonts plus extras. Suitable for logos, greeting cards, old-fashioned posters, invitations, album covers, packaging, labels, quotes, and more.
12. Authentic
The Authentic Layered 3D font features 10 typefaces with both script and serif design. You need not worry about how to make the 3d font effect with this lovely collection. It also features design elements, animal silhouettes, frames, and stylistic alternates.
13. Black Romance
Black Romance is a 3D font with a bold, vintage look and blackletter feel. Includes a shadow version for high definition and design elements.
14. God's Own Junkyard
God's Own Junkyard is a 3D font that includes 92 glyphs in total – uppercase, lowercase, numbers, and some punctuation. It also includes a photoshop action to make your text glow like real
neon
lights.
15. Sevastian
Sevastian is a 7-layered 3D font reminiscent of
sign
painters from before the digital world. It features the ability to create 3D lettering without special effects, by layering.
16. Wicked Mouse
Wicked Mouse is a
playful
all-caps 3D font that captures the
magic
of cartoons from a distant era. Basic Latin, extended Latin, punctuation, European accents, and diacritics are included.
17. Lumiere
This modern yet retro-inspired display typeface by Latinotype features 14 different styles plus two variants. With plenty of options and combinations to choose from, this will definitely be your new go-to pack for just about any design project.
18. Glitched Display Font
Revelstockart is proud to present this hip typeface reminiscent of TV glitches. Use it on headlines, websites, labels, or even apparel.
Download Glitched Display Font
19. Ranch Vintage Font
Gleb Guralnyk proudly presents this gem of vintage typefaces that comes in 4 styles with varied distressed textures. Download it today and also receive vector hand-drawn illustrations that are sure to make those countryside themes pop!
20. Parts & Labor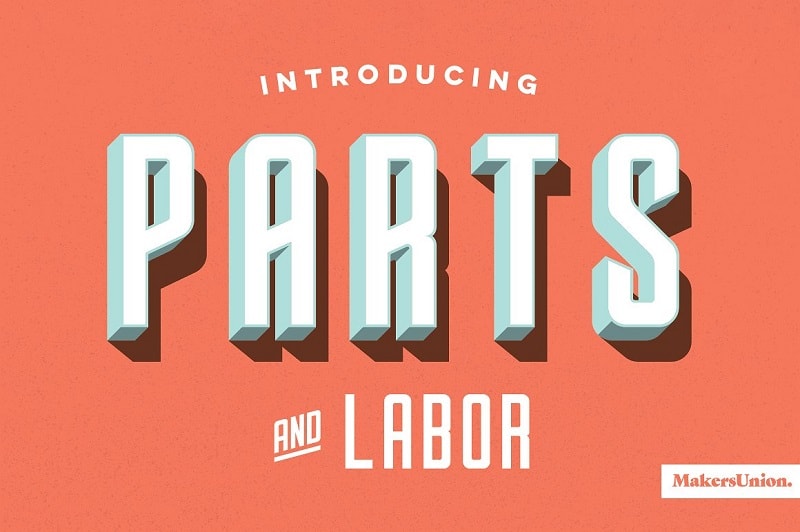 Inspired by the unique typefaces of newspapers and propaganda posters from the mid 20th century, this layered type system from MakersUnion will work hard to help you achieve the effect you need. Simply choose from 4 weights to get a retro yet modern feel to any design.
21. 3D Bulb Lamp
Go back to the lively and enigmatic age when signs were illuminated by bulbs and neon lights in this wonderful 12 component font system by popskraft. Simply build on top of one another for a seamless, beautiful vintage vibe fit for any project.
22. AZ Postcard 3D
Add just the right touch of a handwritten feel to any work when you use this sans serif 3D typeface by Artistofdesign. Available in two font weights, it will look amazing in posters, labels, magazines, book covers, comic books, t-shirts, and more.
23. Convexa Typeface
Make something different every time with this 5-layer font family from uncurve. Mix two or three to get a totally unique outcome, or use each style separately to create an interesting effect. Whatever you choose, it's guaranteed to look fresh!
24. Metric Display Font
Discover this unique and easy-to-use layered family type by Aleksei Derin. The sharp geometric shape and 5 styles all build into one another for a clean, fuss-free design you can use multiple times in any or all occasions!
25. The Woods Display Font
Instantly add a handcrafted feel to any of your works when you use this bold display font family from Arkitype. It comes in 4 beautiful styles to choose from, so you can easily create a huge statement.
Download The Woods Display Font
26. Bank Typeface
This modern, all caps display font by Twinbrush Image Forge works great for creating contemporary designs that require a strong, daring statement. This pack includes 12 geometric patterns as well to complete any modern undertaking.
27. Offhand
JoshuaRed Design encourages you to go off the beaten track in this fun layer-based type family consisting of 6 stackable layers. Also included is a bonus font called Whimsy that's sure to surprise and delight anyone who sees your finished works!
28. Historica Typeface
Inspired by late 1800s typography, this pack by wubstudio comes in 5 gorgeous styles that are bound to bring any design to life. It's ideal for headlines, invitations, branding projects, or anything that needs a light-hearted, festive feel to it.
29. Bourton Hand Font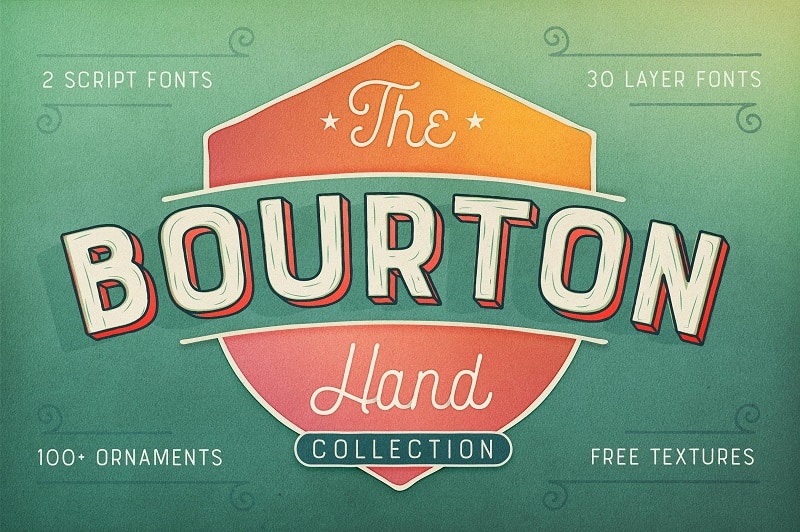 Grab this amazing hand-drawn collection from Kimmy Design that has everything you need to make incredible designs in half the time. With tons of layer fonts, over 30 logo templates, plus a bonus of 20 high quality colorful marker textures, that's a world of possibilities in a single pack!
30. Blastrick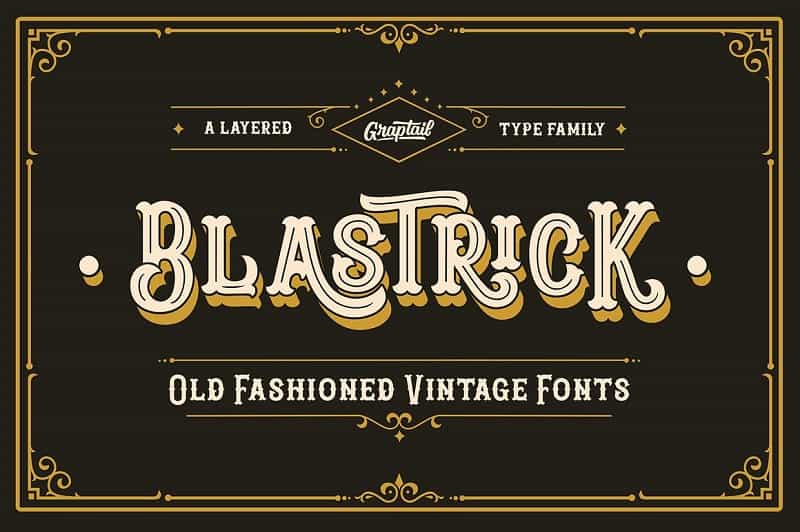 Make nostalgic old-fashioned designs in minutes with a little help from Graptail. Go with a simple, decorative look by using just one variant of the layered type system, or choose 3D when you put in the Shadow font.